Alan Mulally, Ford Motor Co.'s CEO, has high hopes for the future, and it starts today with the debut of the new compact Ford Focus at the North American International Auto Show in Detroit.
The Focus, a fuel-efficient car that offers MyFord technology -- turning the dashboard into a technology hub with voice-activated features -- is Ford's hope that less can be more.
The Focus will have wide appeal because "small is beautiful" around the world, Mulally said in an interview on "Good Morning America" today.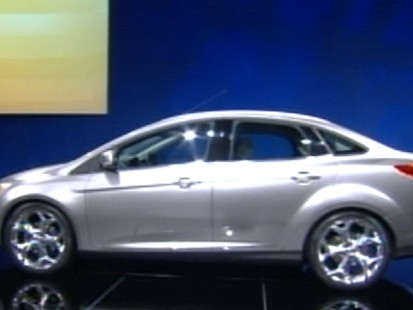 "What we've come to expect out of all the small cars everywhere outside the United States, especially because fuel prices were higher, was the very best in finish and driving, all the features like MyFord, all the entertainment, all the safety features, everything that you expect in a larger luxury vehicle, we are bringing those to everybody across the entire product line," he said.
Ford has plenty of competition at the two-week auto show, where an estimated 700,000 visitors will see 700 new cars ranging from electric to hydrogen fuel cells to plug-in hybrids to traditional gas engines.
"The U.S. auto industry is not going away. ... It's getting smarter, it's getting more efficient, it's listening to its customers and it's beginning to build cars that people want to buy," Chris Denove, an auto industry expert, said.
Ford has seen "the bottom," and the business is showing signs of economic recovery, Mulally said.
Ford, which has cut more than 20,000 jobs in the past four years, was the only Detroit automaker to steer clear of bankruptcy and report a profit in the United States in the third quarter of 2009.
"When we looked at the year-end sales for 2009, the worst for the automobile industry in 28 years, we came in at about 10.5 million units," Mulally, 64, said. "But, for December, the annualized rate is around 11.6 million, and our best estimate right now with all the economic data is, we think, that 2010 will be around 11 and half million to 12 and a half million. So we have planned in our business a gradual slow recovery, but it is very fragile right now on many fronts."
The Ford Focus of the Future
Production of the Focus will begin in late 2010 but the price of the car has not been set yet. Ford said the new car will be a big part of its recovery, and Mulally agreed with The New York Times' assessment when it said the Focus "is arguably as important to Mr. Mulally as the Model T was to Henry Ford, the founder."
Mulally said, "In a way, it's really going back to Henry's original vision of Ford and what he wanted to do was to open up the highways to all mankind to have really neat vehicles, vehicles that people can afford, highest quality, fuel efficient and safe and provide them to the world."
But Ford's new technology drew criticism after its unveiling at the Consumer Electronics Show last week in Las Vegas.
Critics say the new features would only increase the number of distracted drivers, something Mulally denied.
"What we've done is move to voice-activated, hands-free operation so the driver always keeps their hands on the steering wheel with their eyes on the road," he said. "And, then, with your thumbs on the steering wheel, you have the same controls we've grown up with consumer electronics.
"Everything now is voice activated hands-free, so you have access to all the information on your phone but you are absolutely focused on the road."
Detroit Auto Show
The Detroit auto show, Jan. 11-24, has historically been the event where automakers trumpet torque and horsepower. But car companies are engaged in a fierce battle this year over styling and integrated technology.
Whether it's multimedia interfaces, such as in the new Audi A8, which connects a driver's iPod and Google map directions seamlessly, or plans to modify OnStar technology for the Chevy Volt so that users' smartphones will control some vehicles' functions, automakers are using new launches and concept cars to show they have vehicles that make people's lives easier.
This year's show comes after a year when U.S. auto sales reached their lowest level in nearly three decades. The bankruptcies of two of Detroit's Big Three (Chrysler and General Motors), recalls and huge losses at Toyota sent a shockwave through the industry in 2009.
Hoping to attract customers whose perceptions of auto brands may have changed, car companies are using technology innovations to reposition their brands.
"It is about solutions now," Edmunds.com senior marketing analyst Stephen Berkov said. "It used to be if it's a luxury brand, it gives me status. Now, it's about can this brand solve my automotive solution because the problems that are coming up now is how do I make my life simple, seemless, smart."
ABC News' Kate McCarthy contributed to this report.
CLICK HERE to return to the "Good Morning America" Web site.