The mothers of the three U.S. hikers who have been detained in Iran for a year are calling on Iranian authorities to release their children immediately, asking supporters to join them at a protest vigil this afternoon next to Iran's mission to the United Nations in New York.
"We think one year is more than enough," Laura Fattal, the mother of hiker Josh Fattal, said on "Good Morning America" today. "This is a ridiculous, outrageous, unethical, unnecessary detention."
Josh Fattal, 28, Shane Bauer, 28, and Sarah Shourd, 31, were detained along the border separating Iraq and Iran July 31, 2009, and accused of spying.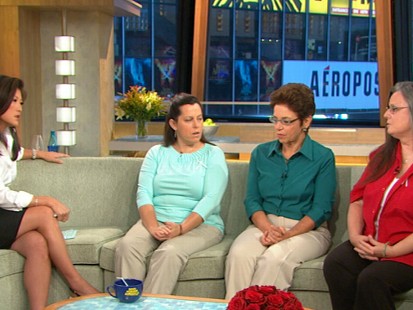 No formal charges have been leveled against the group and their parents have maintained that even if the three did cross into Iran, they did so by accident.
After months of protesting the Iranian government, pressuring the U.S. State Department and appealing to Iranian President Mahmoud Ahmadinejad directly, the mothers were granted an emotional reunion with the hikers in Tehran in May.
Fattal, 58, of Elkins Park, Pa., Nora Shourd, 61, of Oakland Calif., and Cindy Hickey, 50, of Pine City, Minn., said on "GMA" that they haven't had any news of their children since they returned from the visit.
That's especially troubling for Shourd because, she said, her daughter has medical issues.
"Sarah's been in solitary confinement for a year now, or nearly a year, which, as a mother, is very difficult for me to think of on a daily basis," she said. "It's all I can think of. She has medical problems which are not being addressed. They're being neglected.
"She hasn't really been seen the way she should be seen … and they're ignoring this. We need to get these kids out so they can be taken care of and have their needs met."
Two of the Captives Plan to Marry
Hickey said the "emotional roller coaster" of the children's situation had dominated their lives.
"We wait and wait and we hear some inkling of maybe something's going to happen and then it doesn't," Hickey said.
The mothers said they didn't plan on returning to Iran unless they were going to bring their children home.
The mothers of Shane Bauer and Sarah Shourd have said their children planned to get married.
"Shane proposed to Sarah … he made a little ring out of the threads from his shirt and she has a ring," a teary Nora Shourd, Sarah's mother, said on an earlier visit to "GMA."
"They are going to get married as soon as they have their freedom. They have been in love for a long time. This was going on and they asked Cindy [Hickey] and I if it was OK if they got married, and, of course it is OK. We are happy to be families together," she said.
Bauer proposed to Shourd while in the exercise area, the mothers said, and Fattal, the other captured hiker, will be the best man at their wedding.
Mother's Public Plea to Iranian President
Before their visit to Iran, the mothers made a public plea to Iranian officials to set politics aside and release their children.
"The two countries are at odds with each other and we don't want this mixed in with that," Cindy Hickey told "Good Morning America" then.
Those tensions have been heightened by the U.S. effort to impose new sanctions on Iran in an effort to convince Iran to abandon its nuclear ambitions.
In an interview in early May with ABC News' George Stephanopoulos, Iranian president Mahmoud Ahmadinejad said it was up to a judge to decide whether the hikers were telling the truth when they claimed that they simply got lost.
CLICK HERE to see what Iran President Mahmoud Ahmadinejad told ABC News' George Stephanopoulos about the hikers.
"They have to provide proof and evidence to the judge in Iran that shows that they lost their way or made a mistake," Ahmadinejad said. "When the time comes, they will have a lawyer."
The Americans, all University of California-Berkeley graduates, entered northern Iraq with visas from Turkey on July 28 and planned to spend five days in the area, according to a Web site dedicated to the hikers' release.
Ahmadinejad said he would make a recommendation to the judge to "render maximum cooperation" in regards to the case, but said he had no influence over the judge. The mothers said they saw more when they watched the interview.
Click here to read a full transcript of George Stephanopoulos' interview with Iranian President Mahmoud Ahmadinejad.
"We saw compassion in his face during that interview," Laura Fattal said after viewing the interview. "I think President Ahmadinejad -- his face changed when you spoke about the children."
Hickey said that if her child is released, she'd like to thank Ahmadinejad. Shourd said it would amount to an personal "gesture" by Ahmadinejad.
"The world is watching what's going to happen over there and we think it would be just an incredible gesture for the president to extend to us," she said Tuesday. "We hope he thinks about it that way too."
ABC News' Christophe Schpoliansky and The Associated Press contributed to this report.
Click here to return to the "Good Morning America" Web site.