"Good Morning America" special contributor Melissa Rycroft, who famously had her heart broken on "The Bachelor," has found her happily ever after.
The 27-year-old "Dancing With the Stars" alum announced live on "GMA" today that she and husband Tye Strickland are expecting.
"Apparently Tye and I wanted to see how many life-changing events we could fit into one calendar year," she told "GMA" anchor Robin Roberts." "From getting engaged, married, new job, and we are now pregnant."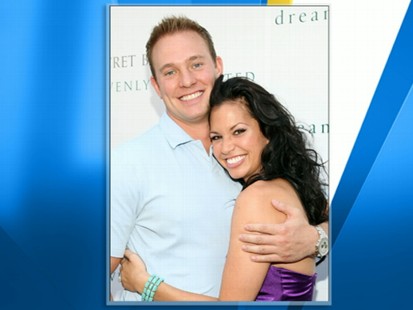 So far, Rycroft said she only has a "baby pooch," but "the baby bump will come later."
Click here for more on Melissa Rycroft's pregnancy news from Us Weekly!
Last June, Rycroft announced her engagement to Strickland on "GMA."
"Sometimes, the stars align and the clouds part and everything works out the way it should," she said.
The engagement took place in private, she said, and then "we went and met up with our parents and friends."
The couple met three years ago at a mutual friend's party and had dated on and off before reconnecting after Rycroft's appearance on "The Bachelor."
'Bachelor' Brouhaha
Last March, "The Bachelor" Jason Mesnick stunned viewers when he ended his relationship with Rycroft and rekindled his relationship with the first runner-up on the show.
Mesnick proposed to Rycroft during the finale of the reality love competition. During a reunion special that followed the finale, Mesnick initially sang the praises of Rycroft, a former Dallas Cowboys cheerleader.
"She is incredible, sweet, beautiful and everybody's been watching and I lived it," a somber Mesnick said in an audienceless studio surrounded by candles. But, he said, "Since this all ended, things have been different."
Then, he told Rycroft that his heart truly belonged to department store buyer and runner-up Molly Malaney and that he was ending their courtship.
Mesnick and Malaney tied the knot on national television in February. The couple went to South Africa for their honeymoon.
Rycroft bounced back and went on to finish third on "Dancing With the Stars."
This summer, Rycroft will co-host the new ABC reality series, "Bachelor Pad," where fan favorites from across the "Bachelor" and "Bachelorette" seasons are looking for their own happy endings.
In the relationship-game show hybrid, 19 ousted contestants like Kiptyn Locke, runner-up from season 5 of "The Bachelorette," and bad boy Wes Hayden, sultry swimsuit model Gia Allemand and season 14 "Bachelor" runner-up Tenley Molzahn, will face off in kissing contests, half-naked Twister and more, competing for a grand prize of $250,000.
'The Bachelor': A History of Changed Minds
The drama that unfolded around Rycroft on "The Bachelor" wasn't new. Mesnick appeared on "The Bachelorette" during the 2008 season as a contestant vying for the attentions of bachelorette DeAnna Pappas. He made it to the final two.
Pappas would later claim that she, too, had made a mistake in choosing professional snowboarder Jesse Csincsak over Mesnick during the season four finale.
And, during the 2007 season of "The Bachelor," Brad Womack didn't choose either of his two finalists during his final rose ceremony.
Test your Bachelor IQ! CLICK HERE to put your Bachelor and Bachelorette knowledge to the test in this trivia quiz..
Indeed, in all the incarnations of the popular show, only two couples have made it down the aisle. Mesnick and Malaney, along with season 1 "Bachelorette" couple Trista Rehn and Ryan Sutter.
All's well that ends well, and Rycroft was ecstatic to share her own happy news.