Five fabulous bags and five unbelievable boots for under $50?
It sounds too good to be true but Glamour magazine checked out hundreds of bags and boots and picked the best that will cost you the least. They're all well made, chic and only look expensive.
Suze Yalof Schwartz, Glamour's executive fashion editor at large, shared their fashion finds with "GMA."
Click here to head to Glamour.com for more information on each of the products below.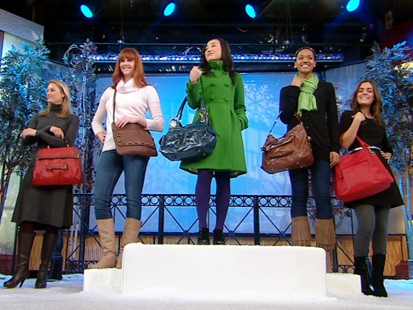 Weekend Comfort
Limited Bag, $26.70
Suze says: I love the stud and grommet detailing on the straps of this bag. The pocket space and cross-body style are perfect for "hands-free" errand running. Its Miu Miu-inspired feel really made the price tag shocking.
Baker's Tammy Boot, $39.90
Suze says: These boots have an amazing, comfortable fit and a flat heel. The leather sole is durable and the neutral taupe tone works perfectly with black or any color you pair it with. These are a definite steal for under $40.
Wear to Work Chic
Aldo Piatto Satchel, $39.98
Suze says: This is the bag that "works" for work and there's no hotter color than blue in any shade. The hardware and extra pockets for your BlackBerry, cell phone and camera make this the bag for the woman who has to stay organized while moving fast and still wants to show off her fashion sense.
Charlotte Russe Melissa Bootie, $26.99
Suze says: There's nothing more modern than the shoe bootie paired with a short skirt this season. I love the velvet mixed with the patent leather and spat-like buttons. This is the perfect shoe for someone who's petite, because its hidden platform provides added height but is still comfortable.
Trendy Fringe
Zara Fringe Boot, $39.90
Suze says: Fashion-forward celebrities like Kate Moss, Mischa Barton, Kate Hudson and Rhianna have taken to the fringe look and many designers are picking up on the trend. It's a look that definitely adds flair.
Hayden-Harnett for Target Hobo Bag, $39.99
Suze says: Not only does it look expensive, but it gives any outfit instant polish. Hayden-Harnett bags usually cost upwards of $400, so this line for Target is a must-have.
Versatility
Red Classically Chic Tote, $42
All of us at Glamour couldn't understand how this bag was so inexpensive. It comes in red and an amazing camel color. If there's one bag that works on everyone, this is it. The twisted leather and minimal hardware make it a classic style. Available at shop4sparkles.com.
Nine West Zayit Boot, $39.90
The lace-up, mid-calf boot instantly makes the leg look longer, and the suede fabric with a built-in platform makes it a versatile boot that you can wear with both jeans and dresses.
The Classic
Damita K Omeca-2 Brown Boot, $29.99
All you need is a great pair of knee-high boots and the perfect bag to make a basic dress look chic. The just-below-the knee boots from shoeocean.com are streamlined high fashion at the right price.
H&M Bag, $39.90
The color-blocked rust and brick bag from h&m will elevate the simplest of wardrobes.
Find out more at Glamour magazine's Web site.