Hospitals in Haiti are reporting 1,500 cases of cholera, and the Pan-American Health Organization expects the number of cases to rise.
At least 138 people already have died in two days from the cholera epidemic sweeping through the rural regions, Haitian Health Ministry officials reported to the World Health Organization Friday.
The Pan-American Health Organization learned of a surge in diarrheal infections on Sunday, said Dr. Jon K. Andrus, deputy director of the organization, on Friday.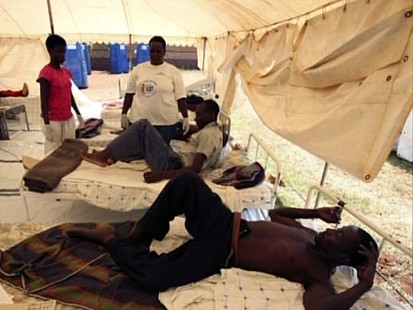 The World Health Organization suggested the outbreak may have originated in
rural areas
northwest of the quake-stricken region, which could be considered an unlikely center for this type of epidemic because damage mostly was seen in the central part of the country. The news has prompted health officials to think some people became infected by drinking from contaminated river basins.
Meanwhile, hundreds of patients await hospital beds as they are taken to urban areas along the coast of Haiti, the Associated Press reported.
"They are forcing everybody to come up here to St. Nicholas [hospital]," Terry Snow, a protestant missionary in Haiti, told the Associated Press. "I raced this guy up here and he just died now as I came to the gate and they told him no."
The Centers for Disease Control and Prevention confirmed cholera -- a deadly infection caused by unclean food and water -- as the cause of the outbreak in some parts of the country.
"This is an infectious diarrhea and everything that causes diarrhea has one thing in common, and that is an infection that may be caused by water or by food," Miriam Guzman, a Cuban doctor working in Haiti, told the Associated Press.
Haiti is the first country in the Western Hemisphere in nearly two decades to experience a cholera outbreak.
"It's one of the most tragic consequences that could happen," said Dr. Peter Hotez, professor and chairman of the Department of Microbiology, Immunology and Tropical Medicine at The George Washington University. "Having this so close to home is sobering."
Since the earthquake shook Haiti in January of this year, public health experts expected infectious diseases to take hold as people worked to rebuild the country, said Hotez. In fact, he noted, Pakistan reported hundreds of cases of cholera in July during that country's flooding disaster.
"The fact that it's taken this long for anything to happen is a testament to the quality of work gone into Haiti," said Hotez.
Cholera victims suffer from severe dehydration as a result of diarrhea. If left untreated, victims die from organ failure.
The Pan-American Health Organization reports 750,000 rehydration salts in stock to treat 100,000 cases of acute diarrhea, IV doses to treat 4,000 cases, and 300,000 courses of antibiotics -- all previously reserved at the Port au Prince airport.
"It's a disease that can be prevented," said Andrus. "And once it occurs, it can be easily treated."
Cholera can be prevented through personal hygiene and clean sources of water. Two oral vaccines also exist to prevent the disease.
"There's no room for error here," said Hotez. "You need to intervene immediately."
The Pan-American Health Organization is considering offering the vaccine to health care workers, Andrus told ABC News' chief health and medical editor, Dr. Richard Besser.
However, Andrus said limited supply of the vaccine and limited resources to ensure the population received both doses within a week would make it difficult to immunize the wider population. The focus on many health care workers now is treatment and simple prevention methods, said Andrus.