For six years, Lauren Book-Lim was tortured by the woman she both feared and trusted -- her nanny. Waldina Flores ruled the little Florida girl's life, alternately showering her with affection and then beating and raping her.
The molestation began when Book-Lim was 11. Angry that she was chewing gum, the woman whom the little girl affectionately called "Waldy" stuck her tongue in the little girl's mouth to remove it.
The abuse escalated from there, whenever the little girl did not cooperate.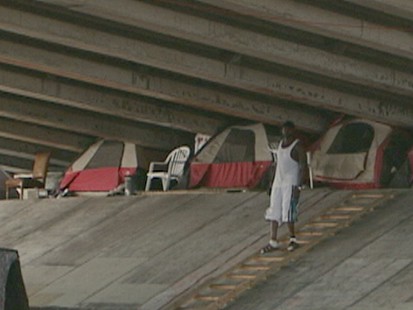 "She used objects or hands or whatever she could get," Book-Lim, now 24, told ABCNews.com. "She pushed me down the stairs. And at one point she defecated on me."
In 2002, at the age of 17, she broke away from Flores, who was ultimately sentenced to 25 years for her sex crimes.
But today, Book–Lim has come face to face with her demons and her conscience, helping homeless sex offenders at Miami's notorious Julia Tuttle Causeway find a legal place to live.
There, scores of convicted molesters live in rat-infested squalor because of child protection laws Book-Lim helped to enact -- ordinances that prohibit sex offenders from living within 2,500 feet of schools and playgrounds.
Advocating For Children, Not Predators
Book-Lim is convinced that if sexual predators live in inhumane conditions, they are an even greater danger to children.
"We don't want anyone living under a bridge to be so desperate they reoffend," said Book-Lim.
"She wants to heal as many people as she possibly can," said her father, Ron Book, who shares his daughter's work as a board member of the Miami-Dade Homeless Trust. "She is so special, she makes me cry."
The first day volunteering on the job, Book-Lim said she felt "smacked in the face" when she met a man had molested an 8-year-old.
"I had a hard time reconciling this in my head," said Book-Lim. "But I want to prevent it from happening to other children. Yes, they are sex offenders, but that doesn't mean they have to live like this."
"I grew up to trying to help others," she said. "My Dad used to say, the least, the last and forgotten of our society -- it's our job to take care of them."
Nanny Preys on Docile Daughter
Book-Lim knows first-hand about those who are vulnerable. The oldest and most docile of three children, she was targeted by the Honduran nanny who came to live in their family's Miami home.
"I was a people pleaser," she said. "I always eat my peas and make everyone quiet and happy."
While Flores ignored her feistier younger sister, who is now 22, she preyed on Book, forcing her to have sex in bathrooms and closets as the other children slept.
"I was beaten every day," she said. "Waldy was very smart, like all predators are. She hit me and bruised me where my parents wouldn't look. When you are 13 and 14, parents never look at their children's stomachs or lower backs or butts or upper thighs."
Like many victims of sexual abuse, Book was afraid to tell her parents. Yet they worried about her increasing withdrawal and depressive mood, sending her to a therapist.
The abuse escalated when Book found a boyfriend – now her husband Kris Lim -- and Flores became fiercely jealous. The nanny even threatened to kill him.
Boyfriend: 'Tell Nanny or I Will'
When they were seniors in high school, Lim saw the bruises and learned the truth. He gave her an ultimatum -- tell her parents or he would.
"He believed in me and was on my side," she said. "I knew I needed to tell them, but I didn't know how. She was an adult and much bigger, and it had gone on so long, I didn't know if I could do it."
Book's father was a prominent Florida lobbyist and she worried about publicly embarrassing him. And Flores' psychological pull was strong.
"I was scared and confused," said Book-Lim. "She provided a shower curtain around my life. I didn't have to see any terrible things because she took care of the problems, which made her seem really appealing because you have someone who is listening to you, someone who loves you, who is there for you and has not left.''
Flores even gave the girl an engagement ring and promised they would marry.
"I was delusional at the time," said Book-Lim. "You are on another planet, just to survive it."
Nanny Molester Found Coaching Girls' Soccer
In 2002, Book-Lim confessed to her therapist who, in turn, called in her parents. Her father immediately fired Flores, who absconded to Oklahoma. She was apprehended a month later while coaching soccer to 10-year-old girls.
"She was a true pedophile grooming another child to be abused," said Book-Lim.
While in prison, Flores violated a court order and wrote love letters to Book-Lim and asked for money, earning her another 10 years on top of her 15-year sentence.
In the aftermath of the arrest, Book became anorexic, dropping to 85 pounds and suffering near organ failure.
"Other than death or your kid disappearing and you don't find them again, sexual abuse is the worst nightmare a parent can endure," said her father Ron Book, who burst into tears when he learned of molestation. "To this day, I have never read the police reports all the way through."
"You can choose to cripple yourself or you can be strong and take control of the situation," he said. "You've got to be strong, get some backbone and lead."
Slowly, in new therapy and with the legislative clout of her father, Book-Kim began to heal.
Ron Book introduced his daughter to every state legislator in his rolodex. Together they fought for the right to get 48-hour access to HIV test results on predators, as well as a protection act banning molesters from ever contacting the victims or their families.
Victim Heals Through Helping Others
In addition to passing residence restrictions and extending cyber sex laws, they established a funding mechanism for a state-wide network of treatment centers.
"I think that fact that she got involved was critical to her recovery," said Stephen Levin, the therapist who broke the shocking news to Book-Lim's parents. "She doesn't feel like only a victim and she is doing something positive to help other people."
"She had the support of her parents and she was able to talk about it, and her boyfriend was so supportive and encouraged her," he told ABCNews.com.
Last summer, she married Kris Lim, a professional golfer. While he travels, she runs her foundation, Laurens' Kids, teaching sex abuse prevention to children in grades K-2 and reinforcing the message, "It's OK to tell."
"It took a lot of guts to do what she did and what she is doing now," said Lim. "I have been there the whole time and seen the worst of the worst psychologically to helping children every day. "
"Now she is under the bridge with sex offenders," he told ABCNews.com. "She could never do that before. She couldn't even leave the house. I am amazed at how much progress she has made."
"She is a true survivor to have gone through that at such a young age and yet wake up every morning and relive that bad stuff just to help kids," said Lim. "No matter how she tries to forget, it's still a part of her."
Her father is also impressed, although at first he was opposed to his daughter working with sex offenders. Since last August, they have found housing for 42 of the 100 men at the Julia Tuttle Causeway and more placements are underway.
"She wants to make sure this place is closed down," said Book. "She has taken this personally and she is the one who went through this. Far be it from me to tell her as an advocate that she shouldn't feel that way."
Both still strongly support registration of sex offenders and residency restrictions, saying they work, even if the homeless men at Julia Tuttle resent their work.
"They know who we are and don't like use very much," she said. "I wouldn't consider myself advocating for them. These people harmed children, and I don't think they can dictate where they get to live."
"Some of them say they are victims and it's not their fault," said Book-Lim, who admits she'll be in therapy for the rest of her life. "But guess what? I was given a life sentence. This person murdered my childhood. I walk through a life that is broken."