Rohit Bachani was born with a small lump on his left hand that, by the time he was 10, was so large he had to hold his arm high above his head at all times to avoid excruciating pain.
But today, in New York City, the boy will have the last of five surgeries that will reduce his larger-than-grapefruit-size hand to near normal and allow him to return to his native Pakistan.
Rohit was born with a congenital condition called arteriovenous malformation, or AVM, which had caused the tissue in his hand to swell to gigantic proportions, nearly swallowing up his little fingers. Doctors had told the family they had no recourse but to amputate the hand.
Dr. Robert Rosen, an interventional radiologist at Lenox Hill Hospital and one of only a handful of doctors in the field capable of this surgery, agreed to perform the multiple embolization procedures to save the boy's hand.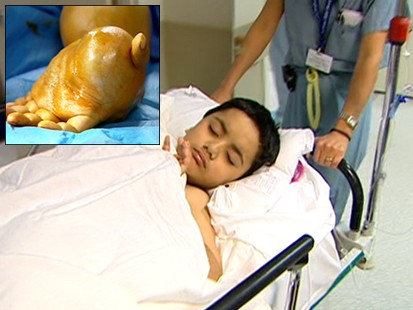 And it wasn't only Rosen who donated his fees. So did all the other specialists -- including vascular surgeons, anesthesiologists and the hospital itself.
One Lenox Hill administrator estimated the total treatments would have likely exceeded $300,000.
Parents Call Doctor 'Angel'
The boy's parents, who do not speak English, called Rosen an "angel," according to family translators.
The family is from a small village in Pakistan and had been living with relatives in Texas for the last year while their hometown raised money for the boy's operations. The half-price charity rate for each treatment would have amounted to their entire life savings -- $15,000.
"He's the smartest kid in his class and the most popular," Rosen told ABCNews.com. "That's amazing for a kid with such a striking malformation. The other kids love him."
Rohit has "Uncle Nawund" Kumar of Beaumont, Texas, to thank for finding Rosen. Kumar scoured the Internet for the best doctors in the field and organized the fundraising that would pay for the boy's air fare to New York City, according to a doctor's assistant, Mela Daniel.
The family also found support from the Vascular Birthmarks Foundation.
The boy and various members of his family have been shuttling back and forth to the East Coast since the first procedure last January.
Visit the OnCall+ Pain Management & Arthritis Center