Asthma ER visits rose in New York following smoke from Canadian wildfires: CDC
Average asthma ER visits increased by 82% statewide, the report found.
Asthma-related emergency room visits spiked in New York in June following a wave of toxic smoke from the Canadian wildfires, according to new federal data.
Researchers looked at ER visits from the New York State Department of Health's Electronic Syndromic Surveillance System (ESSS) in eight regions across the state from June 1 - 14, in the report published Thursday by the Centers for Disease Control and Prevention.
They compared the average of visits between June 1 - 5, with the average on June 7, during which the quality index reached "unhealthy" or "very unhealthy" levels across the state and levels of fine particulate matter, known as PM2.5, were highest.
This was also the day that New York City topped the list of the world's worst air quality rankings, according to IQ Air, which monitors air quality across the globe.
Between June 1 - 5, the average of asthma-associated ER visits was 80.8. This rose by nearly 82% statewide on June 7 to an average of 147 visits, ESSS data showed. Additionally, every region throughout the state saw an increase of at least 35.4% except for the Adirondacks, located in northeastern New York.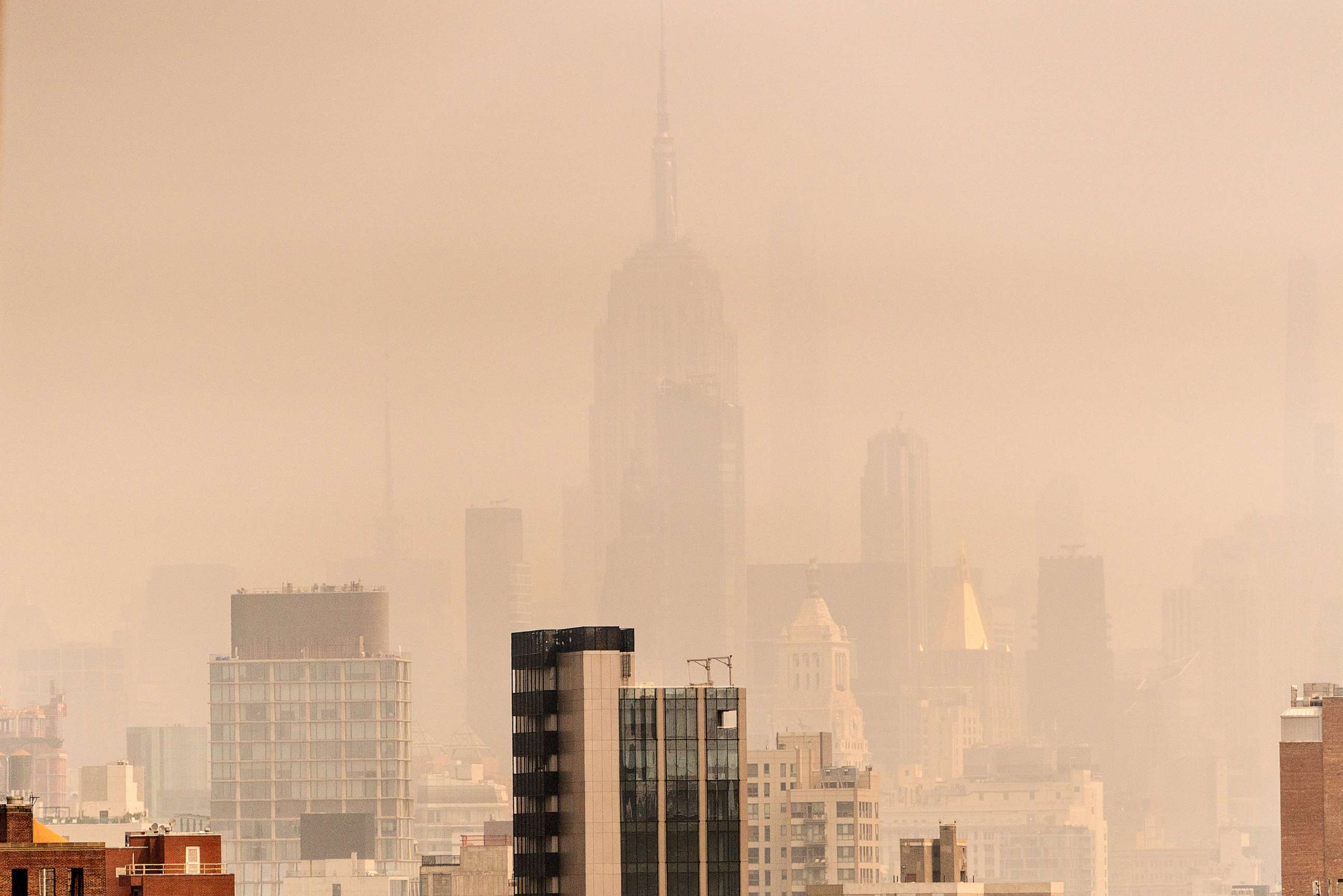 The regions with the largest jumps were the Eastern Lake, Ontario and Central regions, which all saw double the average number of visits on June 7.
By age group, the largest increase was seen among those between ages 10 and 29, tripling from an average of 16.8 visits from June 1 - 5 to an average of 50 visits on June 7.
Previous studies have shown that wildfire smoke is linked to an increase in asthma issues in children that is not seen with air pollution in general.
Experts have previously warned about the dangers of PM2.5, fine inhalable particles that are 30 times smaller in diameter than a human hair.
Because these particles are too small to be seen with the naked eye, they can easily enter the nose and throat and can travel to the lungs, with some of the smallest particles even circulating in the bloodstream, according to the Environmental Protection Agency.
PM2.5 can cause both short-term health effects, even for healthy people, including irritation of the eyes, nose and throat; coughing, sneezing; and shortness of breath and long-term effects such as worsening of conditions such as asthma and heart disease.
Because of climate change, experts have said there will likely be more record-setting wildfires, which in turn will lead to more people inhaling smoke and likely an increase in ER visits.
"As wildfire smoke events become more frequent and widespread, the findings from this analysis can enhance risk communication and better focus response efforts toward persons at increased risk for asthma exacerbations," the authors wrote. "Characterizing such health outcomes during this wildfire smoke event can guide current and future response efforts."
The authors recommended strategies to help protect the most vulnerable to asthma exacerbations including communication with asthma patients about the risks of wildfire smoke and with schools to ensure they have wildfire smoke response plans in place.