An outbreak of novel coronavirus that emerged in China about two months ago has now infected more than 93,000 people globally and has claimed over 3,000 lives.
Today's biggest developments:
12 Americans have been killed by virus
12 suspected cases within U.S. Department of Defense
UNESCO: Over 290 million students out of school due to coronavirus
Switzerland, UK announce 1st coronavirus deaths
Cluster of cases in California linked to cruise ship
Here's how Thursday's news developed. All times Eastern.
8:07 p.m. Nurses offer insight into coronavirus care, their own safety
Out of 6,500 registered nurses, only 29% said there is a plan in place to isolate a patient with a possible novel coronavirus infection, while 23% said they do not know, according to results from a National Nurses United survey.
The report also says only 44% of nurses indicated their employer provided them with information about coronavirus and how to recognize and respond to potential cases.
The results also show that a large percentage of nurses do not have access to N95 respirators on their units, with only 63% saying they do.
One nurse opened up about her own experience treating a patient and the issue she faces now: being unable to get tested.
The nurse from a Northern California Kaiser Facility, who was not named, said she is in quarantine after caring for a patient who tested positive.
"I'm awaiting 'permission' from the federal government to allow for my testing, even after my physician and county health professional ordered it," she said in a statement.
The nurse said she had volunteered to be on the care team for the patient, but did so assuming "if something happened to me, of course I too would be cared for."
"I did this because I had all the recommended protective gear and training from my employer. ... But the National CDC would not initiate testing. They said they would not test me because if I were wearing the recommended protective equipment, then I wouldn't have the coronavirus."
She said the only way to care for the patients is if they are also properly cared for.
"Nurses aren't going to stand by and let this testing delay continue; we are going to stand together to make sure we can protect our patients -- by being protected ourselves," her statement read.
7:39 p.m. 3 US states report 1st cases
Colorado, Maryland and Nevada have all reported their first cases of novel coronavirus.
The Colorado Department of Public Health announced that a man in his 30s, who was an out-of-state visitor to Summit County, was the state's first case. In Maryland, Gov. Larry Hogan said the state confirmed its first three cases. Hogan said the patients all contracted novel coronavirus while traveling overseas and are in good condition. Local health officials in Nevada confirmed only one case: a Clark County man in his 50s, who recently traveled to Washington state and is in airborne isolation.
Other states, including California and New Jersey, reported new cases earlier Thursday.
San Francisco reported its first two cases, with a man in his 90s in serious condition and a woman in her 40s in fair condition. New Jersey reported its second case.
Texas announced its first two cases in Harris County, the state's most populous county -- both travel-related.
In Boston, three people who attended a conference in the city last week have also tested positive, according to a statement from Biogen, which held the conference.
The attendees are doing well and are under the care of their health care providers, the statement read.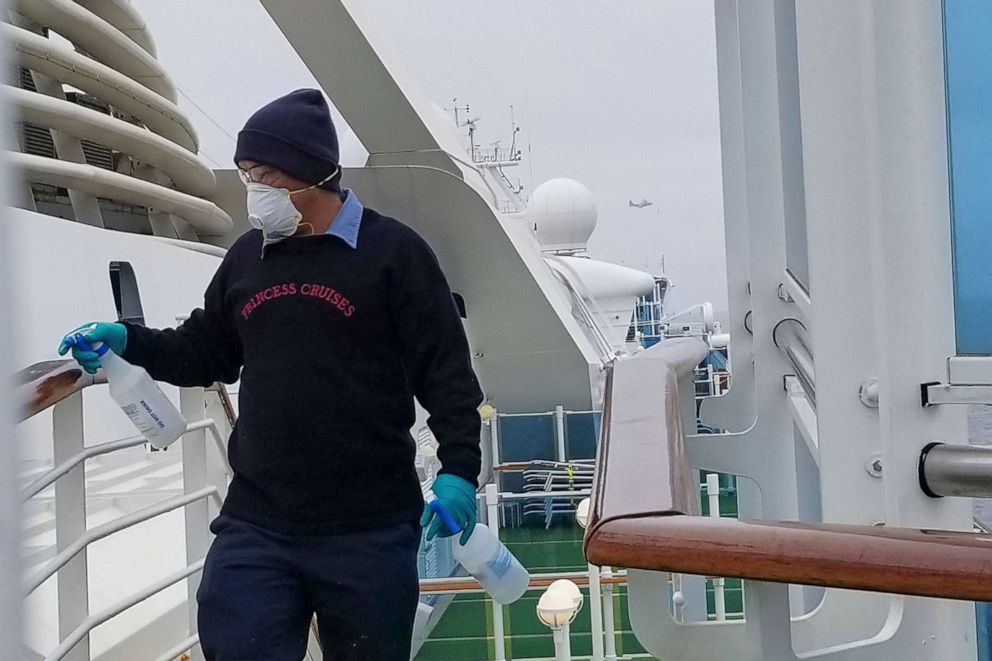 5:42 p.m. Grand Princess guests to remain inside their rooms as helicopters deliver test kits
Passengers on the Grand Princess have been advised to stay inside their rooms for the remainder of the voyage, the cruise line announced.
Princess Cruises said in a statement that the recommendation came from the U.S. Centers for Disease Control and Prevention.
Staff members will deliver passengers' meals to their rooms, and all activities have been canceled, according to the statement. The gym, casino, bars, boutiques and other public places all have been closed.
Earlier in the day, passengers could be seen standing on the ship's deck as California National Guard helicopters dropped off test kits.
The ship is being held after officials identified a "small cluster" of novel coronavirus cases in Northern California from guests aboard the previous Grand Princess voyage from Feb. 11 to 21.
There have not yet been any confirmed cases currently on board, the cruise line said.
5:42 p.m. Families who lost loved ones at nursing home speak out
The families of patients who died from novel coronavirus at a nursing home in Washington are grappling with many questions, and few answers, as to what exactly happened.
Pat Herrick said she got a call at 3:30 a.m. that her mom, Elaine, had passed away.
"She wasn't sick. She'd been really well. I was surprised," Herrick said. She made a point to note that she is grateful for the staff at the nursing home, but doesn't think they have enough help in handling the issue.
"How are we going to these people out of here?" she said. Herrick also had trouble reaching her mom before she died, with staff telling her that they weren't able to get the phone to her.
"Then I called at 8 o'clock and they weren't able to get the phone to her and then ..." she said before breaking down into tears.
Another man, named Mike, said that his mom was a resident at Life Care and also died.
"She passed away. No family members were present. I was asleep. I had no idea what was going on," he said, noting that his family has not yet received test results to confirm that she died from coronavirus but believes that's likely the cause.
When he visited her about two weeks ago, Mike said nothing seemed amiss.
"She was in there, and I didn't want to disturb her," he said. "I just peeked in the door. I saw her and she looked happy."
5:07 p.m. HHS investigating nursing home in Washington after multiple deaths
The U.S. Department of Health and Human Services is sending investigators to a nursing home in Kirkland, Washington, where nearly a dozen people have died from novel coronavirus.
"CMS has jurisdiction over all the nursing homes and health care facilities," Centers for Medicare & Medicaid Services Adminstrator Seema Verma told ABC News. "The situation in Kirkland is very concerning, and that's why we have investigators on the ground to determine what happened."
Verma said CMS initiated a "call to action" to all nursing facilities to double down on infection-control policies and procedures.
4:15 p.m. Dow plunges again
The roller coaster week for financial markets continued on Thursday, with the Dow Jones Industrial Average plummeting nearly 1,000 points.
The Dow finished down 969 points, or 3.58%, while the S&P 500 and Nasdaq also tumbled by 3.39% and 3.1%, respectively.
Among the hardest hit were airline stocks. An industry group issued a report Thursday, estimating the outbreak could cost the airline sector up to $113 billion, or more than three times worse than initial assessments.