The number of worldwide patients who have tested positive for the coronavirus is now north of 100,000 as states in the U.S. announce new cases every day.
The virus has spread to every continent except for Antarctica after it first broke out in Wuhan, China, in December.
Tune into ABC News Live at noon ET every weekday for the latest news, context and analysis on the novel coronavirus, with the full ABC News team where we will try to answer your questions about the virus.
Sunday's biggest developments:
U.S. death toll increased to 22
Ted Cruz, Paul Gosar announce self-quarantine after exposure at CPAC
133 people have died in Italy in the last 24 hours
First COVID-19 patient dies in Egypt
Oregon declares state of emergency
Grand Princess cruise ship to dock in Oakland
Here is how the situation unfolded on Sunday. All times eastern.
11:57 p.m. More classes, sporting events are canceled
Hofstra University in New York is the latest school to cancel classes due to the threat of the novel coronavirus.
School officials announced late Sunday that they were canceling all in-person classes for the coming week after a student contacted the Student Health and Counseling Center reporting flu-like symptoms. Officials said the student had attended a conference where an attendee has tested positive for COVID-19, so the student is now being isolated and tested.
Six others who were in close contact with the student were also instructed to self-isolate pending the student's test results.
In California, officials announced the cancelation of the 2020 BNP Paribas Open tennis tournament after a case of COVID-19 was confirmed in Riverside County.
The event, which typically draws top men's and women's players, was offering $17 million in prize money this year, organizers said. Last year the two-week tournament reported attendance of 475,000.
Qualifying play was to have begun on Monday.
In New York, officials announced that the Eastern College Athletic Conference men's hockey quarterfinals between Harvard and Rensselaer Polytechnic Institute (RPI) will be held without spectators due to COVID-19 concerns.
The best-of-three series will be held March 13-15 at RPI, but spectators will be banned due to two confirmed cases of the coronavirus in Albany's Capital Region, officials said.
Concerns about the virus also resulted in the cancelation of a scheduled trip to California for RPI's men's and women's tennis teams this past week, school officials said.
9:34 p.m. Second member of Congress announces self-quarantine
Rep. Paul Gosar of Arizona became the second member of Congress to announce that he's placing himself into voluntary self-quarantine due to the threat of the coronavirus.
Gosar said on Twitter that during the recent CPAC event in Maryland, he came into contact with the CPAC attendee who tested positive for COVID-19.
"I was with this individual for an extended period of time, and we shook hands several times," Gosar said.
The congressman said that he was not currently experiencing any symptoms.
"In order to prevent any potential transmission, I will remain at home in Arizona until the conclusion of the 14 day period following my interaction with this individual," Gosar said. He also said that his office in Washington, D.C., would be closed for the week.
Earlier Sunday evening, U.S. Sen. Ted Cruz announced he will self-quarantine at his home in Texas after he was potentially exposed to the coronavirus at the CPAC event through the same attendee.
The 2020 Conservative Political Action Conference took place during the last week in February.
8:55 p.m. Puerto Rico testing case from cruise passenger
Puerto Rico Gov. Wanda Vázquez Garced said authorities are testing a possible coronavirus case on the island.
The patient arrived Sunday on a cruise from Fort Lauderdale, Florida, with a fever, dry cough and respiratory distress symptoms, and went to the Ashford Hospital emergency room, according to the governor.
The patient's husband was also seen in the ER.
Currently, the patient's diagnosis is pneumonia, but the couple is in isolation as a preventive measure while testing is being performed, the governor said.
8:35 p.m. Scarsdale, New York, closes schools
The Scarsdale Public School District in Westchester County, New York, announced that all schools will be closed between March 9-18 after a faculty member tested positive for the coronavirus.
The unidentified middle school teacher is "exhibiting mild illness," according to the school district. Health officials advised closing all schools out of an abundance of caution, district representatives said.
The district will conduct "cleaning, progress monitoring, and social-distancing," during the closed days.
In addition, president Lee C. Bollinger of Columbia University in New York City announced the cancellation of classes Monday and Tuesday after a member of the Columbia University community went into self-quarantine after exposure to the virus.
Bollinger said the person hasn't been diagnosed and that there are no cases of coronavirus on campus.
"Please understand that the decision to suspend classes does not mean that the University is shutting down," he said in a letter sent to students.
Bollinger said that the university will "prepare to shift to remote classes for the remainder of the week."
7:19 p.m. Washington records another death
Health officials in Grant County, Washington, announced that one of its residents died from the coronavirus.
They did not provide further details about the patient, who was earlier reported to be their 80s and was diagnosed Thursday.
Washington leads the nation in coronavirus deaths with 19, the majority of which were residents of the Life Care Center nursing facility in King County.
Two deaths have taken place in Florida, and one in California, bringing the total number of coronavirus fatalities to 22.
7:10 p.m. Ted Cruz to self-quarantine after exposure at CPAC
U.S. Sen. Ted Cruz announced he will self-quarantine at his home in Texas after he was potentially exposed to the coronavirus at CPAC.
The senator said on Twitter that he interacted "for less than a minute" and shook the hand of the CPAC attendee who tested positive for COVID-19.
Cruz said that he is currently not experiencing any symptoms.
The 2020 Conservative Political Action Conference took place in Maryland during the last week in February.
Although the interaction occurred 10 days ago, Cruz said he has decided to wait for the full 14-day incubation period.
"Out of an abundance of caution, and because of how frequently I interact with my constituents as a part of my job and to give everyone peace of mind, I have decided to remain at my home in Texas this week," he said in a statement.
Cruz is the first member of Congress to undertake self-quarantine since the outbreak began.
6:48 p.m. Pelosi and Schumer recommend stimulus measures
House Speaker Nancy Pelosi and Senate Minority Leader Charles Schumer sent a letter to the president urging him to prioritize several plans to mitigate the effects of the coronavirus.
Among those recommendations are paid sick leave for quarantined patients or for those who are caring for children whose schools are closed, protections for health care workers and other "frontline" employees and affordable coronavirus treatment for all Americans.
"The administration must move more quickly and seriously to address the severe impacts of the coronavirus on the financial security of America's families," Pelosi and Schumer wrote in their letter.
6:15 p.m. Maryland records two more positive cases
Maryland Gov. Larry Hogan said the state has two additional positive coronavirus cases, bringing the total number of patients with the disease to five.
One of the new patients is a Harford County woman in her 80s and a Montgomery County man in his 60s, the governor's office said. Both residents contracted the virus while traveling overseas, according to the governor's office.
Health officials said there are no major concerns over an exposure risk to their communities and there is no connection to the previous three patients.
5:30 p.m. Canada to evacuate citizens on board Grand Princess
Canadian passengers on board the Grand Princess, the cruise ship currently anchored off the coast of San Francisco, will be evacuated and then quarantined at the Canadian Forces Base Trenton in Onatrio, according to a statement from Global Affairs Canada.
The ship, which currently has 21 positive cases of coronavirus on board, is scheduled to dock in Oakland on Monday.
It will take up to three days to disembark all the passengers, at least 1,000 of whom are elderly, California Gov. Gavin Newsom told reporters Sunday afternoon.
4:45 p.m. Washington nursing home now has enough test kits for residents
Life Care Center, the Washington nursing home where the majority of deaths from the coronavirus stemmed from in the state, has now obtained enough testings kits for all residents.
Testing will also be done on 11 residents who died at the facility in recent weeks who were not tested for the virus before their deaths, Tim Killian, spokesman for the nursing home, told reporters outside the facility on Sunday.
Three employees have been hospitalized, and one has tested positive, Killian said. However, not all employees are being tested, as the nursing home does not yet have enough kits to do so, he added.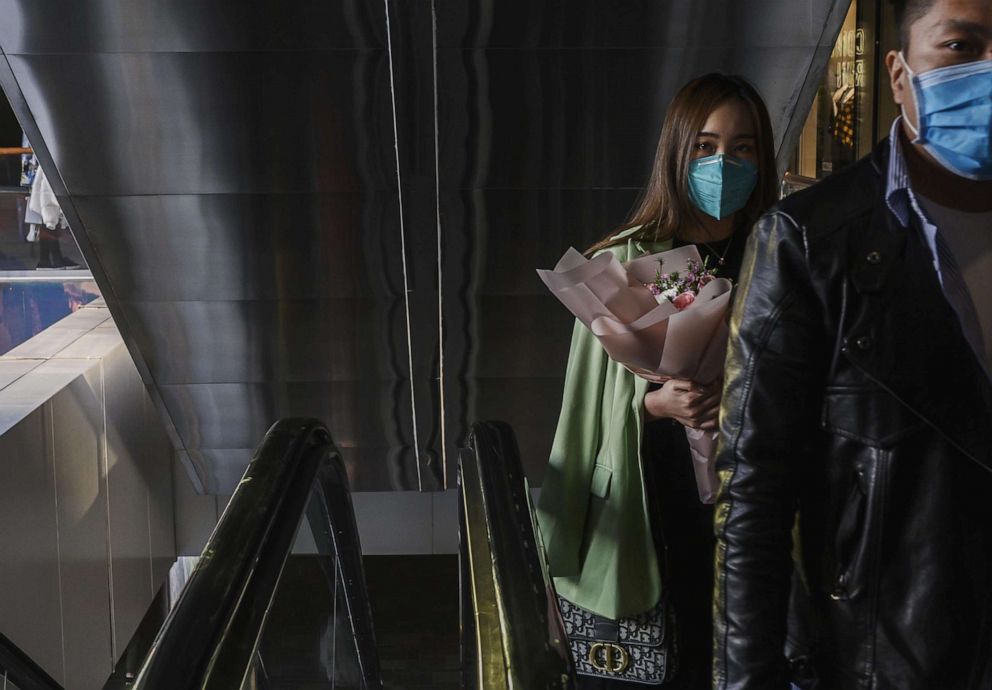 4:05 p.m. State Department warns Americans to not travel by cruise ship
The U.S. State Department is cautioning Americans, especially those with existing health conditions, to not travel by cruise ship, citing the increased risk of COVID-19 infection by doing so.
"Many countries have implemented screening procedures, denied port entry rights to ships and prevented disembarking," a tweet from the State Department read.
Two Princess cruises are currently hovering off the U.S. Coast. The Grand Princess cruise, where 21 people have tested positive, is scheduled to dock in Oakland, California, on Monday, while the Regal Princess is been forced to remain off the coast of South Florida until two of its crew members have been tested for the virus.
3:55 p.m. 2 more deaths recorded in Washington state
Two more people have died of the coronavirus in Washington state, according to local health officials.
Both patients -- a woman in her 80s and a man in his 90s -- are Life Care Center residents, according to the King County Health Department. The woman died on Friday, and the man died on Thursday.
Of the 18 deaths reported in Washington, 16 have been associated with the nursing home facility.
Two deaths have occurred in Florida and another in California -- bringing the total in the U.S. to 21.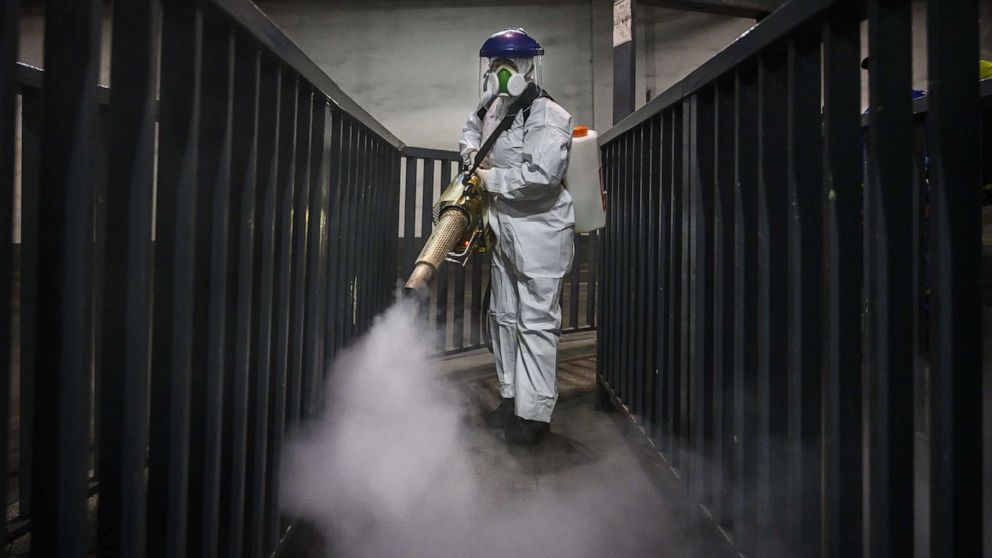 2:50 p.m. 2 crew members aboard Regal Princess off Florida coast being tested
The Regal Princess cruise ship has been forced to remain offshore by the Centers for Disease Control and Prevention and Department of Health and Human Services until two of its crew members have been tested for the coronavirus.
The U.S. Coast Guard transmitted a no sail order following the directive by the two agencies, according to a statement. A small crew out of the Coast Guard station in Miami transported test kits to the ship, which is sitting off the coast of South Florida.
The crew members previously served on the Grand Princess, the ship in which multiple U.S. citizens who have tested positive for the virus were staying on, according to a letter sent to passengers obtained by ABC News.
However, the workers are past the 14-day incubation period and are not showing any symptoms, the letter states.
The cruise was scheduled to dock at Port Everglades on Sunday morning, ABC Miami station WPLG reported.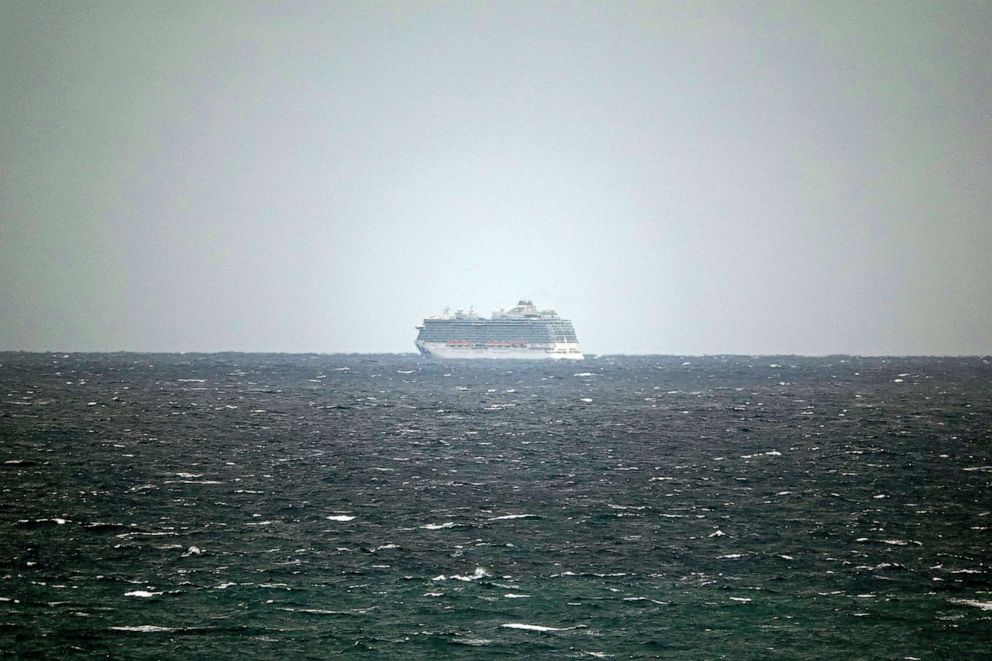 2:15 p.m. Oregon declares state of emergency
Oregon Gov. Kate Brown declared a state of emergency Sunday, which will remain in effect for the next 60 days.
The total number of cases in the state is at 14, with seven of those new, state officials said.
None of the new seven cases are related to international travel, Brown said. Some are being hospitalized, while others are only exhibiting mild symptoms.
Nine governors nationwide have declared states of emergency.
2:05 p.m. Italy's death toll increases to 366
The number of people who have died from the coronavirus in Italy has increased by 133 people in 24 hours, making the death toll 366, the country's civil protection agency announced Sunday.
More than 7,000 cases have been confirmed in Italy, nearly 1,500 of which are newly diagnosed, officials said.
Italy is the among the countries outside of China with the highest count of the virus.
South Korea has tallied 7,134 cases and 50 deaths, while Iran has 6,566 cases and 194 deaths so far.
1:35 p.m. 1st death reported in Egypt
A 60-year-old German national has died in Egypt as a result of the coronavirus, Egypt's health ministry announced Sunday.
The man showed symptoms of the illness after arriving at the Red Sea resort of Hurghada from the southern city of Luxor on Friday, officials said. He died two days later.
The country has reported 48 coronavirus cases so far, including 33 who were aboard a Nile cruise ship in Luxor, where 19 foreigners contracted the virus.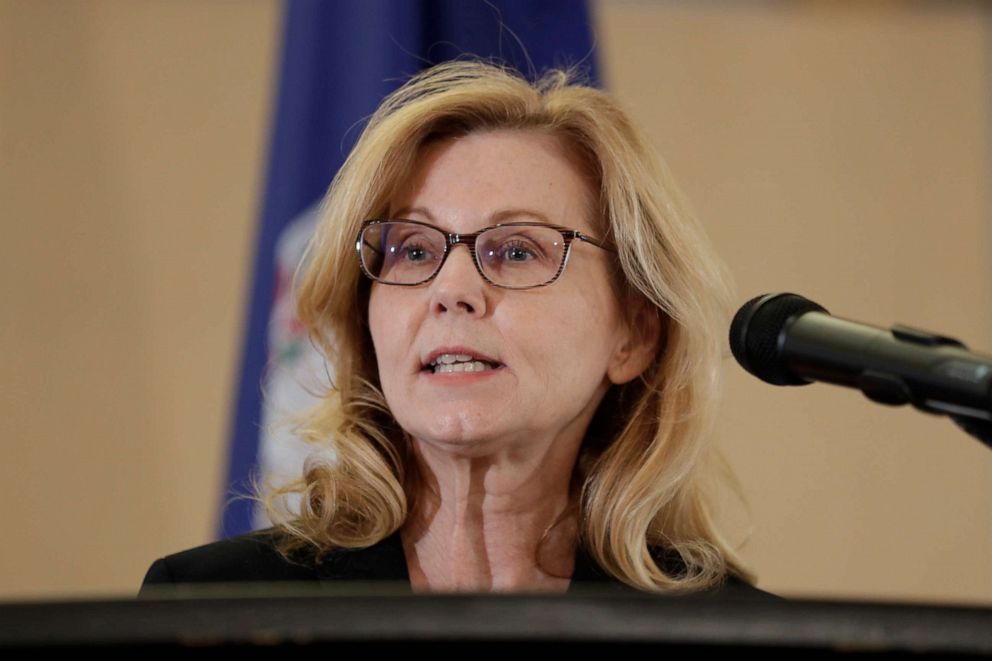 1:20 p.m. 2nd presumptive case confirmed in Virginia
The state of Virginia has confirmed a second presumptive case of coronavirus.
The patient is in his or her 80s and had recently taken a Nile River cruise, similar to other positive COVID-19 patients elsewhere in the U.S., state health officials announced Sunday.
The Fairfax County resident developed symptoms of respiratory illness on Feb. 28 and was hospitalized on Thursday with symptoms of fever, cough, fatigue and shortness of breath. He or she is currently being hospitalized in stable condition.
The patient has had limited contact with others while ill and risk to the community remains low, officials said. The patient's spouse was also on the river cruise and is being tested but is not displaying any symptoms of the virus.
Another patient -- a man who lives on the Marine Corp base at Quantico Station in Virginia -- began developing symptoms on Feb. 14 and returned to the U.S. three days later, officials said.
He is currently being treated at Fort Belvoir, officials said, adding that they believe he became infected during his travels.
1:10 p.m. Connecticut confirms presumptive case -- 1st in the state
The presumptive positive case of coronavirus in the state of Connecticut has been confirmed.
The patient is a resident of Wilton who is 40 to 50 years old and is being treated at Danbury Hospital, according to a statement from Connecticut Gov. Ned Lamont. The patient likely became infected with the virus during a recent trip to California and sought medical care after returning to Connecticut, Lamont said.
The case is not related to a Danbury Hospital employee who is a resident of New York State who was announced on Friday or another case involving a community physician who made rounds at Bridgeport Hospital and is also a New York State resident that was announced on Saturday.
Twenty-nine tests in the state have had negative results, while the results of eight tests are still pending.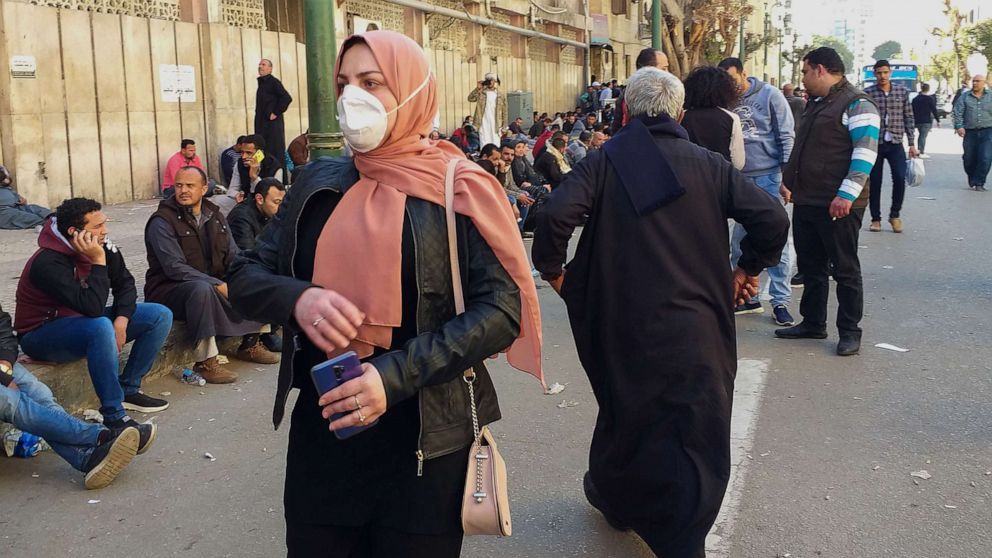 12:45 p.m. Students returning from Italy to be quarantined
Eighteen students who recently returned to the U.S. from Italy are being quarantined in upstate New York.
The students arrived at John F. Kennedy International Airport Saturday afternoon and were taken by bus to an empty residence hall at The College At Brockport State University Of New York, ABC Rochester affiliate WHAM reported.
Each student has been screened and so far have not shown symptoms of the virus. They will be quarantined on the college campus for 14 days as a "preventative measure," the school said in a statement.
11:40 a.m. New York governor calls for CDC to allow testing from private labs
New York Gov. Andrew Cuomo criticized the Centers for Disease Control and Prevention for not letting the state of New York use private laboratories to test for the coronavirus.
The number of people to test positive in New York increased to 105 on Sunday, Cuomo said.
Cuomo said the "single-best thing" health officials can do is test for the virus to identify and isolate the positive cases.
The Wadsworth Center, which is run by the New York State Department of Health in Albany, is now overwhelmed with the number of coronavirus tests, so Cuomo is looking to enlist the help of private labs to keep up with the demand.
One of the labs is run by hospital system Northwell Lab, which is equipped with automated testing -- or machines with the ability to run 120 samples at a time.
"It expands exponentially the amount of tests that can be done," Cuomo said.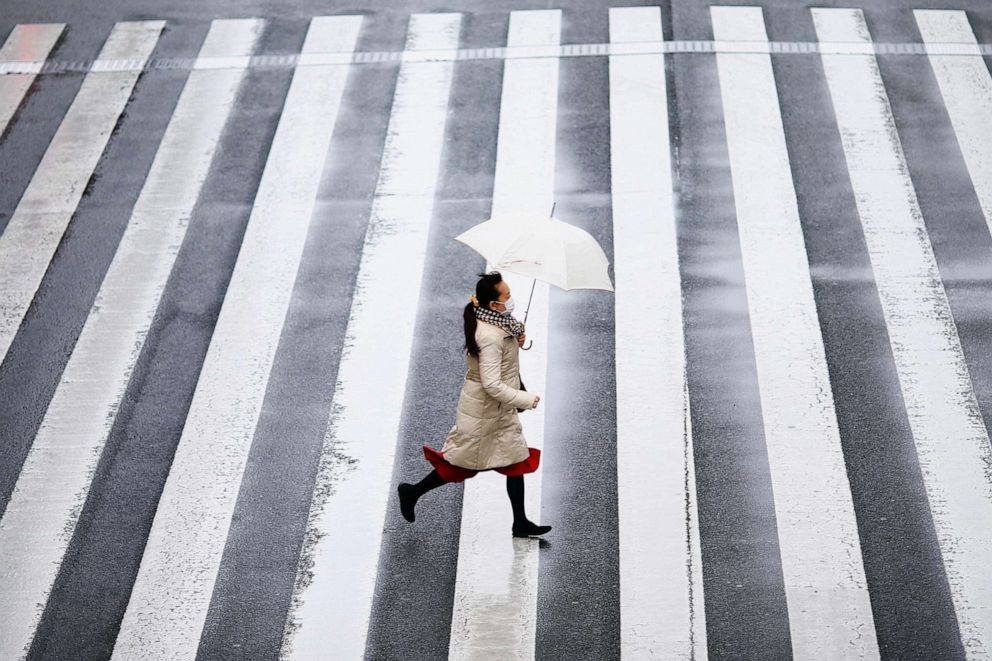 11 a.m. Vermont announces 1st presumptive case
A patient in Vermont is the state's first presumptive case of the coronavirus, the Vermont Department of Health announced Sunday morning.
The adult patient is currently hospitalized in an airborne infection isolation room, and health officials are currently investigating his or her travel and possible exposure history.
Individuals who have been in close contact with the patient will also be assessed for their exposure risk.
Earlier
The cruise ship with 21 positive cases of coronavirus and more than 1,000 elderly passengers on board is slated to dock in Oakland on Monday, according to officials.
The captain of the ship initially announced to passengers late Saturday night that they would be docking in Oakland on Sunday afternoon.
Guests who require acute medical treatment and hospitalization will be transported to health care facilities in California, cruise staff announced to passengers. California residents who don't require immediate care will go to a federally operated isolation facility in the state for testing and isolation.
Americans from states other than California will be transported by the federal government to facilities in other states, according to the announcement.
Four of the passengers are Georgia residents and are expected to arrive at the Dobbins Air Reserve Base in Marietta late Monday or early Tuesday, said Georgia Gov. Brian Kemp.
A patient who had traveled aboard a Grand Princess cruise ship in early February became Hawaii's first case of the virus, Hawaii Gov. David Ige announced Saturday.
Utah's first patient to test positive is also believed to have traveled on a Grand Princess cruise ship, according to state officials, but not the one that is currently off the coast of San Francisco.
The Carnival cruise ship Panorama has been cleared to disembark in Long Beach, California, on Sunday morning after a passenger tested negative for COVID-19. A guest aboard the cruise had been taken to the hospital in Long Beach for evaluation, according to the cruise line.
ABC News' Katherine Carroll, Alexandra Faul, Matthew Fuhrman, Matt Gutman, Ahmad Hemingway, Joshua Hoyos, Aaron Katersky, Sarah Shales, Ben Stein and Christine Theodorou contributed to this report.