FDA approves 1st maternal RSV vaccine to help protect infants
The vaccine would reduce risk of severe RSV infection among newborns.
The U.S. Food and Drug Administration has approved the first maternal vaccine intended to help protect newborns against respiratory syncytial virus (RSV). The vaccine would be given during late pregnancy to reduce the risk of severe RSV infection among newborns.
However, the vaccine won't be available on pharmacy shelves for pregnant women immediately. It is still awaiting an evaluation from an expert panel at the Centers for Disease Control and Prevention, and the CDC director's sign-off -- a regulatory process that is likely to take place in the coming weeks, according to a CDC spokesperson.
In the meantime, infants will have access to another newly approved tool called nirsevimab -- a monoclonal antibody shot that is recommended for all infants less than 8 months old.
"We're hopeful that these two [products] will work together so that we can provide the most protection to the most individuals possible," Dr. Elizabeth Schlaudecker, medical director in the division of infectious disease at Cincinnati Children's Hospital who was involved in the maternal vaccine clinical trial, told ABC News.
RSV, a common respiratory illness, can be deadly for infants because of their susceptibility to bronchiolitis, inflammation of the smallest airways that makes it hard for babies to breathe, and is a common cause of pneumonia in babies.
Two to three out of every 100 infants with an RSV infection may require hospitalization, and every year the virus leads to 58,000 to 80,000 hospitalized children less than 5 years old, according to the CDC.
The newly approved vaccine, manufactured by Pfizer as Abrysvo, is already available at major pharmacies for adults 60 years and older who are also a population at risk of severe infection from RSV.
This vaccine stimulates the immune system to make antibodies against a protein from the virus called the F protein that RSV uses to attach to human cells and cause infection.
The idea behind the maternal vaccine is that when given during the third trimester of pregnancy, there's enough time to build immunity against RSV and pass it along to the baby before birth. This immunity won't last forever but can help protect the youngest babies when they are the most vulnerable in the first six months of life.
"The great news about this vaccine is without even having to vaccinate a baby, before they're born they are starting to receive protection against one of our most feared viruses," said Schlaudecker.
This isn't the only vaccine that works in this manner. A booster of the tetanus, diphtheria, and pertussis vaccine, called Tdap, is also recommended to be given to pregnant women between 27- and 36-weeks' gestation to allow protective antibodies to pass on to the baby before birth.
Pfizer's maternal RSV vaccine is more than 80% effective at combatting severe illness that required a doctor's visit among infants through the first three months of life, and still reduced risk as far as 6 months, according to clinical trial results published in the New England Journal of Medicine.
While there were no major safety concerns or serious adverse events found during the clinical trials, four out of the fourteen experts on an independent FDA advisory committee that met in May this year said the data presented to them was not adequate enough to vote in favor of vaccine safety, citing concerns that the data signaled toward an association with increased premature births even though it was not statistically significant in the studies.
In its news release, the FDA said "the Prescribing Information for Abrysvo includes a warning to inform that a numerical imbalance in preterm births in Abrysvo recipients (5.7%) occurred compared to those who received placebo (4.7%). The available data are insufficient to establish or exclude a causal relationship between preterm birth and Abrysvo."
The FDA also said it's requiring Pfizer to conduct post-marketing studies "to assess the signal of serious risk of preterm birth and to assess hypertensive disorders of pregnancy, including pre-eclampsia."
The CDC's Advisory Committee for Immunization Practices (ACIP) will meet to discuss Abrysvo in the coming weeks. Now that there are two FDA-approved RSV products for infants, the CDC committee will likely need to determine specific recommendations for both products.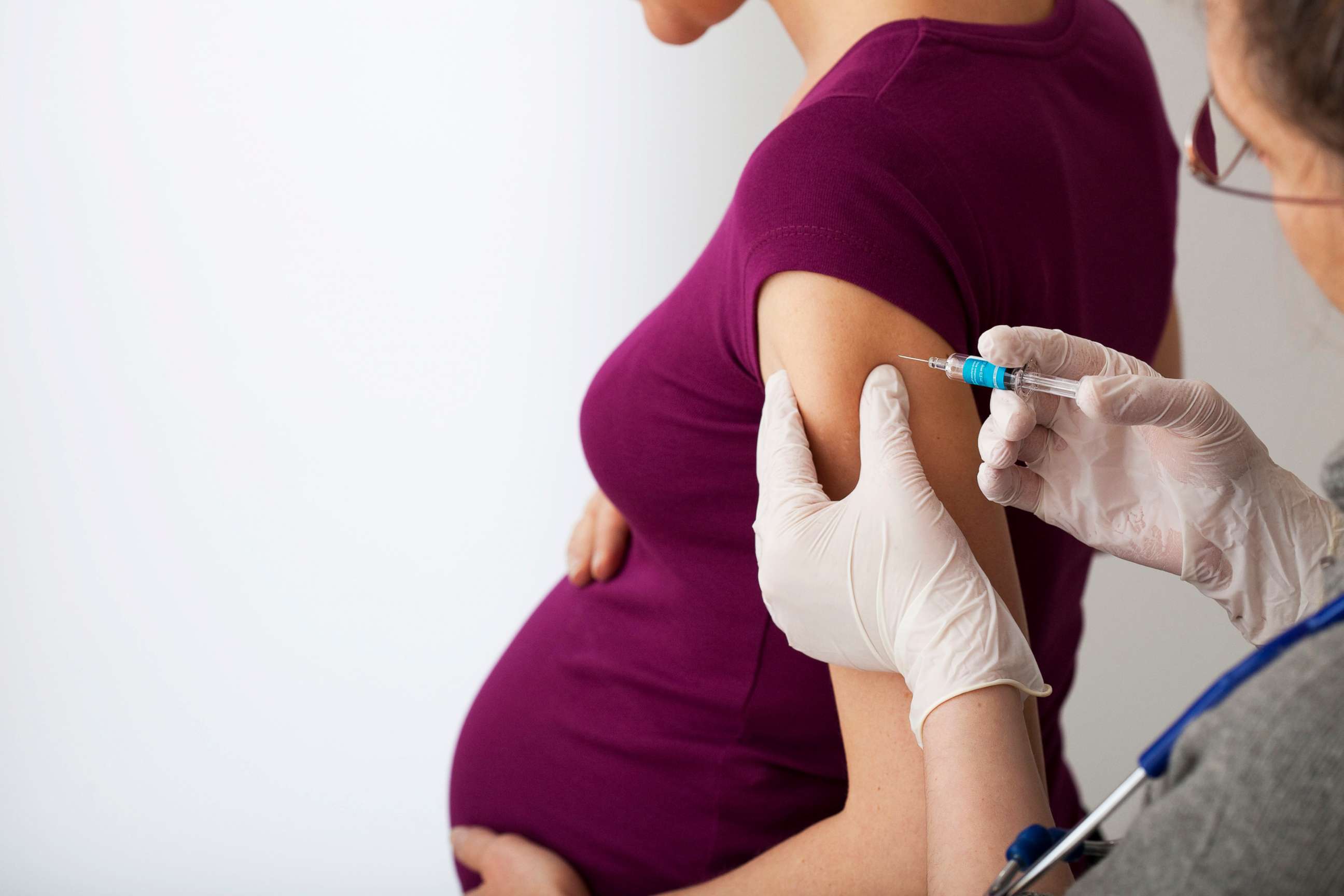 Symptoms of RSV include coughing, fever, runny nose, sneezing, wheezing and a decrease in appetite, according to the CDC.
RSV typically causes a mild illness for most people but can be dangerous for the elderly, infants and babies, with some vulnerable children at an even greater risk of severe illness, including those born prematurely, immunocompromised children and those suffering from congenital heart and lung diseases, the CDC said.
"[RSV] can lead to difficulty breathing like fast breathing, and sometimes the infants have trouble feeding because they're breathing so hard. And that is certainly when we begin to get worried… it is something that we see very commonly in young children, but it can be very scary," Schlaudecker said.
Experts say that any tool to prevent severe infection from RSV benefits babies because there is no specific treatment for this virus other than supportive care.
Dr. Maria Deza Leon, a mother enrolled in the clinical trial and pediatric infectious disease fellow at Cincinnati Children's Hospital, told ABC News that she wanted to participate in the trial as another way to protect her unborn son after seeing countless babies in the hospital struggling to breathe from RSV.
"I was very excited to participate, because when I was a resident I saw so many cases of RSV bronchiolitis...It was a very scary thing to see. And I could see the parents faces and see how they were so scared to see their kids struggling to breathe… if there's a chance that I could protect my baby from this horrible viral infection. Sign me up," Deza Leon told ABC News.
Deza Leon said getting the shot was a lot like getting the Tdap booster in pregnancy but hasn't been told if she received the placebo shot or the maternal RSV vaccine yet. Since enrolling in the clinical trial, she has given birth to a healthy 18-month-old son who she said has never had RSV that she knows of yet.
Deza Leon hopes that her story will help more mothers want to get the vaccine when it's available.
"There's nothing scarier for a parent than seeing your kid struggling to breathe ... I think if you have the opportunity to protect your kids, then you should take it and getting the RSV vaccine if you're a pregnant mom is a great way to do that. So, I would 100% recommend it," she said.
Dr. Jade A Cobern, M.D., M.P.H. is a licensed and practicing physician, board-eligible in pediatrics and preventive medicine, and is a member of the medical unit.