FDA panel greenlights vaccines for kids, paving the way for authorization
The panel voted Tuesday afternoon.
Vaccines for 28 million American children are on the way to authorization after an advisory panel at the Food and Drug Administration voted in support of the Pfizer vaccine for kids ages 5-11 on Tuesday afternoon.
The vote was the first step in a regulatory process for the two-shot Pfizer vaccine that could allow kids to get their first shots in early November and become fully immunized by early December.
Next, leaders of the FDA have the chance to officially sign off, potentially as soon as Tuesday night. If and when that happens, the White House will begin shipping doses, senior officials told governors on a call Tuesday afternoon that was obtained by ABC News.
But there are still more steps before shots go into arms: If authorized by the FDA, the process would move to the Centers for Disease Control and Prevention next Tuesday, when a CDC panel meets to discuss the same data reviewed by the FDA advisers.
"If all goes well, and we get the regulatory approval, and the recommendations from the CDC, it's entirely possible, if not, very likely, that vaccines will be available for children from 5 to 11 within the first week or two of November," Dr. Anthony Fauci, chief medical adviser for the White House, said in an interview on Sunday on ABC's "This Week."
Many parents are desperate to protect their children after the delta surge over the summer led to increased cases and hospitalizations among kids. Though the variant is not more deadly, it is more transmissible -- and because kids are unvaccinated, the variant rocketed through schools and camps.
The most recent data from Pfizer's clinical trials found that the vaccine for 5-11 year olds was nearly 91% effective against symptomatic illness.
For kids, the vaccine will be given at a smaller, one-third dose.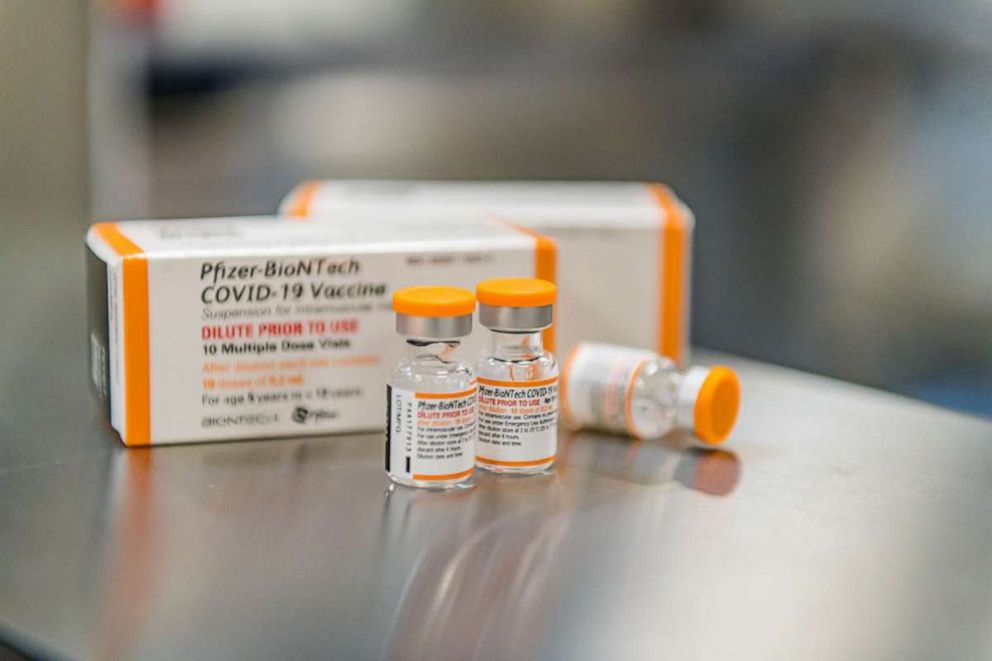 The vaccine also appeared safe. None of the children in the clinical trials experienced a rare heart inflammation side effect known as myocarditis, which has been associated with the mRNA vaccines in very rare cases, mostly among young men.
And in a review of the data that assumed the worst -- that kids could experience myocarditis at the same rates as young men, which many experts don't believe will be the case -- the FDA's senior adviser for benefit-risk assessment, Hong Yang, still found that in the majority of scenarios, kids will still be safer once vaccinated.
Dr. Matthew Oster, a pediatric cardiologist, told the panel during his presentation on myocarditis that one of the leading theories is that the heart inflammation is linked to testosterone and hormones, which is why it has occurred more often in teenage boys and young men. Oster also said people tend to recover quickly from the kind of myocarditis experienced after vaccination.
But he noted that long-term study of myocarditis is still needed.
"We really need to see what the long-term outcomes for these kids will be. So far, the data for follow-up results is sparse but ongoing follow-up is in progress," Oster said.
Despite the near-unanimous vote, Oster and Yang's presentations were among the most debated.
The FDA experts ultimately agreed all children should have the opportunity to get vaccinated, but many also voiced concern over the remaining unknowns about adverse effects, weighing that against the relatively low risk of hospitalization or death from COVID for kids.
Most FDA advisers felt very clearly that the benefits outweighed the risk.
"To me the question is pretty clear. We don't want children to be dying in COVID, even if it is far fewer children than adults, and we don't want them in the ICU," said Dr. Amanda Cohn, chief medical officer for the National Center for Immunization and Respiratory Diseases.
Although children are less likely to die of COVID-19 than older adults, nearly 2 million kids in the 5-11 age group have gotten COVID. Of those, 8,300 have been hospitalized, about one-third of whom have been in the intensive care unit, and almost 100 kids have died.
Cohn said if adverse events like myocarditis increase among kids, the safety systems in place will flag and address the problem.
Dr. Jeannette Lee, a biostatistician at the University of Arkansas, also agreed.
"Obviously, the adverse events are always a concern, but they don't seem to be overwhelming really, at this point," Lee said. "I will say that the school closures and the disruption, I think has been enormous."
But some, though they voted in favor, also felt there should be caveats to the authorization.
"I'm just worried that if we say yes, that the states are going to mandate administration of this vaccine to children in order to go to school, and I do not agree with that. I think that would be an error at this time, until we get more information about the safety," Dr. Cody Meissner, chief of pediatric infectious diseases at Tufts Children's Hospital, told his colleagues on the panel.
For his part, FDA's vaccine chief Dr. Peter Marks said the experts should trust that any adverse effects would be closely monitored and acted on if necessary.
The safety teams at the FDA and CDC "are incredibly committed and devoted to making sure that we understand the nature of the safety events and that we catch these signals as soon as we possibly can," Marks said. "That's what we're here to do."
The White House has purchased enough pediatric doses to vaccinate all 28 million children ages 5 to 11. If authorized, it will be distributed to thousands of sites, including pediatricians, family doctors, hospitals, health clinics and pharmacies enrolled in a federal program that guarantees the shots are provided for free.
Some states are planning to provide the vaccine through schools as well.
The 5-11 age group would be the youngest and latest to receive eligibility. The Pfizer vaccine has already been authorized for adolescents 12 and up, and everyone 18 and older is eligible for all three vaccines: Pfizer, Moderna and J&J.
Whether parents will embrace the vaccines for their kids is still a question. In a September poll, the Kaiser Family Foundation found that about a third of parents with kids ages 5-11 were willing to vaccinate their kids right away, while another third wanted to "wait and see." The figures represented a slight uptick in vaccine acceptance among parents of elementary-school-aged kids since July.
Trials for children 2 years and up, the next age group that could become eligible, are ongoing. Data from the clinical trials is expected sometime this winter.
ABC News' Anne Flaherty contributed to this report.