The number of measles cases in the U.S. has reached a new high, with the Centers for Disease Control and Prevention reporting that there have been 704 cases reported nationally so far this year.
The ongoing outbreaks have caused this year's number of cases to blow past the previous annual record in just the first few months.
Last week, there were 626 confirmed cases for 2019. At that time, officials said that "in the coming weeks" the number of confirmed cases in 2019 were expected to surpass the prior record set in 2014 when 667 cases were reported.
Instead, it took less than a week to break the record.
Cases have been reported in 22 states, with some of the biggest outbreaks located in Rockland County and Brooklyn, New York.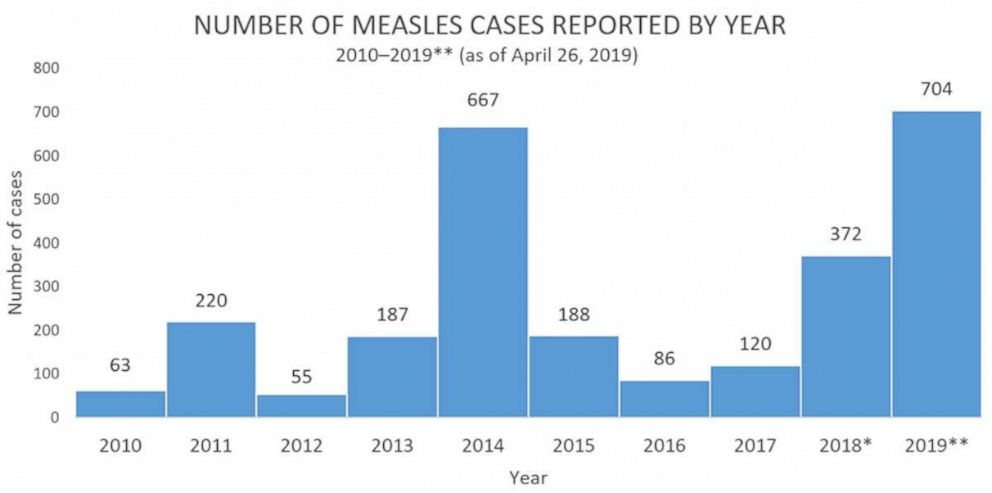 The outbreaks in New York date back to October 2018. The latest figures released from those communities reveal that since that time, there have been a total of 202 cases in Rockland County and 390 cases in Brooklyn and Queens.
A Jewish all-girls school and a Jewish preschool, both in Brooklyn, were closed by the city's Health Department on Monday because of their reported failure to comply with the health department's order that requires yeshivas and child care programs in certain zip codes to bar unvaccinated children from attending.
This brings the total number of schools closed by the health department to seven, as five were previously closed following the order issued earlier this month.
There have been 43 confirmed cases in Michigan since March of 2019. In California, there are at least 11 counties with reported cases totaling 38. Both New Jersey and Maryland have reported four cases each, and in Maryland, officials have tracked the outbreak to three zip codes in Baltimore.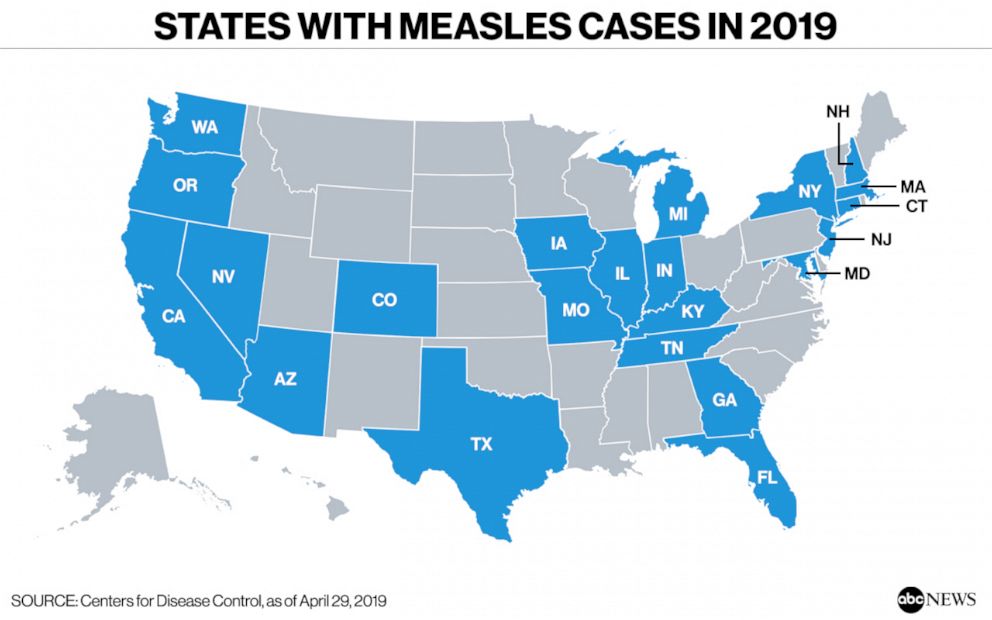 The CDC lists nine ongoing outbreaks, and notes that each of those outbreaks "are linked to travelers who brought measles back from other countries such as Israel, Ukraine, and the Philippines, where large measles outbreaks are occurring."
Robert Redfield, the director of the CDC, told ABC News' chief medical correspondent Dr. Jennifer Ashton that he finds the ongoing outbreaks "very concerning."
As the number of cases rises, the chances that there will be a fatality become more likely, according to Redfield.
"It won't be surprising if unfortunately we do see a death," he said Monday.
He added that the overwhelming majority of those who have contracted measles were not vaccinated, prompting further calls for people to get vaccinated if they haven't been already.
"I do think that much of the unvaccination is due to misinformation or, 'I'm just worried I don't want to make a mistake,'" he said.
"The measles vaccine is highly effective. It's safe. As you know, measles vaccines do not cause autism," Redfield told Ashton. "The key is to get people particularly in the high risk areas... get those individuals that are still susceptible to come in and get vaccinated," he said.
ABC News' Jennifer Ashton contributed to this report.