When Dave and Jenni Ezell first found out their twin sons were conjoined, they considered terminating the pregnancy. The couple was initially told even if the pregnancy was brought to full term, the infants would likely not survive for long after birth and would be subject to multiple painful medical procedures.
"Imagine being in the worst place you've ever been in your entire life," Dave Ezell told ABCNews.com about hearing the news. "[It's like] being in a deep dark hole."
Eventually the couple met with a doctor who believed the twins had a chance at long term survival, and Jenni Ezell safely delivered the babies, Owen and Emmett Ezell, on July 17.
But after their birth the twins still faced the obstacle of being separated through surgery.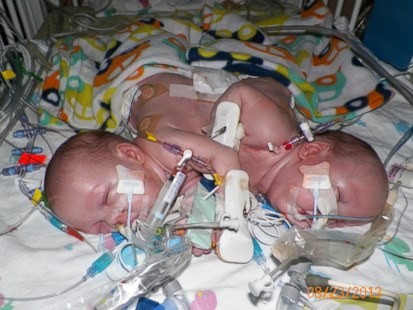 At a press conference Thursday, Dave and Jenni Ezell, both 31, introduced photos of their "thriving babies" just five days after they were successfully separated in an operation last Saturday at Medical City Children's Hospital in Dallas.
"I'm just so happy they're here, they're alive and they're thriving," Jenni Ezell told reporters. "It's the best feeling in the world for a mom."
The boys were born conjoined from their breastbone to their hip bone. Before the surgery they shared a liver and an intestinal tract.
Nearly a week after their separation surgery, the twins' father said they are stable and alert.
"Every day we feel a little bit better and get a little bit more sleep," said Dave Ezell.
Dr. Clair Schwendeman, a neonatologist treating the twins, said he was "cautiously optimistic" for the twins' recovery.
"They're on some breathing support, but they've stabilized," said Schwendeman.
Schwendeman said incidents of conjoined twins are extremely rare and are estimated to occur at a rate of between one in 50,000 to one in 200,000 births.
Schwendeman said that the Ezell twins were estimated to have a 40 to 50 percent chance of survival.
Dave Ezell said he and his wife have been at the hospital every day since the twins were born and have already seen the twins exhibit some signs of sibling rivalry.
"Owen was always a little bit feisty, Emmett was always a little bit cooler," said Dave Ezell. "Whenever they got to their breaking point [when they were still conjoined], that's when the slug fest started."
Schwendeman said at some point one twin even took out the other twin's IV line. For the medical team there was the additional problem of telling the twins apart. The Neonatal Intensive Care Unit nurses even painted the infants' fingernails different colors so doctors could determine which was Owen and which was Emmett.
Jenni Ezell has been documenting her experiences with the twins on her blog.
Writing about the morning of the surgery, Jenni Ezell wrote that she and her husband had a few moments alone with the twins before they were taken away to the operating room.
Conjoined Twins Home for the Holidays
"I hope I never have to experience a moment like that again," Ezell wrote. "I didn't know if I would see my babies alive again, if I would see only one, or if I would see them after they had gone to be with their creator."
Dave Ezell said he was additionally concerned because he knew how long and complicated the surgery was scheduled to be.
"You expect things are going to go wrong," Dave Ezell told ABCNews.com. "You don't think things are going to go according to plan … we kept waiting for the hammer to fall."
During the twins' surgery the couple, who also have two older sons, waited for approximately nine hours in a private room with family members.
Throughout the day the couple was updated on the twins' progress. Just before 4 pm they were told that the infants had been successfully separated and were doing well.
"At this point, the room exploded into clapping and cheers, hugging and celebration," wrote Jenni Ezell. "My babies were two, and I rejoiced with streaming tears of joy and amazement!"
Court Rules to Separate Conjoined Twins
Schwendeman said the Ezell twins would need future surgeries to fix the sites of their IV lines and to add abdominal muscle.
The immediate next step will involve weaning the infants off the ventilators and allowing them to start normal feedings.
But Dave Ezell said he and his wife are starting to worry about extra car seats and cribs instead of just medical complications.
"[We're] getting ready to bring them home," said Dave Ezell. "We're definitely happy about those problems."