Texas, Mississippi to end mask mandates, allow businesses to reopen at full capacity
"It is now time to open Texas 100%," Gov. Greg Abbott said.
Gov. Greg Abbott ended Texas' statewide mask mandate and announced an executive order to allow all businesses to reopen at full capacity.
"It is now time to open Texas 100%," Abbott said at a news conference Tuesday.
"COVID has not suddenly disappeared," he added. "But it is clear from the recoveries, from the vaccinations, from the reduced hospitalizations, and from the safe practices that Texas are using, that state mandates are no longer needed."
Abbott's executive order is effective March 10, overriding a previous executive order issued in October. The new order mandates that if hospitalization rates exceed 15% hospital bed capacity for seven days, county judges may use mitigation strategies in their jurisdiction, according to Abbott.
The state's mask mandate had been in effect since July.
Abbott spent the last week teasing the announcement during press conferences and on Twitter, hinting at "exciting news."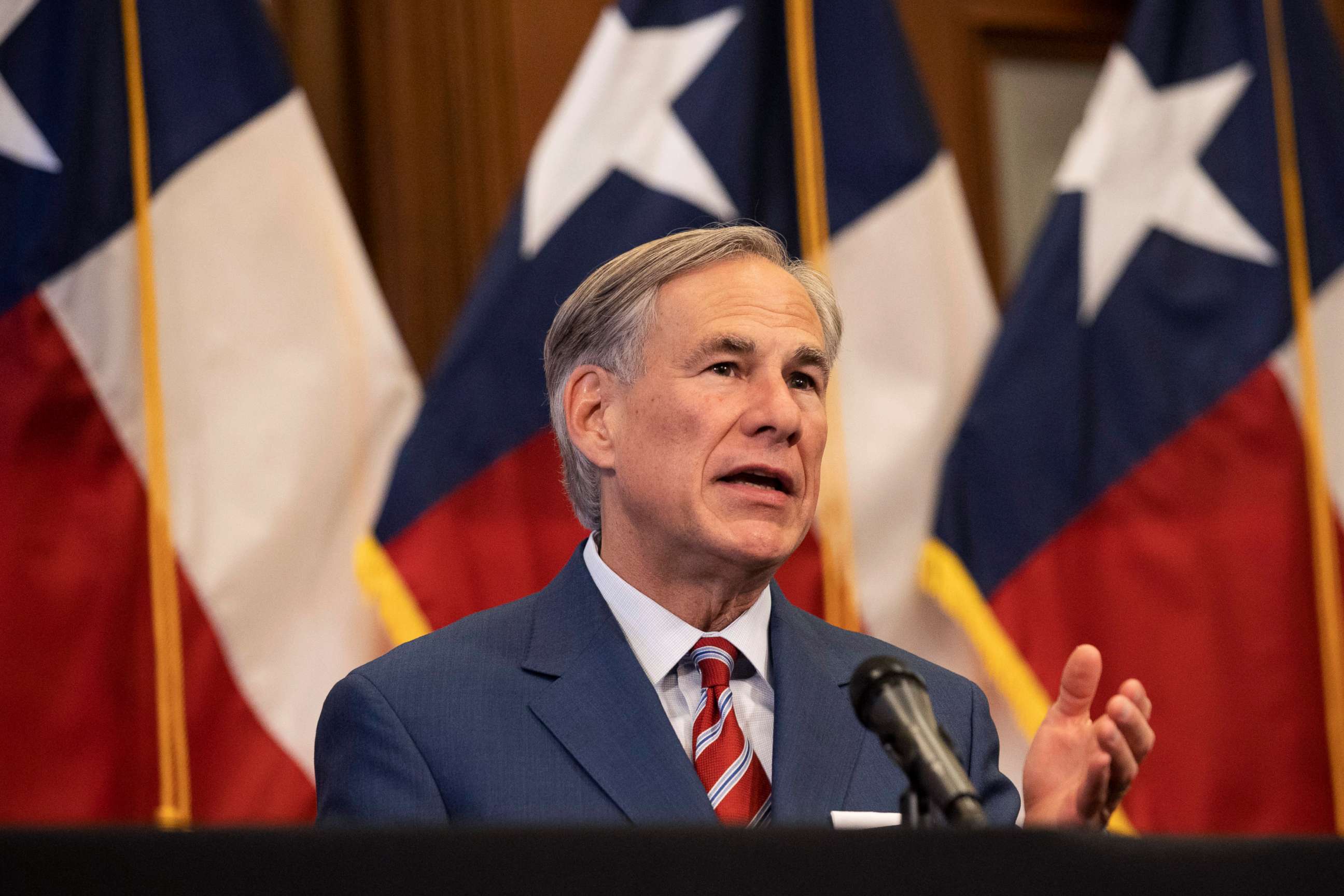 Health experts, including Dr. Anthony Fauci, have cautioned against states reopening too quickly. At a White House briefing on Friday, Fauci warned against easing restrictions until the U.S. baseline average of new infections is lower.
"We have to carefully look at what happens over the next week or so with those numbers, before you start making the understandable need to relax on certain restrictions," Fauci said. "Watch it closely, and be prepared to react according to what actually happens."
White House senior COVID-19 adviser Andy Slavitt told CNN Tuesday night he hopes Abbott will rethink lifting restrictions, especially the mask mandate, though he stopped short of suggesting President Joe Biden should call the governor to ask him to change course.
"We think it's a mistake to lift these mandate too early. Masks are saving a lot of lives," he said. "The president has been clear about the fact that in the first 100 days of this administration, we could save 50,000 lives if we stick to this. I'm hoping that the businesses, and the community and people in Texas, the mayors, the county, will rethink this. I hope the governor rethinks this. It's only a small piece of cloth that's needed."
As of Tuesday, Texas had reported 2.6 million infections and 43,918 deaths, according to data from Johns Hopkins University.
During the Tuesday press conference, Abbott touted the state's positivity rate as being "under 9%," still nearly double the 5% threshold recommended by the World Health Organization.
In Texas, 6.8% of the population has received both doses of the vaccine, slightly lower than the national average of 7.9%, according to the Centers for Disease Control and Prevention.
Mississippi followed suit on Tuesday, with Gov. Tate Reeves announcing he would also remove mask mandates and business restrictions.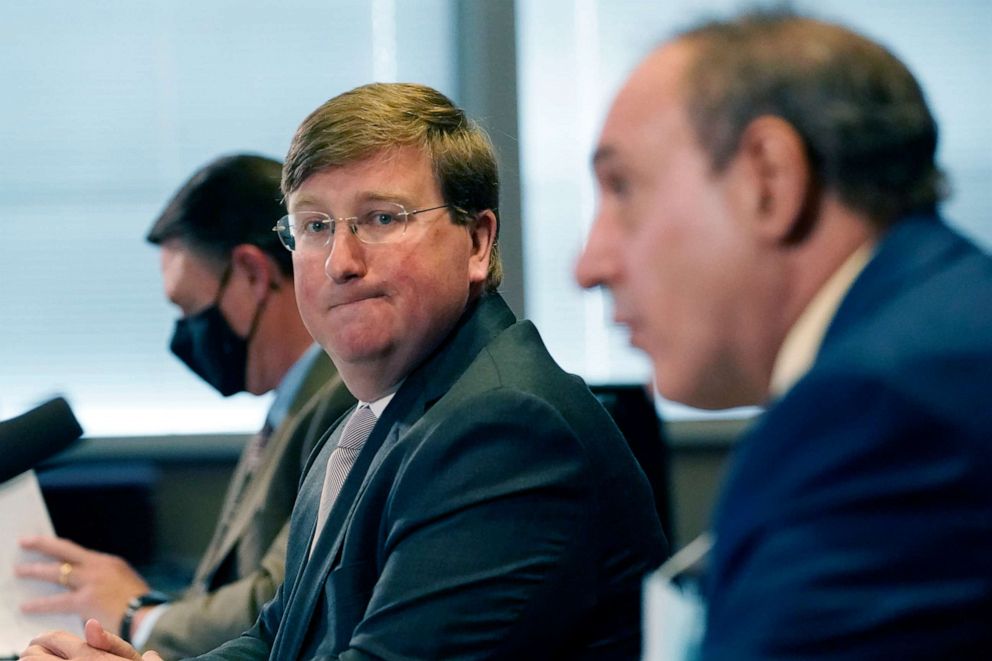 "Starting tomorrow, we are lifting all of our county mask mandates and businesses will be able to operate at full capacity without any state-imposed rules," Reeves said in a Facebook post. "Our hospitalizations and case numbers have plummeted, and the vaccine is being rapidly distributed. It is time!"
While cases have fallen in the state since January, the percent positivity rate for the last month is 10.96%, according to Johns Hopkins University. Only 7.63% of the state's population has been vaccinated.
On the same day the governor announced the end of restrictions, the Mississippi Department of Health tweeted, "Despite a decline in COVID-19 cases, significant community transmission continues. MSDH advises all Mississippians 65 and up, or 16 and older with serious chronic medical conditions, to avoid all social gatherings outside of the household until vaccinated."
ABC News' Anne Flaherty and Mark Osborne contributed to this report.