Over 800 arrested across France in 3rd night of riots after fatal police shooting of teen
A teenage boy identified as Nahel M. was killed by French police on Tuesday.
Widespread rioting continued in the streets of France for a third night amid anger over the fatal police shooting of 17-year-old Nahel M.
Protesters erected barricades, set buildings and cars ablaze, threw fireworks at riot police and ransacked stores. Police stations, schools and town halls were among the buildings targeted. Riot police used tear gas, water cannons and non-lethal dispersion grenades to fend off violent groups.
A total of 875 people were arrested, 3,880 fires were started, 2,000 vehicles were burned and 492 buildings were damaged nationwide on Thursday night as curfews were in place in multiple cities, according to the French Ministry of the Interior. About half of the arrests were reportedly made in the Paris region alone.
"Last night, our police, gendarmes and firefighters courageously faced rare violence," French Interior Minister Gerald Darmanin said in a Twitter post on Friday morning.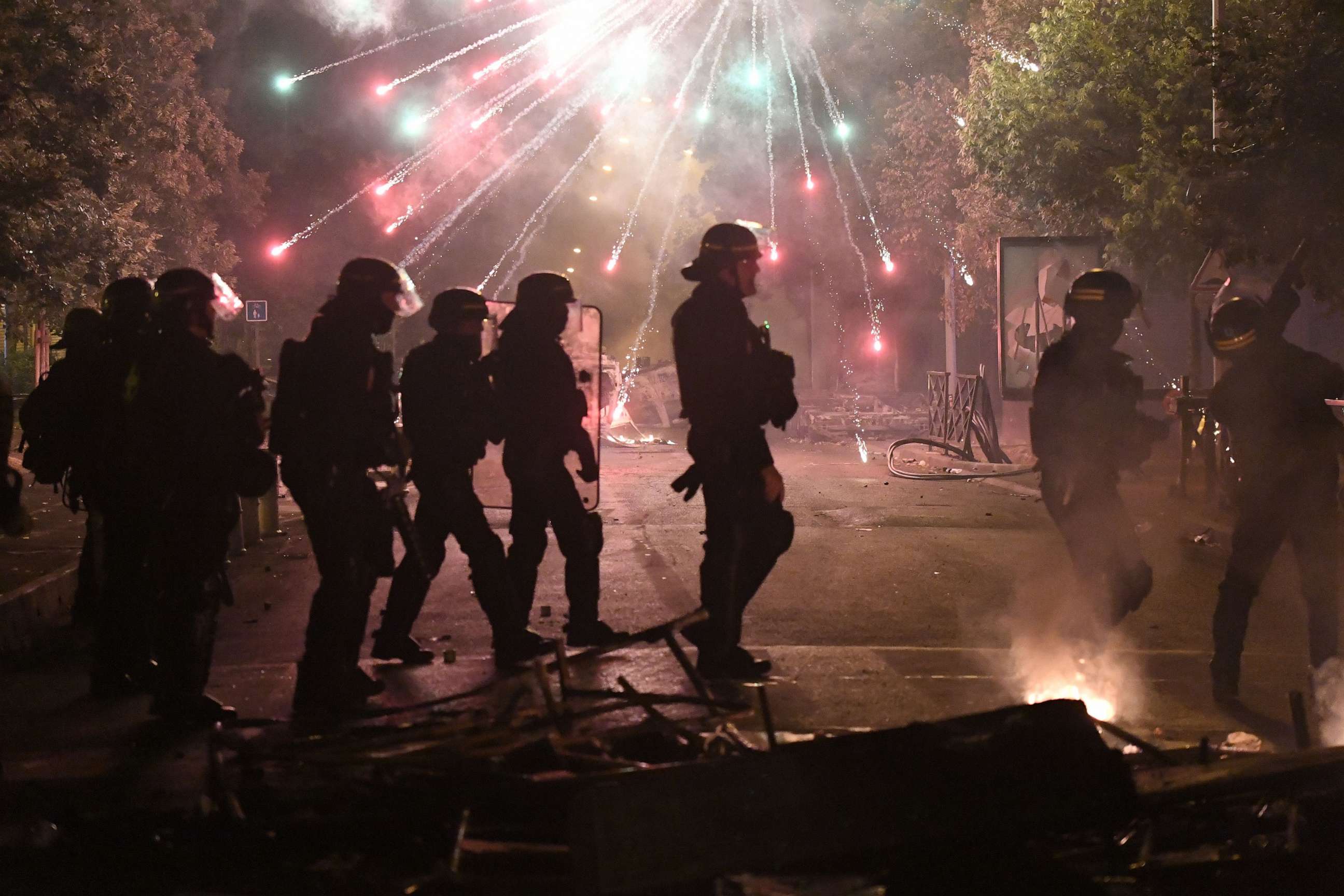 Among those arrested were 14 people who allegedly broke into a flagship Nike store at the Chatelet station in the heart of Paris, according to an official in the Paris Prefecture Office.
In the southern port city of Marseille, 18 people were arrested following protests in the city center that included clashes with police, the Bouches-du-Rhône prefecture announced. An investigation into the attempted murder of persons holding public authority was opened Friday after two plainclothes police officers were allegedly assaulted during protests Thursday night, the local prosecutor said.
Some 40,000 law enforcement officers had been deployed across France on Thursday evening to quell potential violence, including about 5,000 in the capital and its inner suburbs. Nearly 250 of those officers were injured overnight, according to Darmanin.
Protests over the teenager's death also took place in Belgium's capital on Thursday night, with some rioters allegedly attacking officers in Brussels, a spokesperson for the Belgian Federal Police told ABC News. At least eight people were arrested there, the police spokesperson said.
Dozens of police officers were deployed in the city center of Brussels on Thursday night and two subway stations were shuttered.
The rioting continued into Friday; in the French city of Strasbourg, 33 people were arrested amid incidents that included the looting of an Apple store, officials said.
The violent unrest in France kicked off after a 17-year-old driver was shot and killed by a police officer during a traffic check in the northwestern Paris suburb Nanterre on Tuesday morning. The officer has been detained on suspicion of voluntary homicide amid an ongoing investigation into the incident, according to the local prosecutor's office.
Nanterre prosecutor Pascal Prache said Thursday that the officer did not meet the requirements to discharge his weapon and will remain in custody awaiting trial.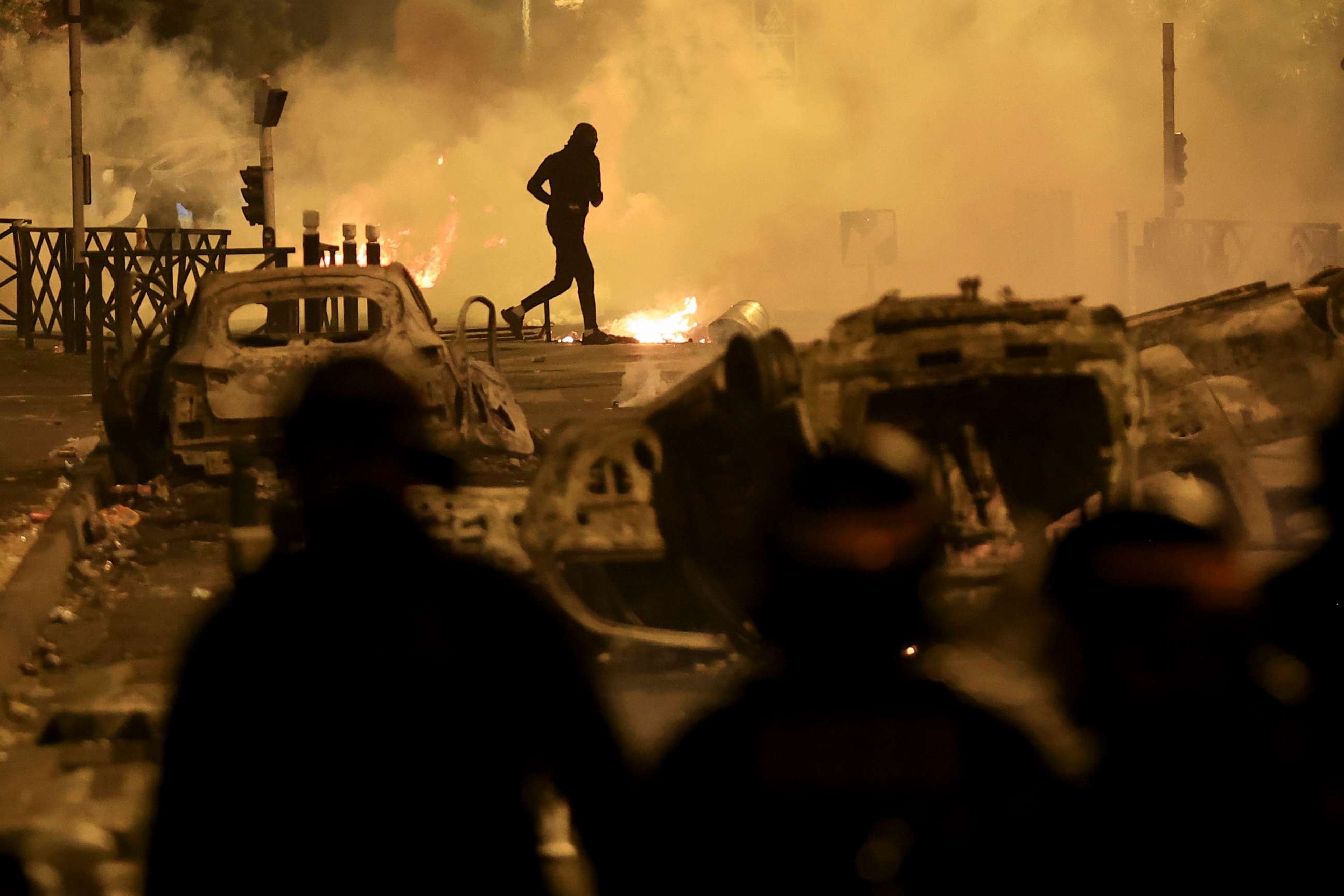 France's Inspectorate General of the National Police, which investigates allegations of police misconduct, is also conducting a probe into the fatal shooting.
Lawyers for the victim's family identified him as Nahel M. and told ABC News that they have filed complaints against the officer accused of pulling the trigger and another officer who was at the scene. A funeral for Nahel is set to be held in Nanterre on Saturday.
While tensions have remained highest in the Paris suburbs, almost every region of France has been hit with unrest since Tuesday. As a result, Marseille banned all public demonstrations on Friday while the French government canceled large-scale events around the country.
French President Emmanuel Macron and the interior minister have both repeatedly called for "calm" as authorities investigate the teen's death.
France's Minister of Justice, Éric Dupont-Moretti, on Friday called for "severe sentences" for the rioters, especially for those who attack police officers.
"The tragedy that took place in Nanterre, the death of this boy, cannot serve as a pretext for these abuses of which we are all the victims," Dupont-Moretti told reporters.
ABC News' Tom Soufi Burridge, Aicha El Hammar Castano and Joe Simonetti contributed to this report.