95-year-old woman dubbed 'Indiana Joan' under fire for origins of artifacts
The government is investigating whether Howard's collection should be returned.
November 27, 2017, 2:11 PM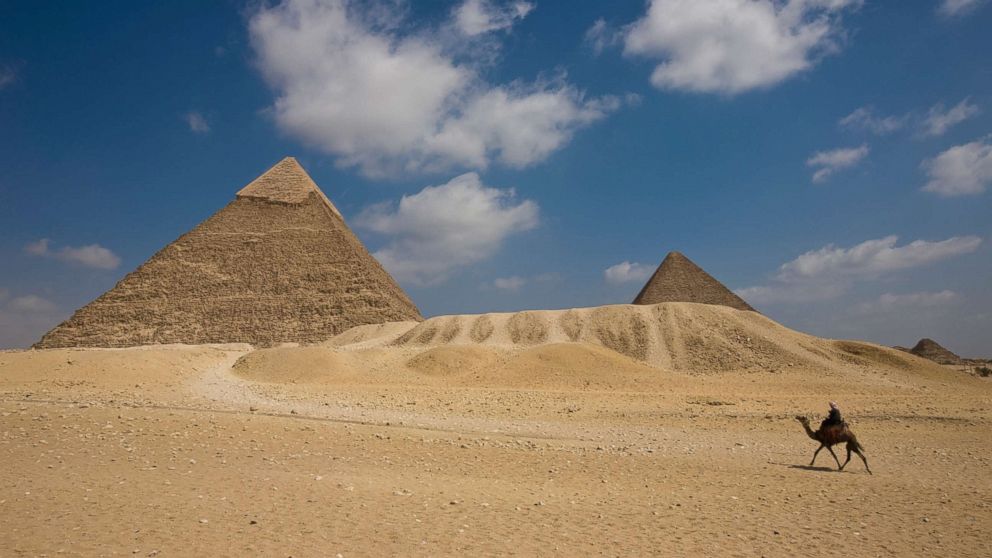 — -- A 95-year-old woman has come under fire after an Australian newspaper dubbed her a "real-life tomb raider" and "Indiana Joan" for her collection of ancient Middle Eastern artifacts.
Joan Howard of Perth, Australia, shared some of the highlights of her collection with The West Australian, a local news outlet, which reported the collection could be valued at AUD $1 million. Now, some archaeologists and officials are asking the Australian government to investigate how Howard obtained the rare objects and are demanding that she return any that were taken from their countries of origin illegally.
Monica Hanna, an archeologist and founder of Egypt's Heritage Taskforce, started an online petition calling for an investigation by the Australian government into the origins of Howard's artifacts. So far, the petition has received nearly 500 signatures. Hanna also wrote an open letter to Neil Hawkins, the Australian ambassador to Egypt, on Facebook.
The artifacts include coins, pottery, jewelry and other objects, according to the West Australian.
"I passionately dislike how Indiana Jones is viewed as a hero, rather than a tomb raider. I think in the 21st century, this stereotype of pillaging cultures should disappear and be reprehended rather than praised," Hanna told ABC News via email.
Lara Lamb, the president of the Australian Archaeological Association, shared a letter she said she sent the West Australian on Twitter acknowledging Howard's "great passion for collecting relics and artifacts" while calling her collecting "highly unethical, both by past and present standards."
"Rather than celebrating Mrs. Howard's activities, we should be condemning such behavior," Lamb wrote. "Make no mistake, tomb raiding is not archeology."
Howard has not publicly spoken about the criticisms leveled against her, and a family member speaking on her behalf declined to comment to the Sydney Morning Herald.
Howard told the West Australian that she traveled through Syria, Egypt, Lebanon, Jordan, Palestine and Israel while her husband was working as a United Nations diplomat in the region five decades ago.
Of her time volunteering on archeological dig sites led by British and American experts, Howard told the West Australian: "It was all good fun. Dirty work, of course. But as it turned out, very, very rewarding."
Howard "used her diplomatic freedom to search for antiquities before laws changed and it became legally difficult to do so," the paper reported.
In 1970, the United Nations Educational, Scientific and Cultural Organization (UNESCO) adopted a convention prohibiting and preventing the illicit import, export and trade in cultural artifacts. Many individual countries adopted their own laws about the sale and export of antiquities before that. Keith Howard was posted to his role in 1967, according to the West Australian. It is not clear whether any of the artifacts in Joan Howard's collection were obtained illegally.
"Collectors need to realize that their expensive hobby sometimes funds terrorist acts and destroys archaeological sites," Hanna said, adding that children are sometimes used to help extract antiquities and have died in the process.
Shaaban Abdel Gawad, the director-general of the Retrieved Antiquities Department at Egypt's Supreme Council of Antiquities, told the Sydney Morning Herald that Egypt's foreign ministry had contacted Australian authorities to open an investigation.
The Herald also reported that the country's Department of Foreign Affairs and Trade was looking into the matter.
A spokesperson for the Australian Government Department of Communications and the Arts confirmed to ABC News that it is "aware of press reports and a petition concerning Mrs. Howard's collection."
"Australia implements its obligations under the UNESCO Convention on the Means of Prohibiting and Preventing the Illicit Import, Export and Transfer of Ownership of Cultural Property 1970 through the Protection of Movable Cultural Heritage Act 1986 (PMCH Act). This includes the return of foreign cultural property which has been illegally exported from its country of origin and imported into Australia," the department told ABC News in a statement. "The government is currently investigating as to whether the collection falls into the scope of the PMCH Act."
The Department of Foreign Affairs and Trade did not immediately respond to ABC News' request for comment.