When Amanda Knox's Italian murder trial resumes next week, defense lawyers will be armed with the full details of the DNA evidence they claimed prosecutors had withheld and are hinting that they have important new analysis to present.
Luca Maori, a lawyer for Knox's ex-boyfriend and co-defendant Raffaele Sollecito, told the Italian daily La Nazione this week that they "will be bringing very big news."
When Knox returns to the Perugia courtroom Monday, she will have already sat through 100 witnesses and seven months of hearings, not counting the two-month summer break that the Italian court took.
The trial is expected to pick up where it left off – with a forensic expert for Sollecito. The testimony of Adriano Tagliabracci, an authoritative forensic geneticist, was suspended on July 18 when defense lawyers objected that not all biological evidence analyzed by the forensic police had been made available to defense lawyers.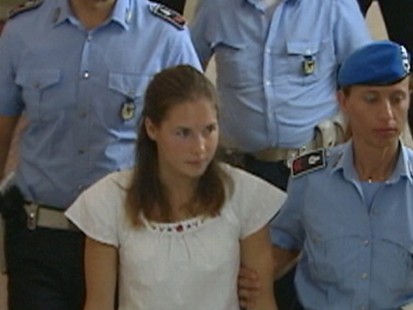 Knox
, now 22, has been in prison in Italy awaiting judgment since she was arrested on Nov. 6, 2007. The Seattle, Wash., student is accused, along with Sollecito, 25, her former Italian boyfriend, of brutally strangling, stabbing and sexually assaulting Knox's roommate Meredith Kercher, 21.
Kercher, who was from Great Britain, was found dead in her room in the house she shared with Knox and two Italian women on Nov. 2, 2007.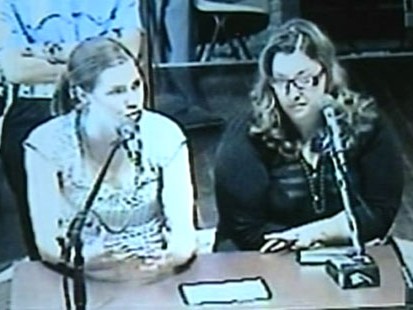 A third man, Rudy Guede, 21, a young immigrant from the Ivory Coast who grew up in Perugia, was found guilty in October 2008 in a separate trial.
Prosecutors believe the trio killed Kercher when she resisted participating in a drug-enhanced sexual encounter. All three defendants maintain their innocence. Guede has admitted to being in the house when Kercher was killed, but says he did not kill her.
As the trial prepares to resume, and the sought-after DNA evidence was produced and defense lawyers for both Knox and Sollecito have been hinting that important new evidence in favor of the defendants will be revealed.
Tagliabracci is expected to continue to discuss the traces of DNA belonging toSollecito that forensic police say they found on the victim's bra clasp. In July he argued that the evidence could be contaminated because it was "not properly bagged" and had been missing for 47 days. In fact, Kercher's bloody bra, which was found lying near her body, was taken into evidence immediately, but investigators overlooked a small fragment of the bra – the part with the clasp – and only took it into evidence weeks later.
The Defense Witnesses
The rest of the hearings scheduled for September are expected to be devoted to the final defense witnesses. The attorneys for Knox and Sollecito are cooperating in something of a joint defense effort. The two defendants are tied by a common alibi: they claim they were together at Sollecito's house on the night of the murder.
When the trial recessed in July, Judge Giancarlo Massei said he hoped that all presentation of evidence and witnesses would be finished by the beginning of October. This trial has been going for seven months since hearings in Italy are usually held only a couple of days a week because of crowded trial schedules and because prosecution and defense together have presented over 100 witnesses.
Four hearings are scheduled for the week of Sept. 14, but after that the trial schedule returns to two-days a week, Fridays and Saturdays.
How the trial will move forward after witnesses are finished is still unclear. If they proceed immediately to final arguments by the two prosecutors and numerous defense and civil plaintiff lawyers, a verdict could be reached by the end of October or November.
It is also possible that the judge and jurors, who work together in Italian courts, could ask to hear some witnesses again, delaying final arguments a few weeks.
What is looking like a more likely scenario, however, attorneys for Knox and Sollecito could ask for the court to appoint an independent expert to evaluate the evidence, especially the DNA evidence, on which the two sides have conflicting interpretations. If such an expert is appointed, that person would have at least 60 days to review all the evidence and report back to the court. This would delay a verdict for months.
Over the summer, Knox remained in the Capanne prison outside Perugia, without even the bi-weekly excursions to the courthouse. The summer months in Perugia were wickedly hot, and even sparked a small riot in the overcrowded prison, that did not involve Knox, however. According to her family, Knox continues to study in jail, patiently awaiting some resolution to her seemingly endless case.
Amanda Knox's Perugia Cottage For Rent
Also over the summer, workers finished repairing and sprucing up the cottage where Knox lived with Kercher and their roommates and where Kercher was killed. Two-years after the murder it is once again up for rent. The owner of the apartment is a civil plaintiff in the trial of Knox and Sollecito. She is asking for damages for income lost because of the murder and the subsequent confiscation of the property by police. She is a pensioner who relies on the rent for income.