— -- Relieved families are rejoicing after the U.S. citizens freed by Iran as part of a prisoner swap this weekend are on their way back home.
Three of the Americans – journalist Jason Rezaian, former Marine Amir Hekmati and Christian preacher Saeed Abedini -- are in Germany at the U.S. military's Landstuhl Regional Medical Center to undergo medical evaluations and reunite with their loved ones.
Here's a look at each American.
Jason Rezaian
When freed Washington Post reporter Jason Rezaian met with two Washington Post editors in Landstuhl, Germany, today, he told them he was "feeling good" physically, the newspaper reported.
Rezaian told the editors about some of his experiences in prison, saying at one point he spent 49 days in solitary confinement, the Washington Post reported. Rezaian said he was later placed in a 15-by-20-foot room with three cots and no mattresses, the Post said.
Washington Post Executive Editor Martin Baron and Foreign Editor Douglas Jehl sent a memo to the Post's staff, detailing their conversation with Rezaian Sunday.
They described him as being "in good spirits" and said "his mind is sharp."
"He [Jason] found escape in the fiction he was allowed to read, and today he was avidly reading whatever he wanted," they wrote.
Rezaian told his co-workers he looked forward to seeing them soon, saying, "I hear there's going to be a big party."
State Department official Brett McGurk tweeted an image of Rezaian Sunday, announcing that the journalist had landed safely in Geneva.
"I'm just happy to have my brother home," his brother, Ali Rezaian, told "Good Morning America" today.
Ali Rezaian spoke to ABC News from Landstuhl. Jason Rezaian landed in Geneva before flying to Ramstein Air Base in Germany with his mother and wife.
"You know he's happy to be out and on his way home," he said of his brother. "He's really fortunate to have the folks here at the hospital."
Ali Rezaian said his brother has been doing "OK" despite being "neglected" for a long time. He hasn't gotten a chance to see him, but expects he will Tuesday. He told ABC News that Jason's doctors hadn't expressed anything "serious" about his condition to the family.
"Our main concern right now is to make sure that he integrates back in, that he gets the right psychological treatment that he needs so that he can be successful and come back home soon," Ali Rezaian said.
Jason Rezaian, 39, grew up in California. He spent 18 months imprisoned in Iran.
Amir Hekmati
The photo below captures the moment retired Marine Amir Hekmati, 32, from Michigan, was reunited with his family at the Landstuhl Regional Medical Center today. Hekmati is pictured with two sisters and his brother-in-law, as well as U.S. Rep. Dan Kildee, D-Mich.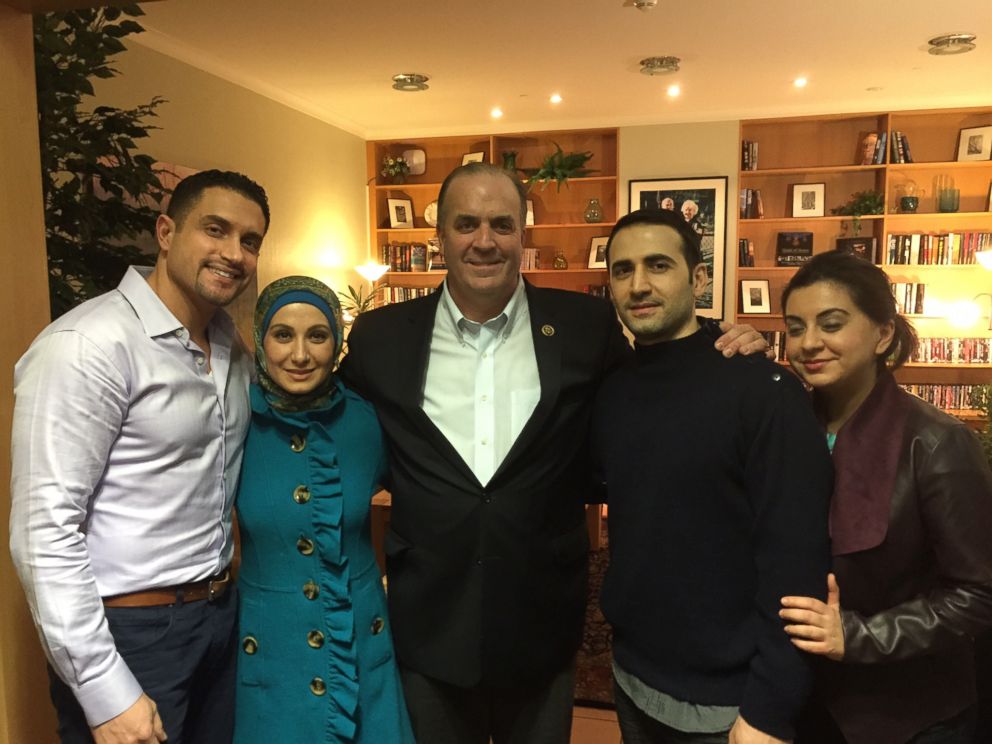 Hekmati's sister Sarah Hekmati and her husband, Dr. Ramy Kurdi, took this photo below in the Detroit airport en route to Germany.
"It is hard to put into words what our family feels right now," the family said in a statement on Sunday. "But we remain in hopeful anticipation until Amir is in our arms."
Congressman Kildee said in a statement Sunday, "I am overcome with emotion that after four and a half years, this terrible ordeal is ending and the Hekmati family will soon be reunited with Amir. We have worked so hard to see this day happen. I am incredibly grateful to everyone, including my staff, who worked tirelessly to secure Amir's release."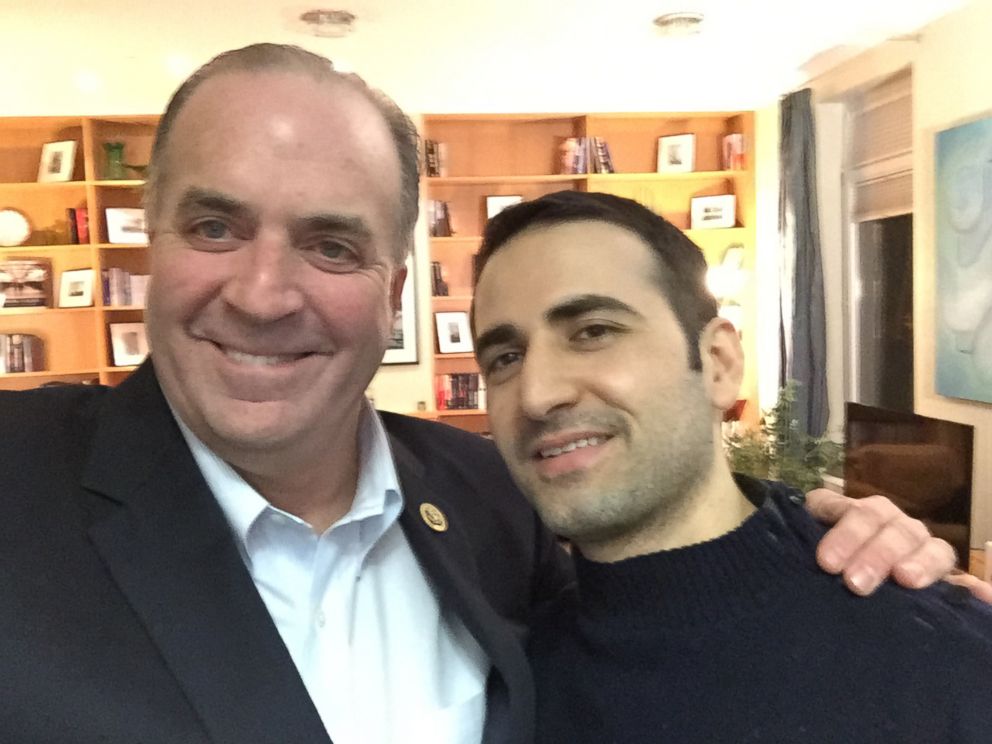 "Amir, I cannot wait to meet you for the first time, give you a big hug, and welcome you home," he said.
Hekmati was arrested in Tehran in 2011 on charges of espionage. He was sentenced to death but later had that sentence overturned.
Saeed Abedini
Around 12:30 p.m. ET Sunday, pastor Saeed Abedini's wife Naghmeh posted to Twitter that "Saeed just landed in Geneva."
"He is getting ready to leave to Germany. I should talk with Saeed in just a few hours! Thank you for your prayers!" she wrote.
Abedini, 35, from Idaho, worked setting up churches in Iran. He was arrested in 2012 "on charges related to his religious beliefs," according to the State Department.
Nosratollah Khosravi-Roodsari
While Rezaian, Hekmati and Abedini left Iran, U.S. officials said Sunday they did not know whether the other freed American, Nosratollah Khosravi-Roodsari, left the country.
A senior administration official said Sunday that those who wished to leave Iran have done so. Regarding the next destination for Khosravi-Roodsari, a senior White House official said, "It's his free determination where he wants to go. We don't make that judgment for him."
Matthew Trevithick
A fifth American who was detained in Iran, Matthew Trevithick, left the country on a civilian plane Saturday, a senior White House official said.
The Release
Their release was announced Saturday, the same day sanctions against Iran were lifted as part of its nuclear deal.
As part of the prisoner swap, the U.S. offered clemency to seven Iranians, six of whom are dual U.S.-Iranian citizens, who had been convicted or were awaiting trial in the United States., the official said. The United States also removed Interpol red notices and dismissed charges against 14 Iranians for whom extradition was unlikely to be successful.
A senior White House official said the prisoner-swap discussions "were very intense."
"Most of them were held in Switzerland, who were instrumental in hosting these talks and allowing them to remain secret," the official said.