— -- Secretary of State Rex Tillerson made his debut on the world stage this week, traveling to Bonn, Germany, for the Group of 20 summit where he met with his counterparts from more than a dozen countries.
It was the first opportunity for the former Exxon Mobil CEO to show off the vaunted management skills and global experience that marked his time at the oil company and made him a marquee name for President Trump's cabinet. But what the public saw was America's top diplomat appearing hamstrung by a peremptory White House and hesitant to speak up.
Tillerson's role as secretary of state has been scaled back.
The secretary of state is normally the spokesperson for American foreign policy. But Tillerson's State Department has been sidelined in many of the Trump administration's key decisions. There was limited consultation with the State Department on the president's travel ban; most of State's senior staff positions have been left vacant during his brief tenure; and there were reports that the department was caught off guard by the White House's new stance on the prospect of a two-state solution to the Israel-Palestinian conflict.
The G20 is where Tillerson would take his first steps. "He'll be primarily in listening mode," said a senior State Department official. "He wants to use this initial engagement to get a sense of where the parties stand" in the Syria conflict, for example.
When asked questions about key policy matters at the summit, the secretary was quiet. "I don't have any comment," he said when asked about the Syrian peace process in Kazakhstan. The response was one of only two answers he gave reporters during the whole trip.
There was also confusion over the current U.S. position on the Iran deal, which Trump has blasted as a "terrible deal" but Tillerson has said he wants to review. After meeting Tillerson, the French foreign minister told Reuters the two countries had a clear difference of opinion over the deal because the U.S. wanted to "review" the deal "from scratch." But when Tillerson was asked about his French counterpart's comments, he said, "I didn't leave any such impression." The French foreign minister also called U.S. policy on Israel and Palestine "confused and worrying."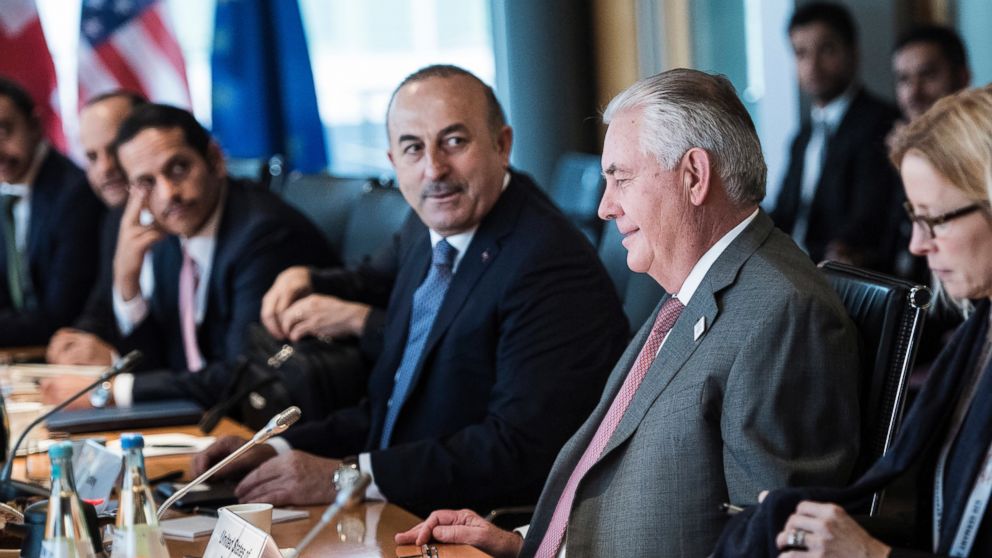 Earlier this week before the summit, Tillerson also seemed out of the loop, missing meetings in Washington, D.C., with the Canadian Prime Minister Justin Trudeau and his team. A State Department official told ABC News, "The secretary was on previously scheduled private travel." And although he had dinner with Israeli Prime Minister Benjamin Netanyahu on Tuesday, he skipped meetings Wednesday with the Israeli delegation, choosing instead to fly to Germany that day and get a night of sleep before Thursday's meetings.
Tillerson is hesitant to talk to the press.
The two-day G20 summit is the first we're hearing of Tillerson since he arrived at State. But the secretary spoke very little, especially to reporters, instead posing for pictures and only twice answering shouted questions.
The one time he did address the media was for brief prepared remarks. He left without taking questions.
Compared to his predecessors, he took a significantly reduced group of press with him on this trip, and the State Department hasn't held a press briefing since he was sworn in.
It's not just that he was tight-lipped, but at times he seemed to not want reporters there at all. When the press were ushered in for a photo op with the Russian foreign minister Sergei Lavrov, they were quickly sent back out. Even Lavrov asked why the rush. And as the press pool was escorted from a meeting with British Foreign Secretary Boris Johnson, Tillerson quipped, "They never give up."
The world is looking to American leadership, but nervous about what they'll find.
After a tumultuous start to the Trump administration, part of Tillerson's job in Bonn was to reassure allies as well as to flex some American muscle. He reaffirmed American support for NATO, issued a joint statement with Japan and South Korea to condemn North Korea's recent missile test, and pressured China to "use all available tools to moderate North Korea's destabilizing behavior."
On Russia, he reiterated Trump's line that America "will consider working with Russia when we can find areas of practical cooperation." But he took a firmer stance than the president has on Russian aggression, especially in Ukraine.
"Where we do not see eye to eye, the United States will stand up for the interests and values of America and her allies," he said. "We expect Russia to honor its commitment to the Minsk agreements and work to de-escalate the violence in Ukraine."
He participated in big meetings on Yemen and Syria, and foreign counterparts were eager to meet him and get to work. He met with more than a dozen of them.
"Met a lot of people, made a lot of new friends. Full schedule," he said Friday as he prepared to leave the summit with what he said were "many" messages for the president.