It is another grim milestone today: the anniversary of the Islamist bomb attacks in Bali, Indonesia, seven years ago. Two-hundred-and-two people died, among them, 88 Australians. Although the Oct. 12, 2002, attack was thousands of miles from Australian soil, Aussies think of it as their own 9/11.
Among the victims were six members of a small-town amateur rugby club from Coogee Beach, south of Sydney. Since that tragic day, the club has become famous for its refusal to be defeated by the terrorist act.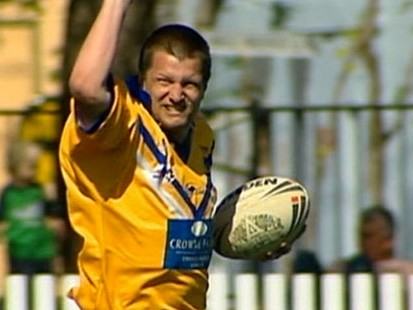 The Dolphins lost a quarter of their entire team in the
infamous attack on the Sari nightclub in Bali
. Eleven teammates had flown to the holiday island that very day to celebrate the end of their season. Only five came home alive.
Erik de Haart said he will never forget the frantic, awful night he spent searching for the bodies of his friends. De Haart and four others had gone back to their hotel early, leaving their six teammates to keep on carousing at the Sari Club, which was heaving with young people, mostly Westerners. At 10:45 p.m., the bombs went off.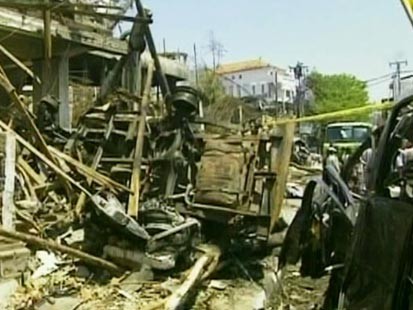 De Haart said he rushed to the club and spent the next five hours pulling out bodies from the smoldering ruins, although he recognized no one he knew. He spent another six hours, he said, searching for his mates in the hopelessly overcrowded hospital, which was like a charnel house.
By about 11 a.m., de Haart and the four surviving Dolphins had found the bodies of five of their six missing teammates, in the hospital and the makeshift morgue. "We noticed them first because one of the boys, Clint Thompson, had a tattoo on his arm and that helped us identify him," de Haart said, his eyes welling up.
"They look different in
death
. You look at them, and no matter how long you knew them, you just didn't recognize them. The bombing had an effect like the hair is blown backward like that."
Rugby Club Gets Back on its Feet but Never Forgets
The body of the sixth, Gerard Yeo, was so badly mutilated that he could only be identified through DNA testing.
"It probably took me six months to get the smell of burnt flesh out of my nose," De Haart said. "I could smell it for ages. After I got back to Australia, I probably couldn't sleep past 12, 1 o'clock in the morning because I just ... the images were that bad. '
The entire town of Coogee -- a close-knit beach community -- came to the memorial service Oct. 21 on Dolphins Point, a stunning, grass-covered bluff overlooking the town's perfect, crescent-shaped beach. Six rugby jerseys, belonging to the six fallen Dolphins, were the centerpiece of the service.
Asked to speak, de Haart told the mourners that their beloved local rugby club was "going to need all your help and support, because there are truly going to be some bad days."
That memorial service is repeated Oct. 12 on the same beautiful spot every year. There is now a permanent headstone engraved with the names of the dead, with a picture of each achingly young, smiling face next to each name: Shane Foley, Adam Howard, Josh Iliffe, Dave Mavroudis, Clint Thompson, Gerard Yeo.
But from a broken, traumatized team seven years ago, the Coogee Dolphins have grown to a club of 13 teams now. "Countless people helped from all walks of life, and from all around Australia," club secretary Dean Lavery said, strolling around the simple, moving memorial on Dolphins Point that overlooks Coogee Beach and the Pacific Ocean beyond. "People just flocked together. ... Something had been broken, and we built it back again, and made it stronger.'
Albi Talarico was the club president at the time of the attack, faced with putting the club back together again. "I knew there was a resolve within everyone that we would get back somehow," he said.
But, he added, no one can forget. "I don't think we will ever get over it," he said. "There is a part of it that will always be within you."
Reconciling Triumph and Disaster
The Dolphins are now one of the few amateur clubs in Australia to raise money for charity, giving $100,000 to the Sydney Children's Hospital so far. And the club always makes a point of including the parents and relatives of the boys who died in their many social occasions.
For de Haart, however, that can still be a painful experience. "For a long time, I felt guilty about being in the presence of the parents of the guys that died," he said, his voice trembling with emotion. "I used to wonder what they thought, why did I survive? It still hurts, and sometimes I struggle to make the most of every day."
But de Haart and the Dolphins are making the most of every day. After all, the mark of a great team is its ability to come back.
The club made it to the finals in the regional rugby league competition this season. It won the cup last year, and the year before that.
One of the Dolphins, who wants to remain anonymous, even wrote a poem about the Bali bombing and its impact on the team. It's addressed to the terrorists, and called "The Spirit of Oz."
'Oz' is slang for Australia, and here are some excerpts:
"You hurt us bombing Bali, but we can take the pain, But if you think you'll beat us, you can think a-bloody gain ...
"... Now listen hard and listen well, we're giving you the word, You're never gonna beat us, you spineless bloody turd ...
"Our spirit is unbroken, and our heads are still unbowed, We sure as hell aren't scared of you and your gutless crowd,
"So get your act together, you'll never win because, What you're really up against is the spirit of OZ."
Having been the victim of a horrific act of terrorism, the Coogee Dolphins show that, as the great poet Rudyard Kipling wrote in a poem that is, of course, much better known: "They can meet triumph and disaster, and treat those two imposters just the same."