Biden, in high-stakes visit, shows support for Israel but urges restraint
Biden announced Israel agreed to let aid flow from Egypt to Gaza.
President Joe Biden left Israel on Wednesday after a high-stakes diplomatic mission to show solidarity with the U.S. ally, but also securing Israel's commitment to allow humanitarian aid into Gaza and delivering an in-person warning to show restraint.
"I come to Israel with a simple message: You are not alone," Biden said as he spoke in Tel Aviv.
The president compared the atrocities unleashed by Hamas to 9/11, stating Americans understand Israel's demands for justice.
But he urged the nation not to be consumed by their outrage, asking officials to be deliberate with their objectives and ask the hard questions as they continue to respond to the terror attacks with airstrikes and a possible ground offensive.
"After 9/11, we were enraged in the United States. While we sought justice and got justice, we also made mistakes," Biden said.
The remarks came off the heels of meetings with Israeli Prime Minister Benjamin Netanyahu and his war cabinet as well as first responders and other Israelis affected by the violence that's unfolded since Oct. 7.
Biden achieved one key objective of the trip, as Israel agreed to allow limited quantities of aid to begin to flow into Gaza from Egypt after blocking the Rafah border crossing for more than a week, leaving virtually no options in or out of Gaza.
"The people of Gaza need food, water, medicine, shelter," Biden said, as he stressed Hamas "does not represent the Palestinian people" and that civilians are suffering under their rule.
Biden said the understanding is that the aid will be subject to inspections to ensure it is going to civilians, not Hamas.
"Let me be clear: If Hamas diverts or steals the assistance, they will have demonstrated once again that they have no concern for the welfare of the Palestinian people and it will end as a practical matter, it will stop the international community from being able to provide this aid," Biden said.
In addition, Biden announced $100 million in new U.S. funding for humanitarian assistance in both Gaza and the West Bank to support the more than million people displaced by the conflict.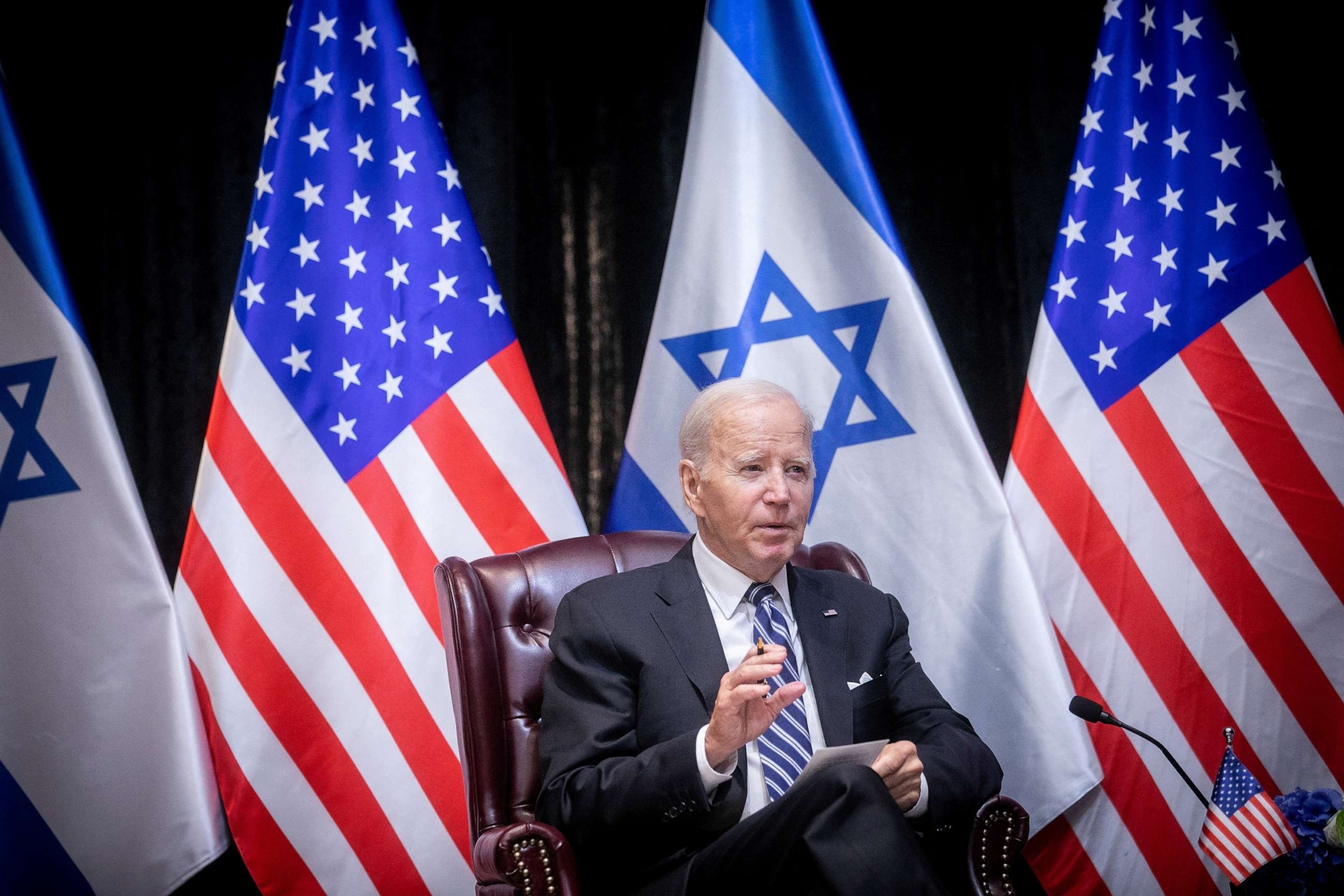 Biden stepped off Air Force One at Ben Gurion Airport in Tel Aviv at about 10:50 a.m. local time. Netanyahu was waiting for Biden and the two leaders, whose relationship spans decades, shared words before exiting in convoys.
Amid Biden's words of caution and restraint -- telling Israel they, as a democracy, live by the "rule of law" not the rule of terrorists -- Netanyahu only went so far as to say Israel will continue working with the U.S. to "assure that the minimum requirements are met" as well as efforts to get hostages out of Hamas control.
"As we proceed in this war, Israel will do everything it can to keep civilians out of harm's way," Netanyahu said. "We've asked them and we will continue to ask them to move to safer areas."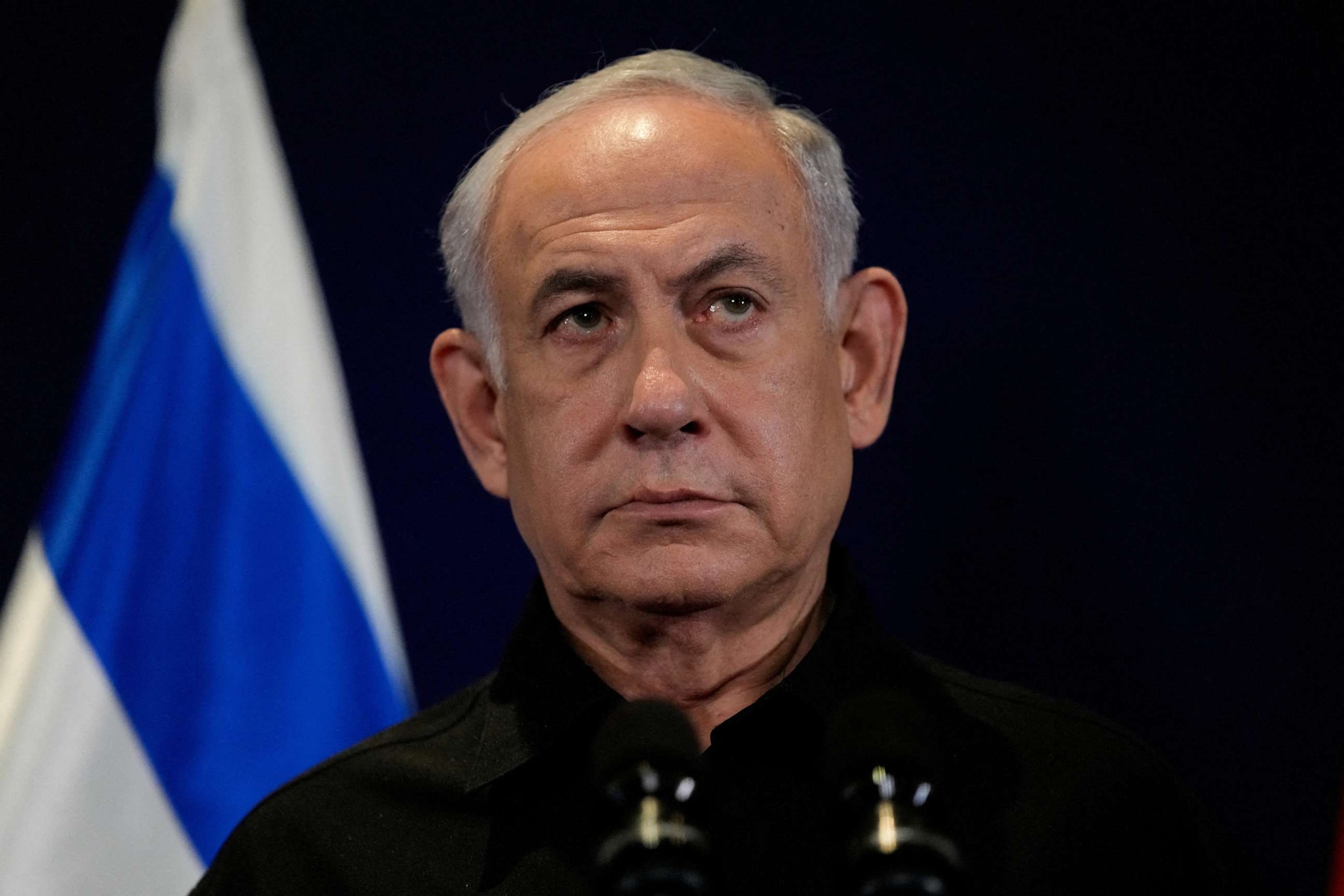 Biden's visit, a physically and politically perilous one, comes one day after a deadly blast at a Gaza hospital rocked the area.
Hamas blamed the incident on the Israeli Defense Forces while Israel presented materials they say prove it was a failed rocket launch by Palestinian Islamic Jihad.
Biden supported Israel's claim that militants in Gaza were responsible for the blast. He told Netanyahu that it "appears it was done by the other team, not you."
Later, when asked by a reporter what made him confident the Israelis weren't behind the hospital attack, Biden said it was "the data I was shown by my Defense Department."
Biden was set to visit Jordan and meet with Arab leaders there but that summit was canceled after the hospital blast.
During a meeting with leaders in Israel, President Joe Biden said the hospital blast was "done by the other team."
After his meetings with Israeli officials, Biden took time to speak with first responders, families of victims and hostages and others affected by the Hamas attacks.
The meetings were emotional, as one first responder recounted the atrocities inflicted on women and children.
One pediatric physician who moved from New York to Israel years ago told Biden "never could have prepared" in her life for the mass casualty event she experienced following the attacks. Biden shared with her the personal story of when his wife and daughter were killed in a car accident and told her he understands physicians and nurses "make a gigantic difference."