Blinken meets with Chinese President Xi Jinping in Beijing
The meeting comes amid soaring tensions between the United States and China.
U.S. Secretary of State Antony Blinken met with Chinese President Xi Jinping in Beijing on Monday, concluding a high-stakes visit.
An official with the U.S. Department of State confirmed that Blinken would meet with Xi. The meeting comes amid soaring tensions between the United States and China, fueling concerns that the two counties could break out into conflict.
"State-to-state interactions should always be based on mutual respect and sincerity. I hope that Secretary Blinken, through this visit, could make positive contribution to stabilizing China-U.S. relations," Xi said in opening remarks to Blinken before their closed-door meeting at the Great Hall of the People, according to Chinese state media.
Both sides expressed willingness to hold more talks during the 35-minute session. It remains to be seen whether they can resolve their most pressing problems. Xi and Blinken agreed to return to the agenda of "common understandings" that the Chinese leader and U.S. President Joe Biden had reached during a meeting in Bali last year, according to the Chinese Ministry of Foreign Affairs. Those commitments have been put at risk in recent months, especially after the U.S. military shot down a Chinese surveillance balloon that was flying over American airspace in February.
Xi also emphasized that both countries must respect each other's interests and not "try to shape the other side by its own will, still less deprive the other side of its legitimate right to development," according to the Chinese Ministry of Foreign Affairs. Meanwhile, Blinken "made clear that while we will compete vigorously, the United States will responsibly manage that competition so that the relationship does not veer into conflict," according to the State Department.
Blinken raised a number of concerns during his meeting with Xi, including the wrongful detention or exit bans of U.S. citizens in China, human rights conditions in Xinjiang, Tibet and Hong Kong, and Chinese intelligence activities in Cuba. The two also discussed a range of global issues, such as Russia's war in Ukraine and North Korea's escalating military provocations. Blinken emphasized that the U.S. "will always stand up for our values" and "will work with its allies and partners to advance our vision for a world that is free, open, and upholds the rules-based international order," according to the State Department.
Blinken, America's top diplomat, arrived in the Chinese capital on Sunday for an official two-day visit aimed at easing tensions. He is the first U.S. secretary of state to visit China in five years and the highest-level U.S. official to make the trip since Biden took office. Prior to his meeting with Xi, Blinken told reporters on Monday that he has had "candid and constructive conversations" with senior Chinese officials so far.
On his first day in Beijing, Blinken met with Chinese Foreign Minister Qin Gang for nearly six hours and, afterwards, both sides said they had agreed to continue high-level discussions, with Qin accepting an invitation from Blinken to visit Washington, D.C. Behind closed doors, however, Qin told Blinken that China-U.S. ties "are at the lowest point since the establishment of diplomatic relations" and warned that Taiwan is "the most important issue," according to Chinese state media.
Earlier Monday, the second and final day of his trip, Blinken met with China's top diplomat, Wang Yi, for about three hours. During the meeting Blinken "underscored the importance of responsibly managing the competition" between the two countries "through open channels of communication to ensure competition does not veer into conflict," according to the State Department. Blinken also "reiterated that the United States will continue to use diplomacy to raise areas of concern and stand up for the interests and values of the American people," the State Department said.
Meanwhile, Wang told Blinken that his visit to Beijing "comes at a critical juncture" in the relationship between their two countries and that "it is necessary to make a choice between dialogue or confrontation, cooperation or conflict," according to Chinese state media. He blamed the souring relations on Washington's "erroneous perception" of Beijing, which he said "leads to wrong policies towards China."
Wang made clear that the "key" to getting along rests on U.S. policy. Like Qin, he also drew a red line around Taiwan, telling Blinken that there is "no room for compromise and concession" on the issue, according to Chinese state media.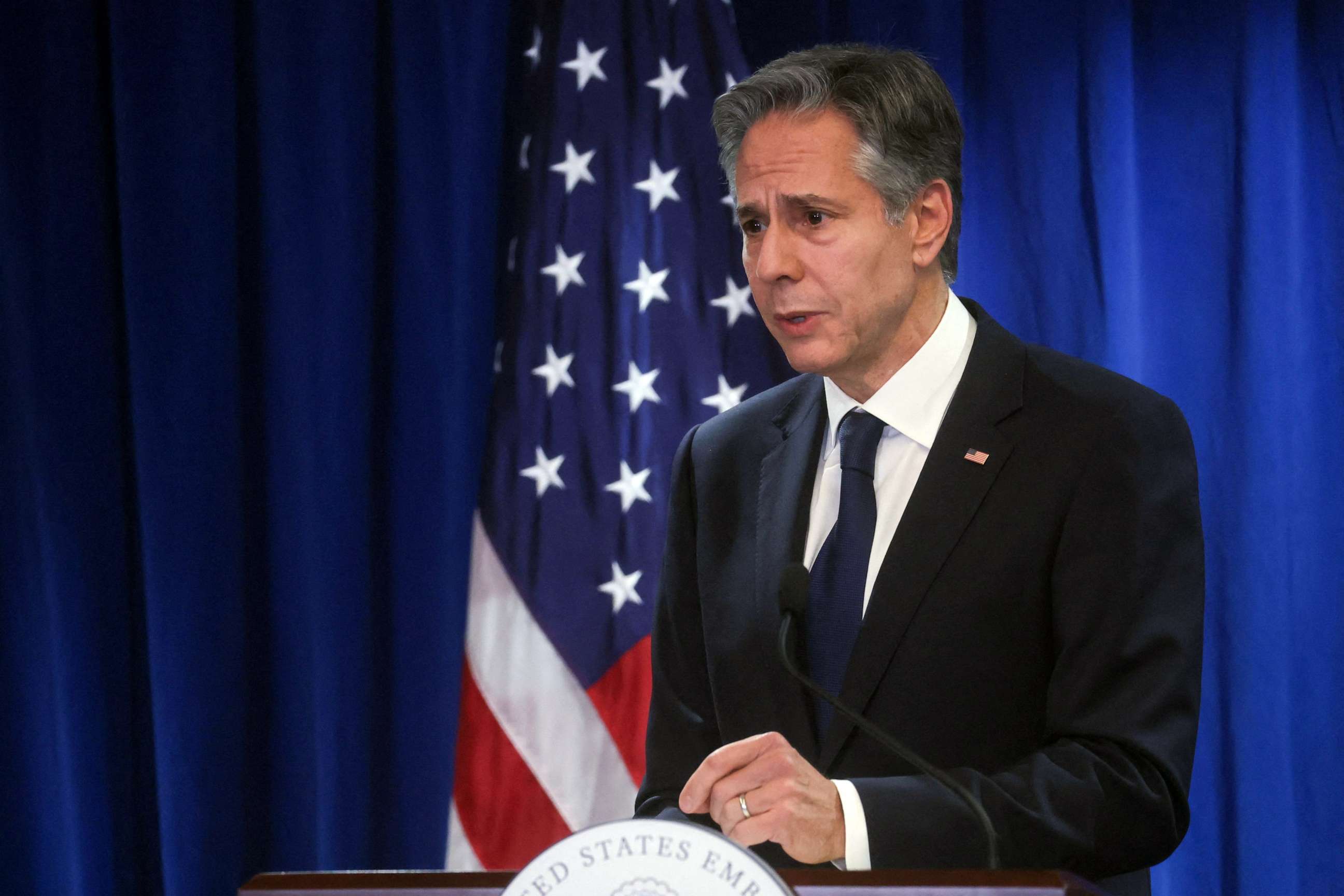 The issue of Taiwan is part of a long list of disagreements between Beijing and Washington that also includes trade, human rights violations across China, the Chinese military's increasing assertiveness in the hotly contested Taiwan Strait and South China Sea, and Russia's war in Ukraine.
Taiwan is a self-governing island off the coast of China that split from the mainland in 1949. Beijing claims Taiwan as its territory and Xi, who has been in power for over a decade, has made clear his desire to reunite China with Taiwan.
The U.S. government has a "One China Policy" that recognizes the people of mainland China and Taiwan as being part of "One China," views Beijing as China's sole legal government and does not support an independent Taiwan, but considers the matter "unsettled." Washington is also militarily supportive of the island and maintains extensive commercial and unofficial ties.
Last October, during a sit-down interview with ABC News' George Stephanopoulos, Blinken said he thinks Xi will speed up the China-Taiwan reunification process "potentially by any means -- through coercion and pressure and potentially, if necessary, by force."
"We're committed to doing everything we can ... to make sure that Taiwan has the ability to effectively defend itself against aggression," Blinken said at the time. "We've also made very clear to China that our expectation is these differences will be resolved peacefully."
ABC News' Shannon Crawford, Chad Murray and Matt Rivers contributed to this report.