— -- Confusion over what happened during an ambush of U.S. Special Forces in Niger earlier this month apparently sparked a full Pentagon probe of the incident announced Thursday, which some officials say could have had even worse casualties than four American soldiers killed from the small, "out-matched" team.
Officials have described a harrowing burst of violence in or near a village close to Niger's border with Mali on Oct. 4, which led to the first U.S. combat deaths in the small African nation battling Islamist extremists.
The gunfight may have split the team of a dozen or fewer American commandos in half, according to one counterterrorism official. It was so chaotic that one soldier remained missing for up to 36 hours before his remains were recovered.
"They met an overwhelming force," the counterterrorism official who was familiar with the mission and its aftermath, told ABC News. "They were out-gunned and out-matched. The enemy had relative superiority in numbers and fully enveloped and out-flanked the team. I think they got cut in half with suppressive fire."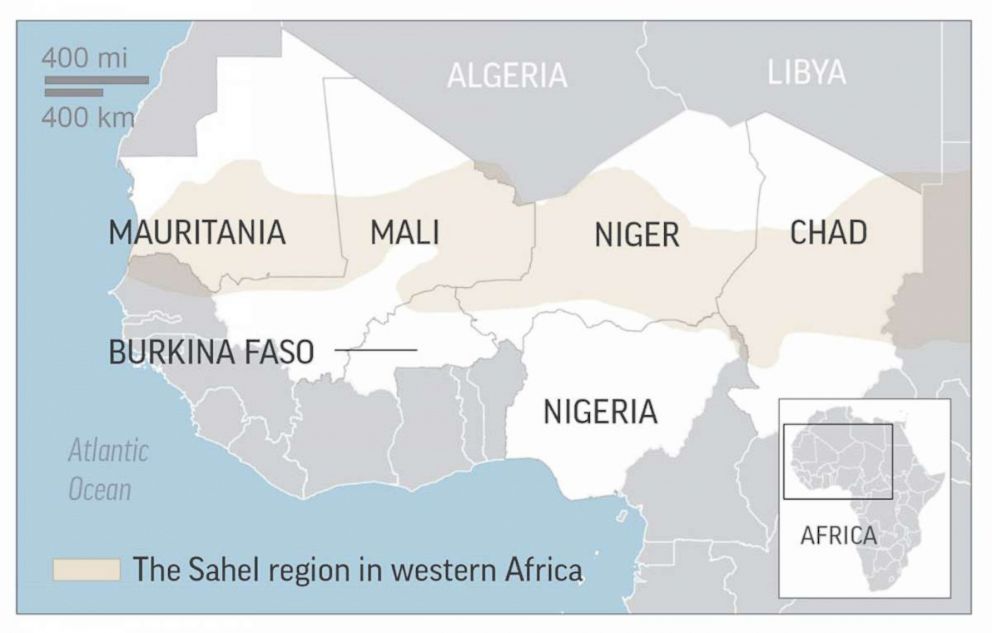 Four U.S. special operations soldiers were killed in action, along with 1 Nigerien soldier killed and two Americans wounded.
Another U.S. official said that the Defense Intelligence Agency has assessed it "highly likely" that the group of 50 or more attackers behind the ambush in Niger were from ISIS in the Greater Sahara, referred to as ISGS. But the counterterrorism official said the attackers may have included current or former members of al-Qaeda-affiliated Islamist extremist group Ansar Dine from neighboring Mali.
Some of the special operations soldiers on the team -- who numbered less than a dozen Americans -- had entered a remote village near Niger's border with Mali to conduct a routine "key leader engagement" with elders, leaving the other U.S. soldiers some distance away with their vehicles, when they all were targeted in a blistering attack, officials told ABC News.
One counterterrorism official said the team's approved primary mission on Oct. 4, the day of the attack, was to scout for a base camp used by Islamist militants and the stop to meet with village elders was a secondary objective.
It remains unclear even to those in special operations with visibility over the mission gone awry what happened to Army Sgt. La David Johnson, a 3rd Special Forces Group support soldier who was missing for more than 20 hours and the subject of a frantic search by the U.S. military.
At some point a radio beacon Johnson was wearing was activated but it was overhead imagery scans which enabled special operations analysts to locate his visible remains near the site of the clash, said an official familiar with the search and rescue operation.
"We don't know what tripped his beacon after the firefight. Bad guys could have been playing with his gear," an official told ABC News.
It does not appear that Johnson was captured before he died, officials have said.
Reports that day quickly came back to Fort Bragg, N.C., where the U.S. team of "Bush Hogs" from 2nd Battalion, 3rd Special Forces Group is based, that one soldier was missing and unaccounted for. "Accountability," meaning ascertaining the whereabouts of all soldiers in a team when when they are in contact with an adversary, is a critical matter. The Army's Warrior Ethos includes the pledge to "never leave a fallen comrade."
It is very rare for a Green Beret team to make a "tactical withdrawal" under fire without having full accountability of its teammates -- but the gunfight in Niger was extraordinary.
"They had critical casualties. They had zero air support on station," the counterterrorism official said. "If they had stayed, everyone would have died."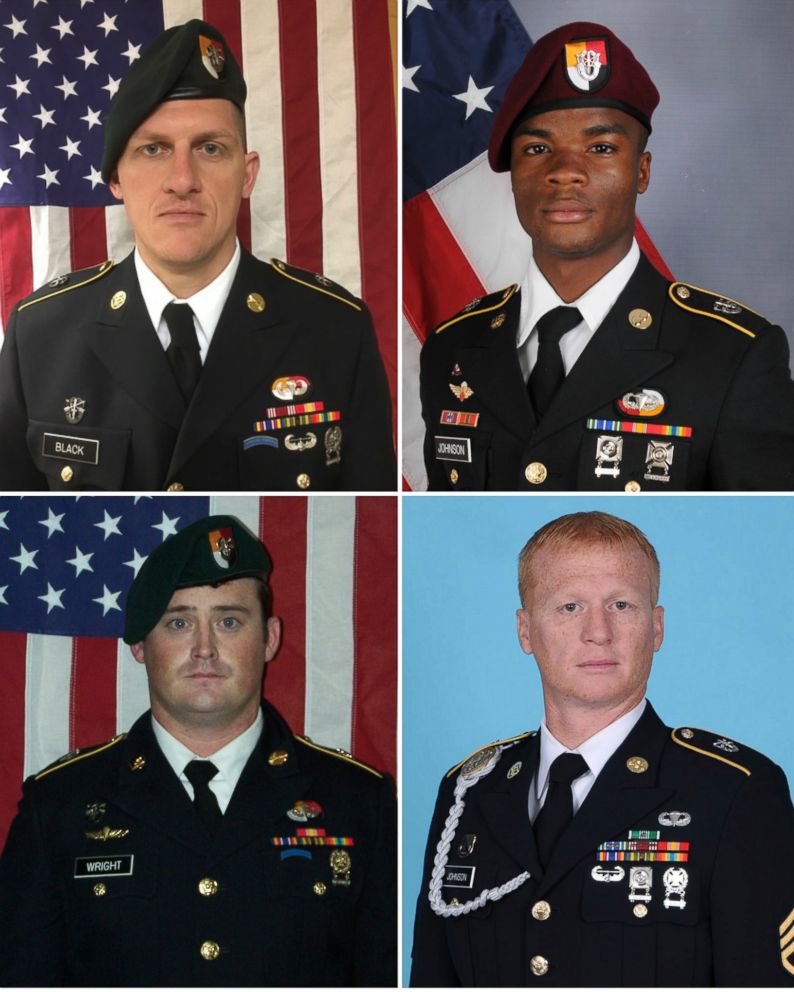 Since Niger is a low-intensity conflict, there are not many U.S. bases nearby with medevac helicopters and combat air support. French forces in the region often partner with the American forces and provide air support.
Leaving a man behind under fire may have been their only choice given three Americans were known to have been killed, as well as one Nigerien soldier, and several other soldiers wounded, said an experienced Special Forces commander.
"In reality, when you're in a firefight, you may not have the luxury of having immediate accountability. When you get ambushed, your forces are trying to get out of the kill zone alive. Three guys may go left and one guy goes right, and the guy who goes right gets killed," said retired Green Beret, Lt. Col. James Gavrilis. "If you're on the losing end of an ambush, it's not realistic to expect those guys to have full accountability of every man on the team right away."
It remains unexplained by the Pentagon what the team's specific approved mission was that day beyond "train, advise and assist" Nigerien partner forces, or even how many were Americans were in the team on the mission that day. Some missions such as tribal engagement may require lighter combat loads while night raids and long vehicle patrols may necessitate bringing heavier weapons and much more ammunition piled in their vehicles.
"'Train and assist' is not a classroom exercise. It's typically out in the field, learning tactics and improving capabilities of indigenous forces like the Nigeriens," said Matthew Olsen, former National Counterterrorism Center director and an ABC News contributor. "Just because it's called 'train and assist' doesn't mean that it's not dangerous."
"It's Special Forces doing what they're supposed to do -- working alone and unafraid," said the counterterrorism official.
Officials have said between eight and a dozen American troops were involved, a mix of operators and support troopers. Two of those killed were operators who wore the coveted Green Beret and the other two were support soldiers in the unit.
The counterterrorism official said the U.S. team's downfall may have been a combination of not having enough, or not accurate enough, "ISR" -- intelligence, surveillance and reconnaissance scans -- of the patrol area before commencing the mission; that it was a team of special operations soldiers with few prior combat deployments among them; the possibility of a compromised mission plan leaked by Nigerien troops to the enemy; or just simply very bad luck, officials said.
"They were set up for failure," said one 3rd Group veteran, who monitored the incident and its aftermath.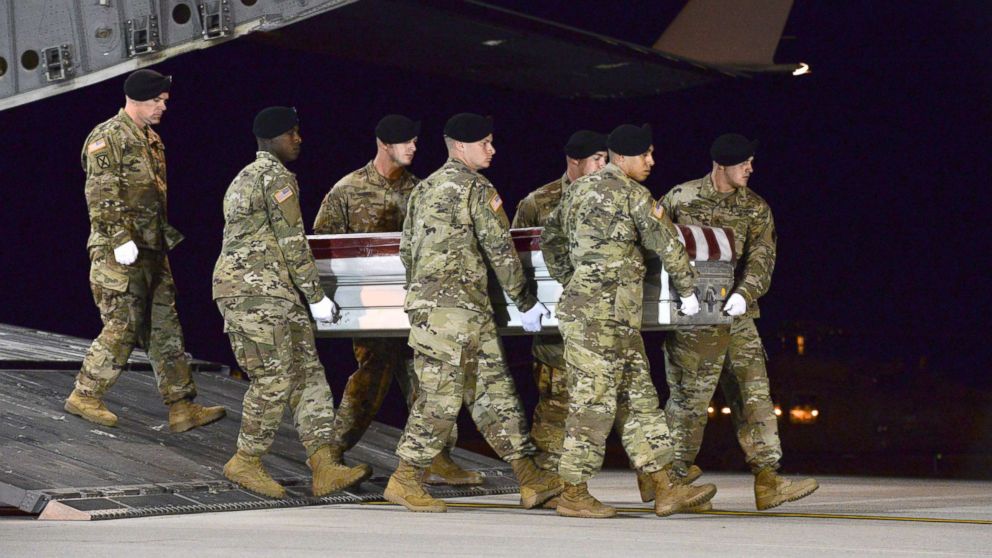 The overarching mission in Africa of 3rd Special Forces Group, known as "The Tribe," is "foreign internal defense" and counterterrorism operations in a low-intensity conflict around the Sahel region in which partnering with indigenous forces in remote areas is intended to build relationships in order to defeat violent extremists in at-risk countries such as Niger, Mali, Burkina Faso, Chad and Nigeria.
In one version of events provided by a U.S. official, the Green Beret-led team had driven to a village near the border with Mali and were walking to or from the meeting when they were ambushed by about 50 fighters from an ISIS group. But two different officials said that it appears only some of the American soldiers went into the village to meet with elders and that's when they were attacked, meaning the Americans were separated at the outset of the gunfight.
There was a Nigerien platoon in the general vicinity but they were not part of the mission to the village and they did not participate in the firefight that followed the ambush, one official said.
Once Sgt. Johnson went missing, U.S. Joint Special Operations Command moved vast resources immediately to the area including intelligence assets and "tier one" operators, the most elite commandos, to assist in finding the missing soldier, who many feared at the time could have been taken prisoner. But by late morning (EST) on Oct. 5, the Sgt. Johnson had been found deceased.
Officials have said that the missing remains were found by Nigerien troops in the vicinity of the firefight. It was apparently a fluid battle scene that extended over a large area and wasn't localized in one area, which may be why he wasn't immediately located.
"There are inevitably going to be questions about this mission and whether or not it was handled appropriately," Olsen said. "The reality is that it's important for us to have elements like this 'train and assist' mission in these countries to help stem the flow of foreign fighters."