The mother of a decorated U.S. Marine veteran who was brutally stabbed to death in Thailand this weekend says local authorities are not doing enough to find her son's killer and pleaded for harsh punishment for the fellow Thai boxer who allegedly ended his life.
"I want them to kill the guy that did this to my son," Tammy Longfellow told ABC News today. "I hope they punish him beyond recognition for taking a boy's life that didn't deserve this."
Dashawn Longfellow, 23, was in Thailand learning a new culture and practicing Thai boxing, his mother said. He previously served in Iraq and Afghanistan, where a roadside bomb exploded under his truck, damaging his right arm and filling 80 percent of his body with scrap metal. He was awarded the Purple Heart for his service to the country.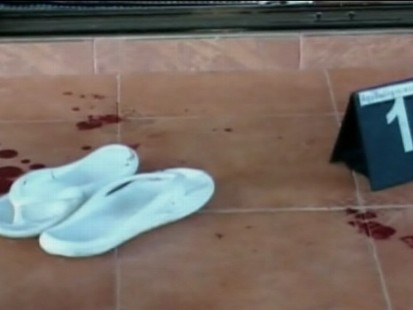 "I just feel like they're not trying hard enough," Tammy Longfellow said. "The cops ain't doing nothing fast enough. They keep telling me they're closing in on him. Well how long do you think you're going to close in on somebody to catch him?"
Longfellow said her son refused an opportunity to leave the Marines after sustaining the injuries, choosing instead to fulfill his service obligation.
"They were going to send him home, but my son said, 'No, I have four months to go in the Marines. I'm staying like a man.'"
After he finished in the Marines, the Oklahoma man "decided he wanted to do more in life. So he decided to become a Thai fighter and he decided to go to Thailand," Tammy Longfellow said.
Another boxer now stands accused of his murder.
Saturday night, Longfellow went to pick up his girlfriend, Ooy, at a bar on the island resort of Phuket where she worked as a bartender when he ran into fellow kickboxer, 28-year-old Lee Aldhouse of Britain. Aldhouse had lived on-and-off in Thailand for four years and competed on the club boxing circuit in Phuket, but police described him as currently unemployed.
Tammy Longfellow said Ooy told her the two men got into a fistfight when her son tried to go to the bathroom and Aldhouse tried to stop him.
"The dude kept pushing my son. He knew my son was another Thai fighter," she said. "He kept pushing my son. My son got the best of him in a fight. Everybody pulled them apart."
After that altercation, Longfellow said Aldhouse allegedly followed Ooy and her son home, grabbed a knife from a convenience store and stabbed him outside the Yanui Paradise Resort.
Longfellow went into the apartment and told Ooy that he thought he had been stabbed.
"He fell to the ground," his mom said, "and he told her he loved her, to call his mom and he loved me."
Thai authorities have issued an arrest warrant for Aldhouse and believe he is still in the Phuket area but have alerted air and sea ports in case he attempts to flee, police Lieutenant Colonel Anukul Nuket told the Associated Press.
Dashawn Longfellow's Family Question Police Speed in Manhunt
Now Tammy Longfellow and her family are wondering what is taking police so long.
"I just feel like they're not trying hard enough," Longfellow said. "My son went over to their country, something he loves to do. He loves to travel. He loves to see different counties. And to go over there and get brutally killed by an ignorant S.O.B. My son never hurt a fly. He's always been a protector."
"I don't understand. I'm confused. I'm pissed," Longfellow said. "I want to go over there and figure out what the hell is going on with my child. What are they going to do about this dude?"
Longfellow said her son was a big jokester who hardly ever missed school and was always really focused.
"He just keep telling me his whole life he wanted to be somebody," she said. "He was strong. He always helped people. He protected the handicapped kids in his school. He didn't let nobody pick on them. He was caring. He loved life. He wanted to travel the world. He wanted to do things, and that ignorant bastard took his life for nothing."
Longfellow's cousin Sabre Anderson said her cousin was "the nicest guy" and would give anybody the shirt off his back without thinking twice about it.
"He was my hero. He had the biggest heart that I've ever seen," said Anderson, who set up a Facebook memorial page. "He was doing his dream. He was doing what he wanted to do in life: traveling and learning and just broadening everything he that he knows."
Dashawn Longfellow's Family Remembers Slain Marine
Anderson remembers a football game senior year when Longfellow intercepted the football and ran it back for a game-winning touchdown.
"When he got the football, the look on his face was like wow what's this doing in my hands and then he took off," she said.
She said he did not deserve to die like this.
"He was an amazing person," Anderson said. "The world is worse off without him."
She too wants the police to "step up."
"They know what this guy looks like," Anderson said. "They know who he is. There should be no explanation as to why they don't have him already. There's no excuse."