CAIRO -- At a polling station in Cairo, on the final day of voting in Egypt's presidential election, around 20 women sat with their hands on their cheeks. A loudspeaker was blasting nationalistic songs and pictures of President Abdel-Fattah el-Sisi were on display, while they waited for voters to begin flowing in.
During the three days of voting, which end Wednesday, el-Sisi supporters have put on dances and orchestrated music outside stations like this, in an effort to attract crowds of voters.
"They have come to encourage other citizens to vote by offering them a festive mood," Toka Mohamed, the coordinator of the group at this poll site in the upper-middle class Maadi neighborhood, told ABC News.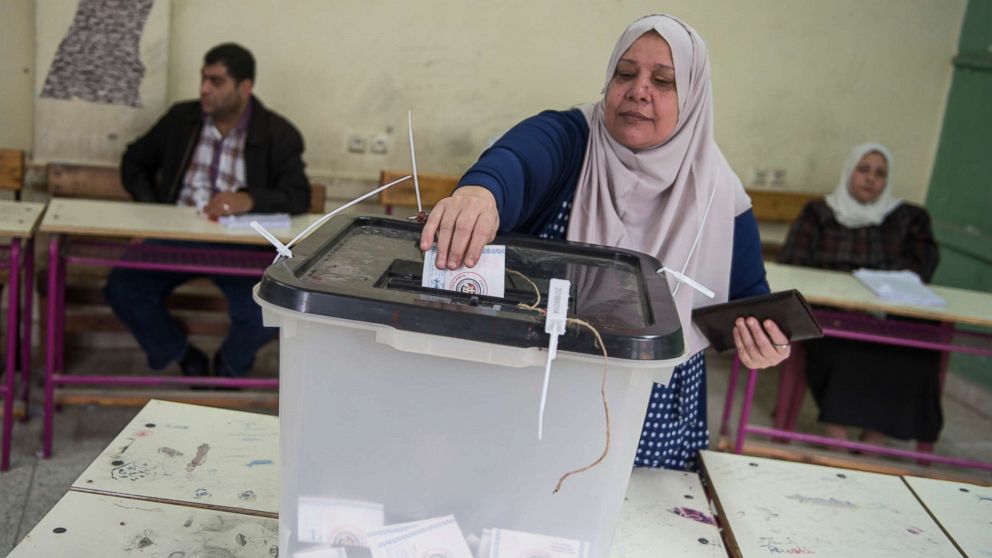 El-Sisi is running with only one opponent, Moussa Moustafa Moussa, a hardly-known politician and supporter of the current president who registered last minute to save the poll from turning into a referendum.
All potential candidates were forced out of the race or arrested, including a former military chief of staff, the latest casualties of the Egyptian government's five-year crackdown on the political opposition.
General-turned-president el-Sisi is all but certain to win, but a high turnout is important to his mandate. Domestic discontent is high, even among his supporters, amid price hikes and controversial policies like the decision to give two Egyptian islands to Saudi Arabia.
Media reports have said that food and money may have been distributed to encourage voter participation, an old-time tactic in Egyptian elections. A video also circulated of a government official telling his staff that they would have to show proof of their vote in accordance with "state instructions."
In a meeting at the police headquarters two weeks ago, the president said a high turnout is crucial to boost Egypt's image to the world.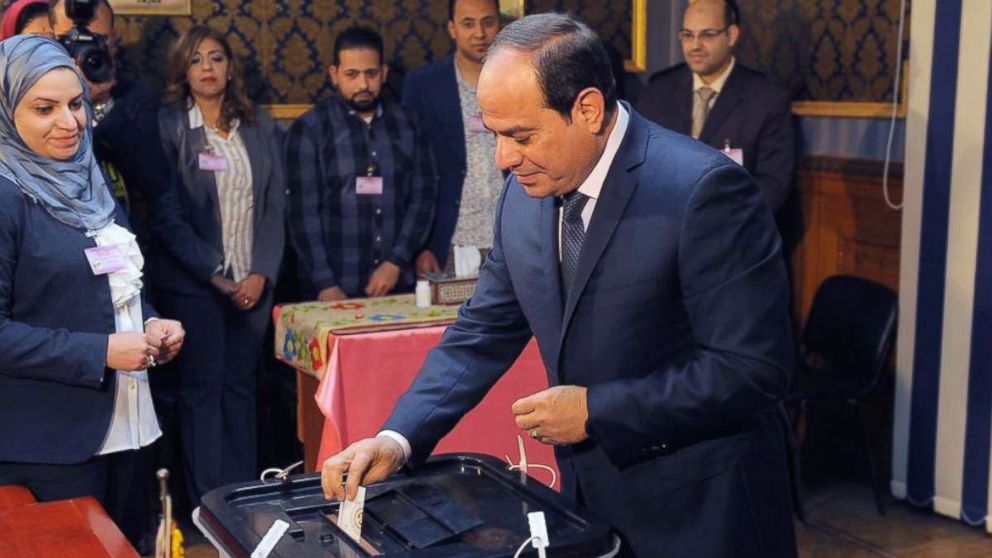 "If the biggest number of people participated and one-third of them voted 'No,' it is much more noble than if a smaller number participated and voted 'yes,'" el-Sisi said, portraying the elections as a referendum.
Amira Hassan, a 36-year-old mother of three, told ABC News after leaving a Maadi polling station that she was struggling to make ends meet, but that it was a small price to pay for security and economic progress.
"Regardless of everything, I voted because I have to support the army, the backbone of this country," Hassan said.
Shahinaz Mohamed, a 45-year-old voter, told ABC News she was voting for el-Sisi because she "wants the country to move forward" and to ensure that the president finished the economic progress he started.
El-Sisi's first term was marked by the launching of several mega-projects and a significant rise in economic growth. However, inflation rose to record high levels of around 35 percent last summer, according to government figures. While it gradually eased to 14 percent last February, spending power has yet to recover, according to the government.
Polling stations will close on Wednesday evening and the results of the election will be announced on Monday.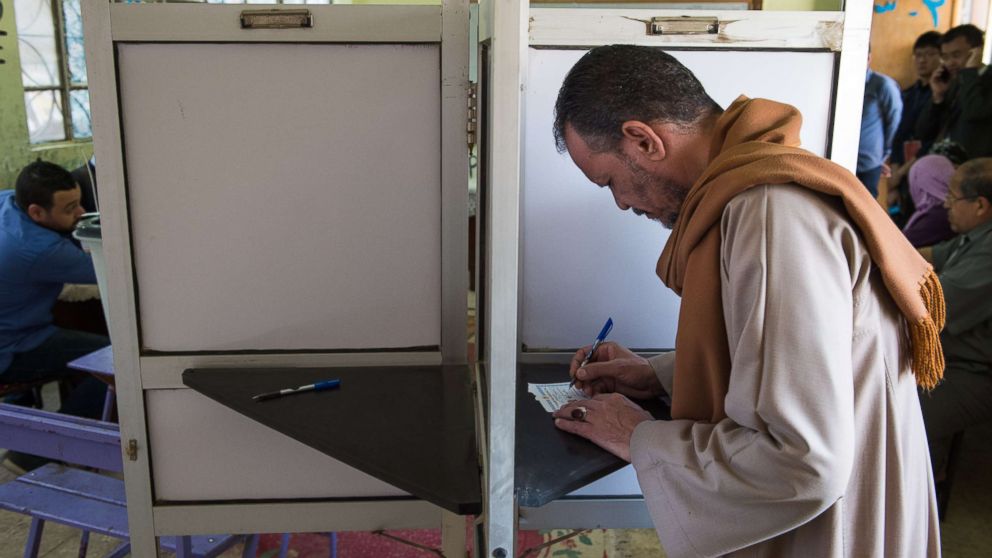 Egypt's National Elections Authority said on Tuesday that the voting process had gone smoothly on the first two days with initial indications suggesting a high turnout, including in the northern part of the country's Sinai Peninsula, where security forces have been battling with Islamist militant for years.
Last month, the military stepped up its fight against militants there by launching a campaign with tens of thousands of troops, from all branches of the army and police.
The operation has taken a toll on residents of the peninsula, according to Egyptian media reports, who have complained of food shortage and limited mobility.
A 55-year-old resident of northern Sinai, who requested anonymity out of fear for his safety, told ABC News he refused to participate in the election after what he said has been unjust treatment of people in his area.
"We are slowly dying in Sinai, we have been locked inside for three months," the man, who lives in the city of Arish, said, explaining that there was no food available in town and they have to stand for hours in line to buy "bad-quality and overpriced" food that is manufactured by the army.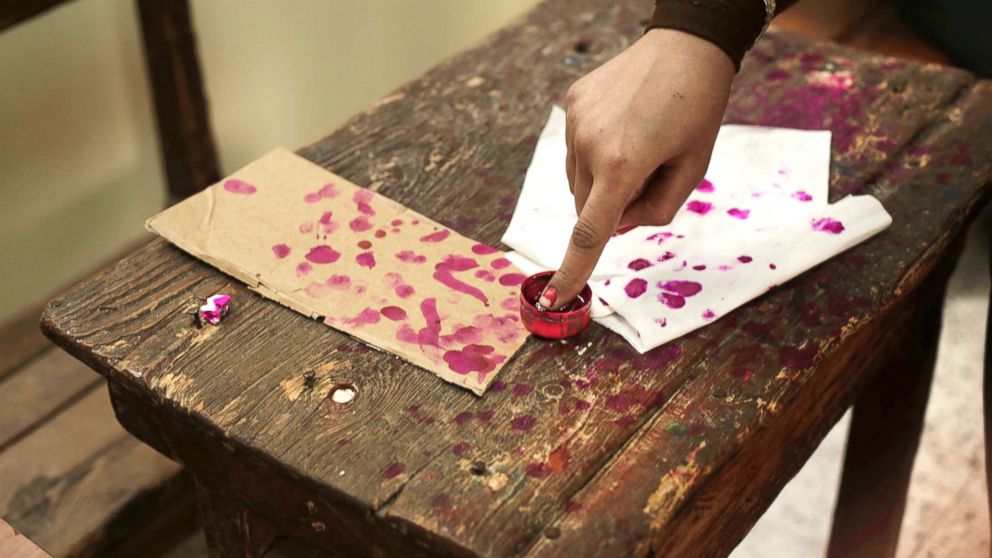 He added that young men were suffering the most, facing frequent humiliation by security forces on the streets, random arrests and house raids.
"There is terrorism in Sinai," he said, "but if you are exhausting tens of thousands of troops [and] our money, and making half a million residents suffer so you can get rid of a thousand terrorists, then you are a failure."
"How can I vote for him?"