— -- Winners of the world's largest lottery, the Spanish "El Gordo" Christmas Lottery, were announced today as the nation seemed to hold its breath in anticipation.
The announcement was made at the Teatro Opera house in the heart of Madrid with school pupils singing the winning number.
People holding tickets in the 130 series with the number 71190, which were purchased in the small town of Vilabia in Galicia, will share a prize of $615 million.
The winners' identities are not known yet.
But it's a tradition for family members to chip in for a ticket to the Spanish Christmas Lottery, whose top prize –- El Gordo, or the Fat One -– has been awarded annually for more than 200 years, Camila Fuentes, a business owner from Madrid, said.
In all, about 2.3 billion euros –- 70 percent of the betting pool –- will be distributed as winnings, with a top prize of about $473,000. The total translates to about $2.72 billion in U.S. money.
"I would not buy a ticket by myself," Fuentes told ABC News. "I want to gather with my beloved ones and having fun watching the TV. It's not about being selfish this time."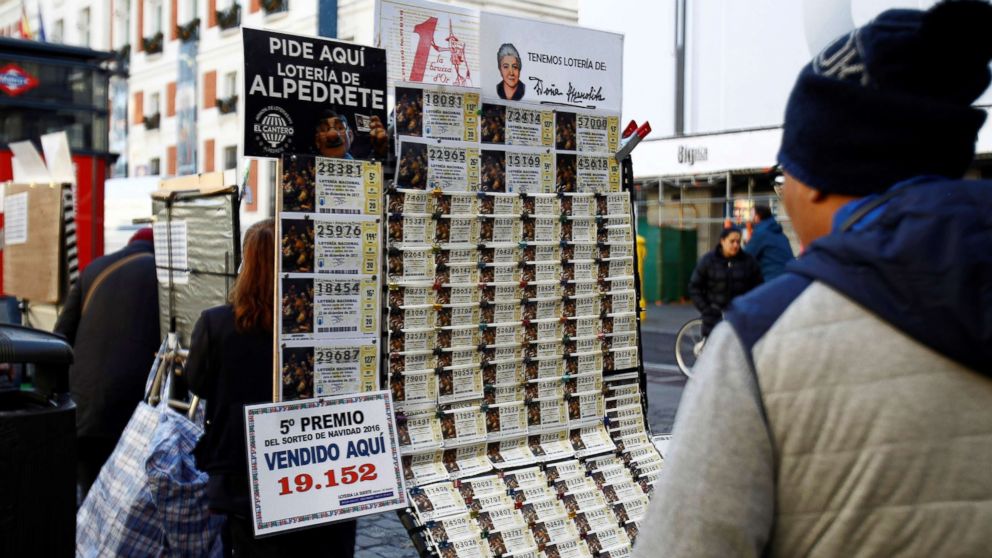 The Christmas lottery was established in 1812 by King Carlos III of Naples to raise funds for charity. It has been held every year since, including the era of Francisco Franco's fascist regime.
"There is something mythical about that," Fuentes said. "My family and I, if we don't buy our ticket we think it's bad luck for the rest of the year."
Tickets for El Gordo, as the lottery is commonly called, cost about $236, but it has become a tradition for many to invest in a ticket with family or friends. Ramon Sanchez, 52, said his family members each contribute about $6 toward a full ticket.
"I have family in Asturias in the north of Spain, and my uncle every year is in charge of buying a full [ticket]," Sanchez said. "We want him to purchase the ticket in this specific village and bookstore as it's called Suerte [Luck]. This year he already sent a message to say he got it."
It's also possible for an individual to buy a 10 percent share of a ticket for about $23.
According to the Spanish state lottery, 75 percent of Spanish people participate in the annual tradition. Ticket sales this year reached $3,3 billion this year, up more than 3 percent from last year.
Editor's note: An earlier version of this story misstated the size of the lottery's top prize. It is the equivalent of about $473,000.