Divers trying to retrieve bodies from the sunken South Korean ferry are finding the job "extremely difficult," feeling their way through the ink-black water with their hands as they work their way through rooms in the capsized ship.
Interested in
?
Add as an interest to stay up to date on the latest news, video, and analysis from ABC News.
"Divers can't see anything," Park Kyung Hoon told ABC News.
"Basically, they are blindly feeling their way around the ship. It is like a maze, so divers have to use their hands to feel around different rooms and under chairs and so on," said Park.
Ferry Disaster Has Left South Korea Traumatized and Shamed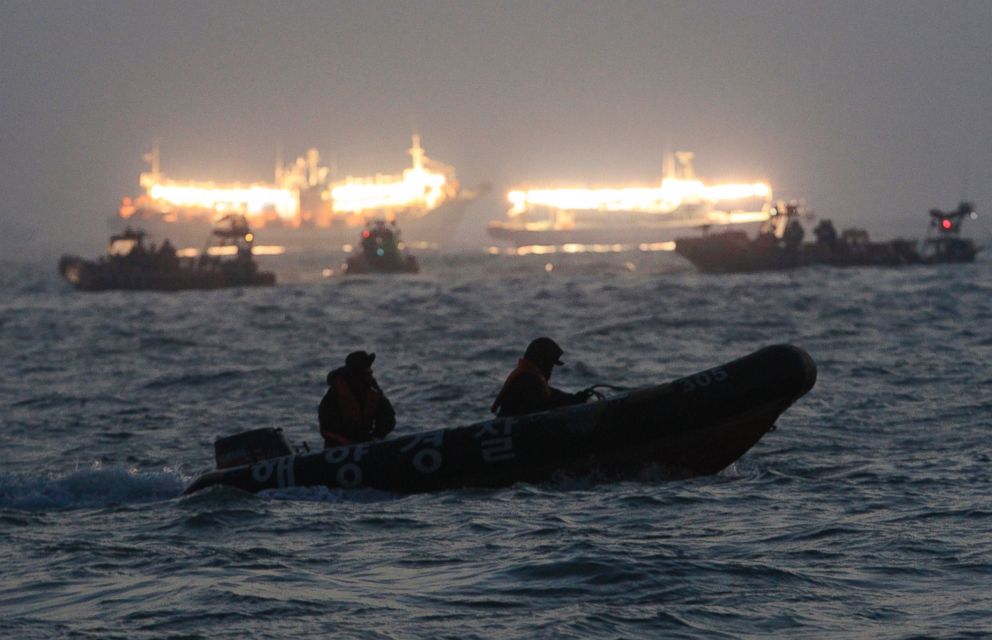 Watch: Dramatic Ferry Rescue Video Puts You in the Water
Park, a diving team captain for the Blue Dragon Training Corp., volunteered along with other divers when he heard about the April 16 tragedy, when a ferry sank off South Korea's southern coast with hundreds of high school students still trapped inside.
"By the time I went out to the site, the ferry had sunken completely underwater, and there were barge lines and cranes over it," he said.
His team has been collaborating with the Coast Guard, but search efforts have been hindered by surging currents that stir up the silty bottom into a muddy soup.
"When I first went into the water, I couldn't see anything," Park said. "The water was extremely clouded and currents were strong. So the time we could spend underwater and rescue searching was very short. Divers had to come out of the water within a short period of time."
More than 150 dead bodies have been recovered, and nearly the same amount is missing, according to The Associated Press.
The search has become more difficult. Divers initially brought out bodies that were in the ship's lounge, but divers are now having to break through cabin walls to retrieve more bodies.
"The lounge is one big open space, so once in it we got our search done straight away. But in the case of the cabins, we will have to break down the walls in between because they are all compartments," said Koh Myung-seok, a spokesman for the task force surrounding the sunken ferry.
The water conditions are also becoming more challenging.
"In my opinion, today and tomorrow will be the last days where water conditions will be good enough to dive in," Park said. "Starting from tomorrow, currents become strong again. It will become difficult for scuba divers to go into the water. The water will be clouded as well."
Park had harsh words for the ship's captain, who's accused of abandoning his passengers to save his own life.
"A captain's role and his utmost priority is to ensure the safety of the passengers onboard and lead the crew effectively," he said. "But it is unacceptable that a captain would abandon the helpless people onboard and escape to save his own life."