Pussy Riot member was poisoned, German doctors say
Peter Verzilov suddenly fell sick last week.
Petya Verzilov, a member of the Russian protest group Pussy Riot, has likely been poisoned, doctors treating him in Germany said Tuesday.
Verzilov, one of the early members of the group that has for years staged provocative demonstrations against Russia's government, was rushed to a hospital last week in Moscow after he suddenly began suffering vision and motion loss and fell unconscious. His relatives and fellow activists quickly suspected Verzilov was the victim of poisoning and on Tuesday doctors at the Berlin hospital where he has been transferred for treatment said they had no other explanation for his sudden sickness.
"The impression and the findings that we now have, as well as those provided by colleagues from Moscow, suggest that it was highly plausible that it was a case of poisoning," Dr. Kai-Uwe Eckardt of Berlin's Charite hospital told reporters.
Eckardt said doctors currently have "no evidence whatsoever that there would be another explanation for his condition."
The hospital's chairman, Karl Max Einhaeupl, told reporters that Verzilov was no longer in life-threatening danger and that his condition was "improving day by day."
Verzilov, 30, fell sick following a friend's court hearing in Moscow on Sept. 11 and was taken by ambulance to hospital, where he was placed in intensive care. Verzilov's symptoms included disorientation and widened pupils and Russian doctors began treating him for possible poisoning, Eckardt said, emptying his stomach and performing a dialysis.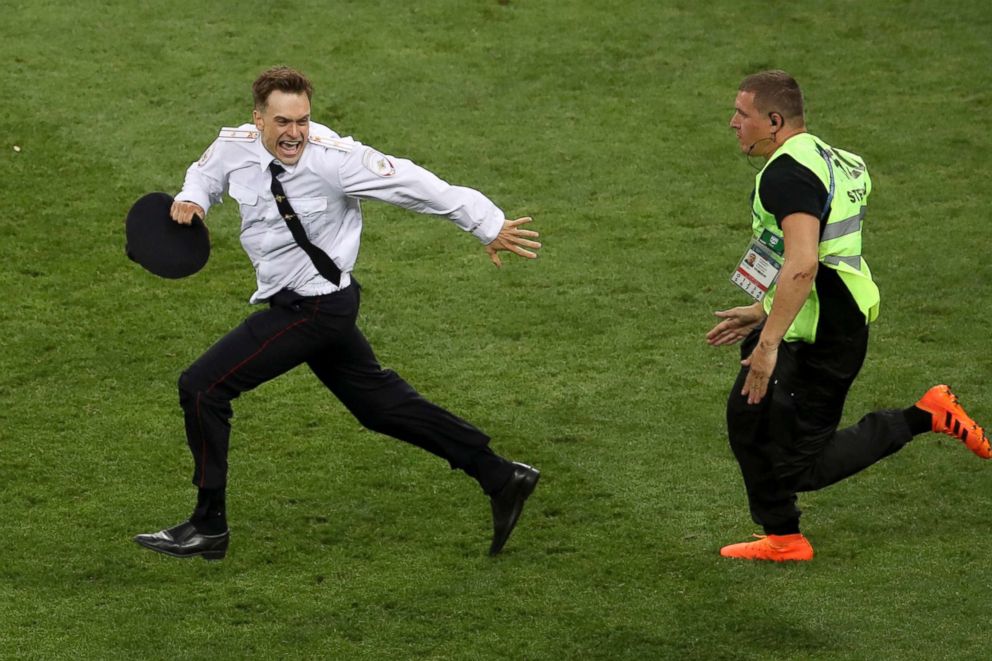 Verzilov, who has Russian and Canadian citizenship, was then moved to Germany by air ambulance on Saturday, flown there by the Cinema for Peace Foundation, an NGO that has supported Pussy Riot.
Eckardt said Verzilov was suffering from anticholinergic syndrome, which can disrupt the nervous system.
He said that laboratory tests were currently being carried out to identify the exact substance used to poison Verzilov but said it was unlikely that would be possible given the amount of time that had passed since he was exposed.
Eckardt ruled out that Verzilov could have taken the drug himself, saying there was "no evidence that there is a drug problem" and that it would be highly unusual for someone to take the drug in such a high dose unless the person was suicidal, which he said they had "no indications of."
Eckardt said he hoped Verzilov would now make a full recovery and would not suffer any long-term health consequences.
Verzilov is one of the best-known members of Pussy Riot and is the estranged husband of Nadya Tolokonnikova, whose arrest in 2012 with two other activists over their protest in a Moscow cathedral led to the group becoming world famous. During that period Verzilov, a veteran activist and provocateur, became a kind of impresario for the group, often handling media inquiries.
In recent years, he has continued to arrange stunts targeting president Vladimir Putin's rule even as Tolokonnikova and the group's other leading member, Maria Alekhina, have increasingly stopped performing together. In July, Verzilov and two other Pussy Riot members were sentenced to 15 days jail for a demonstration during the World Cup final, in which they ran onto the field dressed as police officers to protest police oppression in Russia.
There have been a number of high profile poisoning cases involving opponents of the Russian government recently, including the poisoning of former spy Sergey Skripal and his daughter.
Another prominent activist, Vladimir Kara-Murza, from the liberal group Open Russia, in 2015 and 2017 was poisoned twice with an unknown substance. Kara-Murza suffered organ failure on both occasions and now walks with a cane. Despite extensive tests, doctors were unable to identify the poison.