Israel approves divisive judicial overhaul, weakening court's power amid pro-democracy protests
Netanyahu's hardline nationalist government proposed the judicial reform.
LONDON -- Israeli lawmakers on Monday approved the key part of a divisive judicial overhaul plan pushed by Prime Minister Benjamin Netanyahu.
Part of the plan -- which was proposed as a sweeping reform by Netanyahu's hardline nationalist government -- removes the court system's ability to strike down "unreasonable" decisions by the government. Critics said it would mark a move away from democratic ideals. Supporters said it would claw back some power from unelected judges.
Lawmakers who opposed the bill stormed out of the chamber before a vote, resulting in the bill passing with a 64-0 unanimous approval. As opposing lawmakers left the floor, they called out "shame" and "government of destruction," officials said in a press release announcing the vote.
"This extreme government is hugging and posing to celebrate the moment they made it that we are no longer a brotherly people," said Yair Lapid, former prime minister and opposition leader. "Celebrating the moment when they managed to throw into the ash heap of history everything that connects us."
He continued, "Today, we saw an unprecedented show of weakness by Netanyahu. There is no prime minister in Israel. Netanyahu has become a puppet on a string of messianic extremists."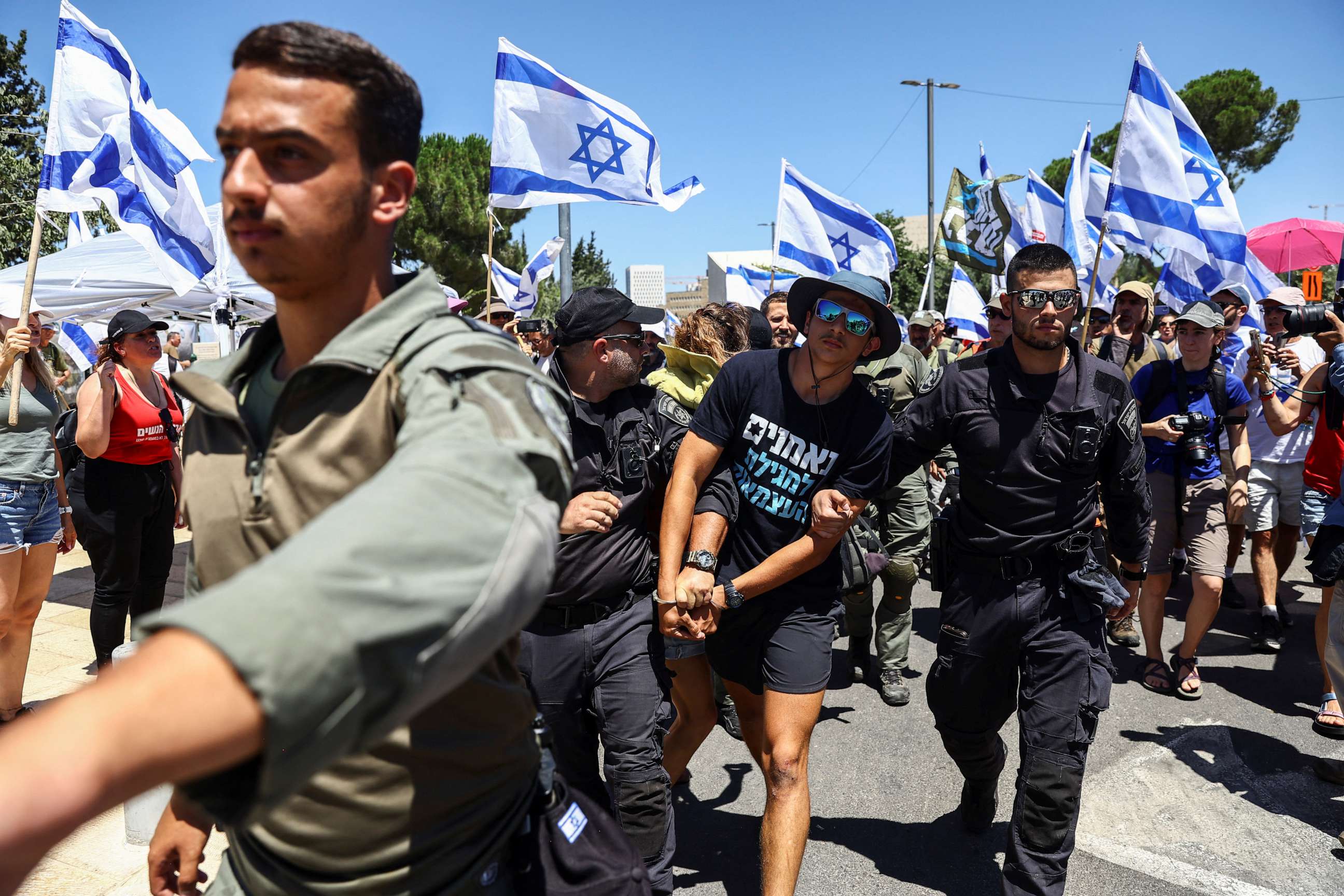 A previously planned vote on the overhaul during parliament's last legislative session had been delayed after the plan sparked nationwide protests.
Thousands of protesters on Monday again lined the streets around the Knesset, where Israel's parliament meets in Jerusalem. They were met with a heavy police presence. Authorities fired water canons overnight and carried several protestors away on Monday morning.
The people out in mass in the streets wanted only to "overthrow the government that was democratically elected," Minister of National Security Itamar Ben-Gvir, the leader of the Jewish Power party, said on Monday.
Protests have simmered in Israel for months, since the planned changes were rolled out in December. Under Netanyahu's reforms, Knesset lawmakers would be able to override decisions made by the country's supreme court, a change that's seen by many as a move to consolidate power.
"Without the hundreds of thousands of people who took to the streets, the legislation would have continued unhindered," Lapid had said on Sunday. "I will do as much as I can to bring a broad consensus for a democratic and strong Israel."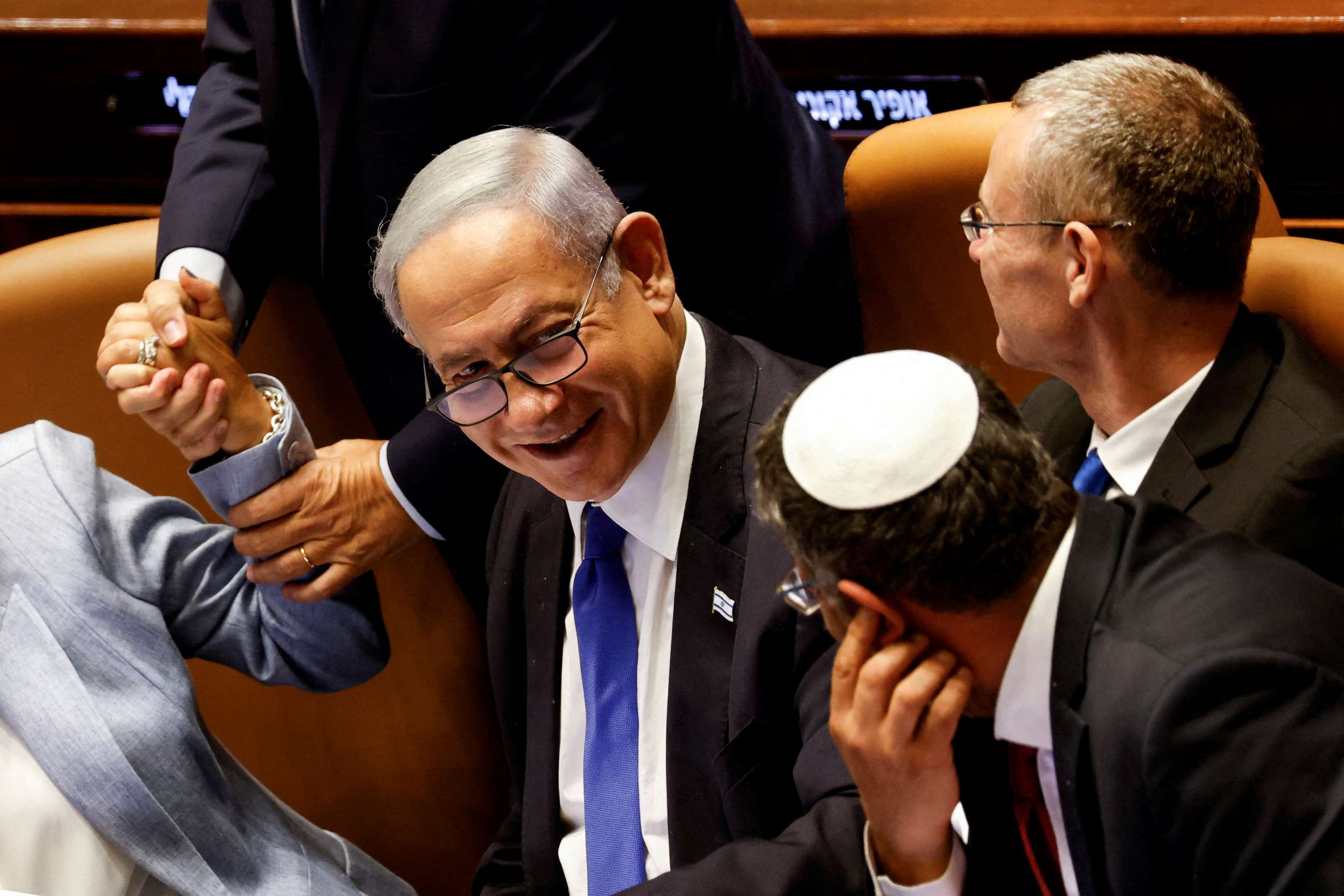 Netanyahu was released from a hospital on Monday after spending two nights at the Sheba Medical Center, where he was fitted with a pacemaker.
President Joe Biden called on Sunday for Netanyahu not to "rush" his plan, adding that it's "becoming more divisive, not less."
"Given the range of threats and challenges confronting Israel right now, it doesn't make sense for Israeli leaders to rush this -- the focus should be on pulling people together and finding consensus," Biden said, in a remark first reported by Axios and confirmed by ABC News.
The two leaders spoke about the bill in March, when it was delayed.
ABC News' Joe Simonetti, Fritz Farrow and Alexandra Hutzler contributed to this report.