GAZA CITY, Gaza Strip — -- Four boys who were playing on a beach in Gaza were killed by an Israeli barrage today, according to witnesses, the latest grim fatalities in the aerial battle between Israel and the militant group Hamas.
The military strike landed near a hotel where many of the foreign media are staying and the blast and its aftermath were witnessed by some of the media, including ABC News.
The boys were between the ages of 9 and 11 and all had the same last name and were two brothers and two cousins, Palestinian authorities said.
Everything You Need To Know About The Israel-Gaza Conflict
Inside the Tel Aviv Airport When It's Under Attack From Hamas Missiles
The first shell killed one of the group of boys and sent four remaining boys sprinting across the beach, witnesses and Gaza medical sources said. A second shell struck, killing three more boys, the witnesses told ABC News. The fifth boy is in critical conditions, the medical officials said.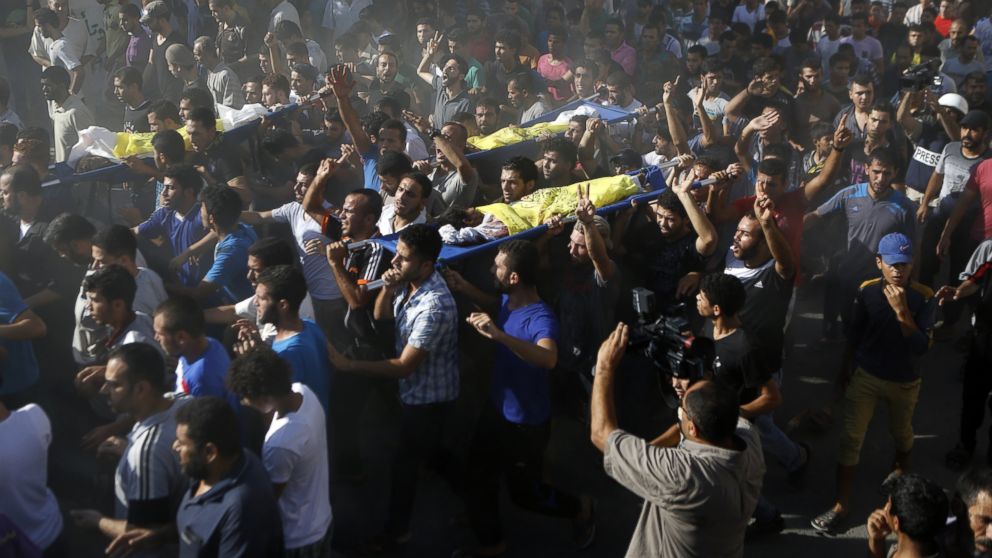 A concrete structure leveled at the site of the blast and ABC News witnessed the mangled body of one of the boys pulled from the wreckage.
Gaza health officials identified the boys as Ismail Bakr, 9, Ahed and Zakaria Bakr, both 10, and Mohammed Bakr, who was 11.
Seven others — adults and children — were wounded in the strike, Ashraf Al Kedra, a Palestinian doctor, told the Associated Press.
A statement by the Israel Defense Forces said it will investigate the circumstances of the beach incident.
"The IDF has no intention of harming civilians dragged by Hamas into the reality of urban combat. We are carefully investigating the incident in question," the statement said.
"Based on preliminary results, the target of this strike was Hamas terrorist operatives. The reported civilian causalities from this strike are a tragic outcome," the IDF statement said.
"Hamas' cynical exploitation of a population held hostage has caused the IDF to cancel strikes on terrorist targets on multiple occasions this operation," the army statement said.
More than 200 Palestinians have died in the nine day battle between Israel and Hamas, and one Israeli has died.
Israel has sent leaflets and made robo calls telling tens of thousands of people in Gaza to evacuate their homes to avoid civilian deaths and injuries, and contends that Hamas has hidden its arsenals and rockets in civilian areas.
The sequence below shows the moments just before the attack that killed the boys: