A Turkish prosecutor publicly confirmed Wednesday for the first time that journalist Jamal Khashoggi was strangled as soon as he stepped into the Saudi Consulate in Istanbul and his body was dismembered.
A statement from the Turkish prosecutor, Irfan Fidan, said Khashoggi's killing this month was premeditated.
Fidan said Turkish authorities have asked the Saudis where they disposed of Khashoggi's body but have gotten no response.
Khashoggi, a Saudi-born journalist who was living in self-exile in the United States and writing for The Washington Post, disappeared on Oct. 2 after going into the Saudi consulate in Istanbul to fill out paperwork to get married.
His fiancée, Hatice Cengiz, waited for hours outside the consulate for him to emerge. When he failed to return, consulate officials told her he went out a back door.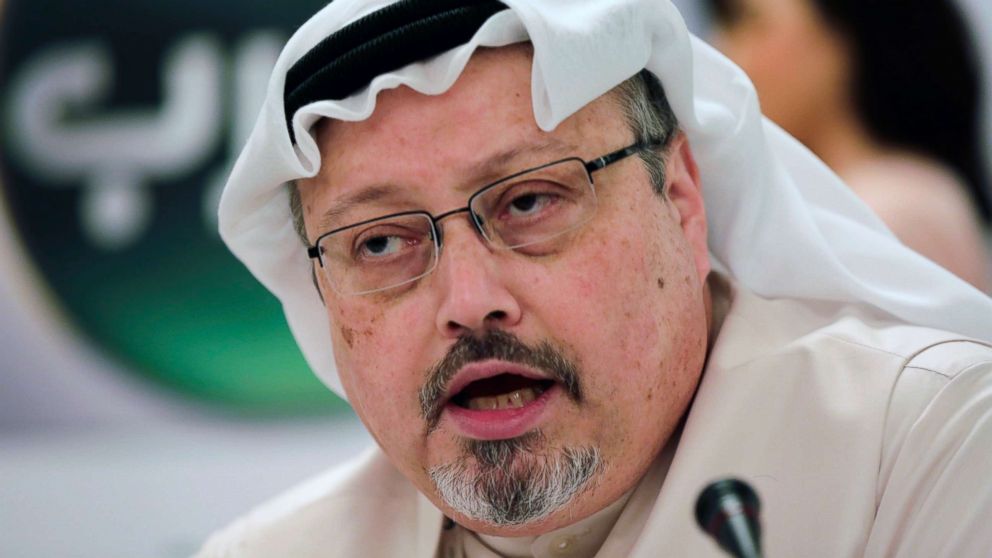 When Cengiz reported the 58-year-old Khashoggi missing to Turkish police, the Saudi government initially said Khashoggi had come out of the consulate the same day and denied any involvement in his disappearance.
Two weeks later, the Turkish public prosecutor said an initial investigation revealed that discussions between Khashoggi and the individuals who met with him at the consulate led to an argument and a fist fight, which resulted in the journalist's death, according to the Arabic report in the Saudi Press Agency.
A Saudi official on Sunday told ABC News that Khashoggi's body was given to a "local cooperator" in Istanbul for disposal. "Investigation into this continues," the official said.
Fidan's statement Wednesday came a day after Cengiz told ABC News in her first American media interview that Khashoggi, who had written stories critical of the Saudi government, was initially apprehensive about going to the consulate.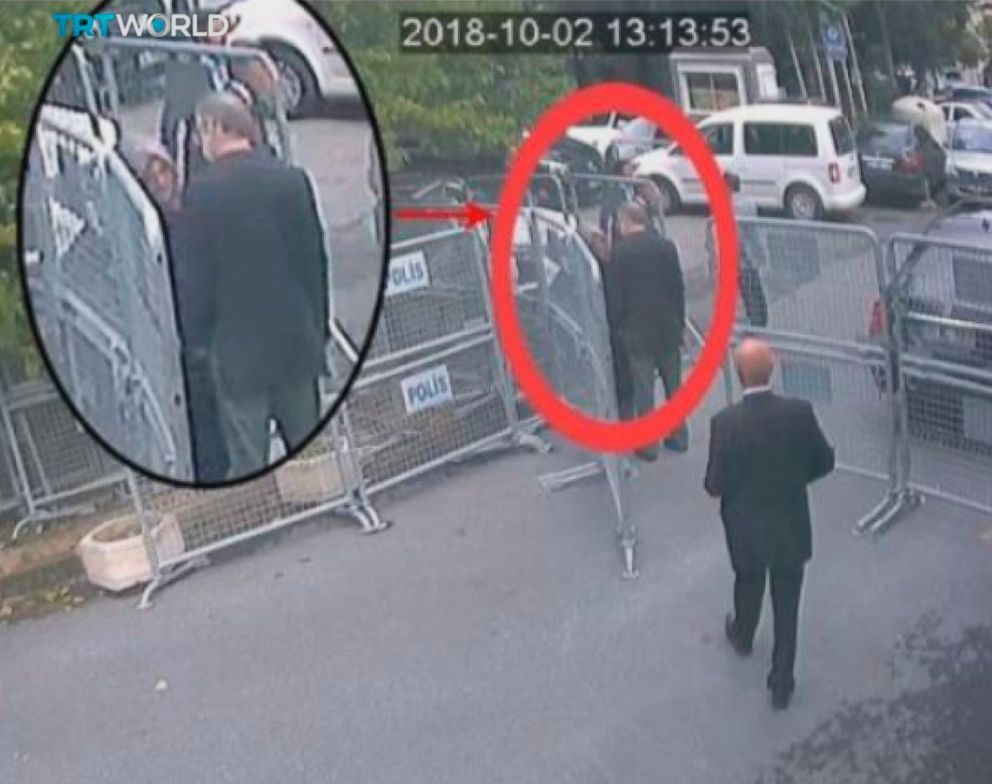 "He thought it was a risk to go," Cengiz said in an emotional interview. "He thought of the possibility of them capturing him. He didn't want to face the consequences of his political views."
She said Khashoggi's fears were allayed after he made an unannounced visit to the Saudi consulate in Istanbul on Sept. 28 to request the documents he needed to get married and was warmly received by consulate employees who told him to return on Oct. 2.
"Our second visit was full of hope and it was the last step to our union," she said. "We were going to get the official paper and we were going to get married and continue [the] rest of our lives together."
Turkish officials have claimed that a team of 15 Saudi men, including one who was identified by the press as an autopsy doctor, flew to Turkey specifically to kill Khashoggi at the consulate.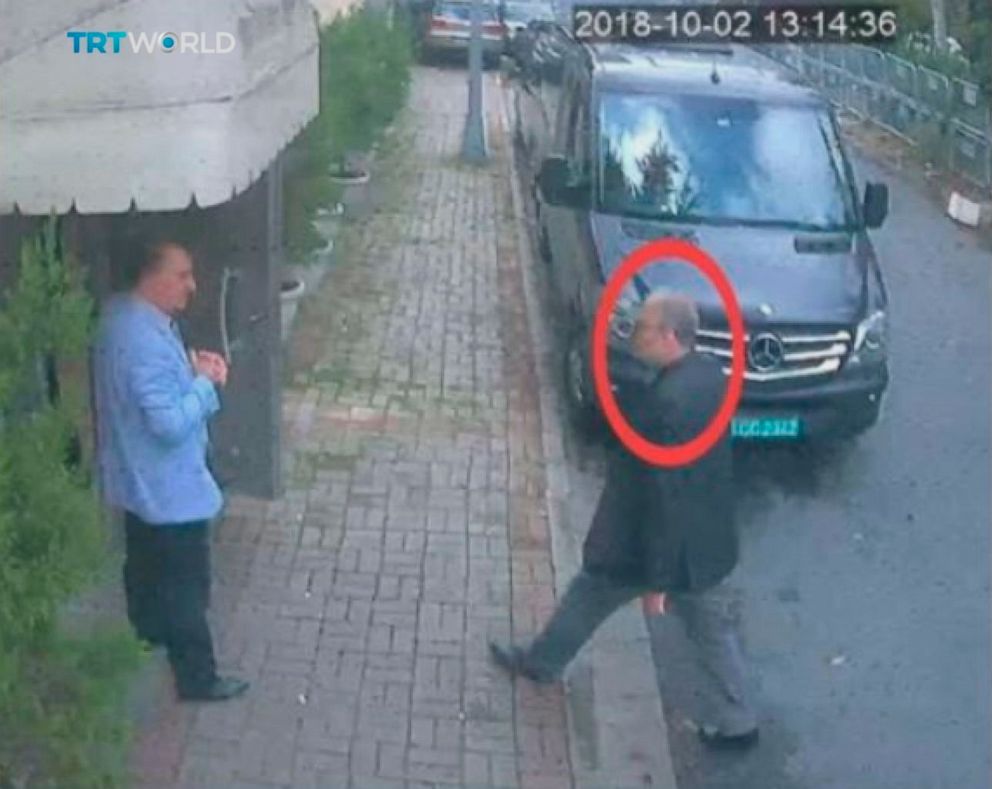 Earlier this month, a Saudi official told ABC News that Khashoggi was killed when he was "placed in a chokehold position" to prevent him from leaving the country's consulate in Turkey and calling for help.
The Trump administration has strongly denied a claim that Secretary of State Mike Pompeo was played an audio recording and provided a transcript of Khashoggi's killing.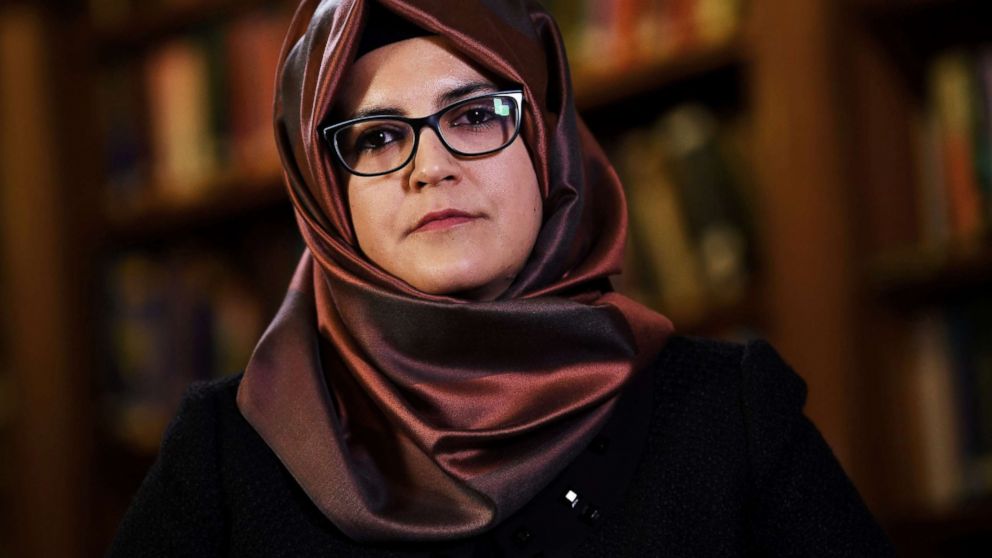 Several human rights organizations, including Amnesty International and the Committee to Protect Journalists, have called for the U.N. to investigate Khashoggi's death.
After speaking with Saudi Arabia's King Salman, President Donald Trump suggested that Khashoggi was targeted by "rogue killers." Trump said last week that there would be "severe consequences" if it is found that the Saudis murdered Khashoggi.