SEOUL — -- Tensions on the Korean Peninsula are on the rise, with North Korea warning of "merciless" war and launching two missiles as the joint United States-South Korean forces launched annual military drills on Monday.
The communist country test-fired two short-range ballistic missiles into the East Sea from Nampo, located 37 miles southwest of Pyongyang, North Korea, early Monday. Both flew about 310 miles, according to South Korea's Defense Ministry.
The test firings of missiles and rockets are often means of expressing dissatisfaction and are conducted regularly, especially during this time of the year. North Korea denounces the annual joint military exercises by U.S. and South Korean forces as rehearsals for a northern invasion aimed at toppling the country's regime.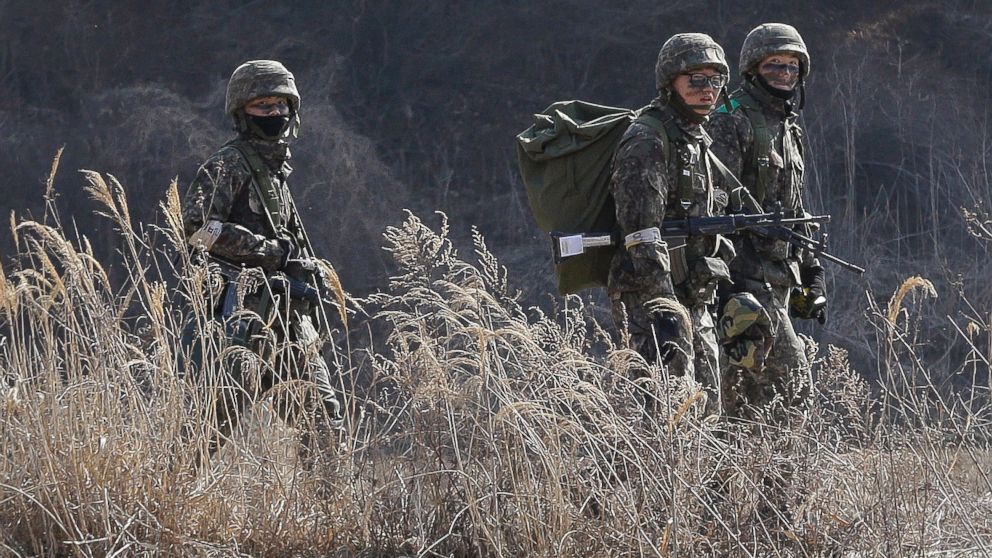 "Key Resolve and Goal Eagle, which will last 'til April 24, are dangerous nuclear war drills for invading the DPRK," an unidentified staff of the North Korean military said in a statement carried by the state Korea Central News Agency (KCNA).
North Korean leader Kim Jong-un called for his military to become elite guard units in full preparation for war with the United States, KCNA reported Saturday. Kim's statement was made as he inspected the new guard unit hall at a war museum. The title of guard is the highest given to elite units, and was created in 1950 during the Korean War.
Pyongyang offered last month to temporarily halt nuclear tests if the U.S. suspended those exercises with South Korea. Seoul and Washington have flatly rejected that proposal.