'No letters, no calls': Concern grows for families of Belarusian political prisoners
"The regime supposedly erases these people from our lives, as if they are dead."
LONDON -- An increasing number of family and friends of Belarusian political prisoners say they are unable to contact their loved ones.
There are hundreds of political prisoners in Belarus, many of whom were arrested in the aftermath of the disputed 2020 presidential election, when protests and dissent were violently suppressed.
Tatsiana Komich hasn't heard from her sister, Maria Kalesnikava since February. Kalesnikava has been in prison since Sept. 2020 after she refused to be forcibly deported from Belarus by tearing her passport to shreds.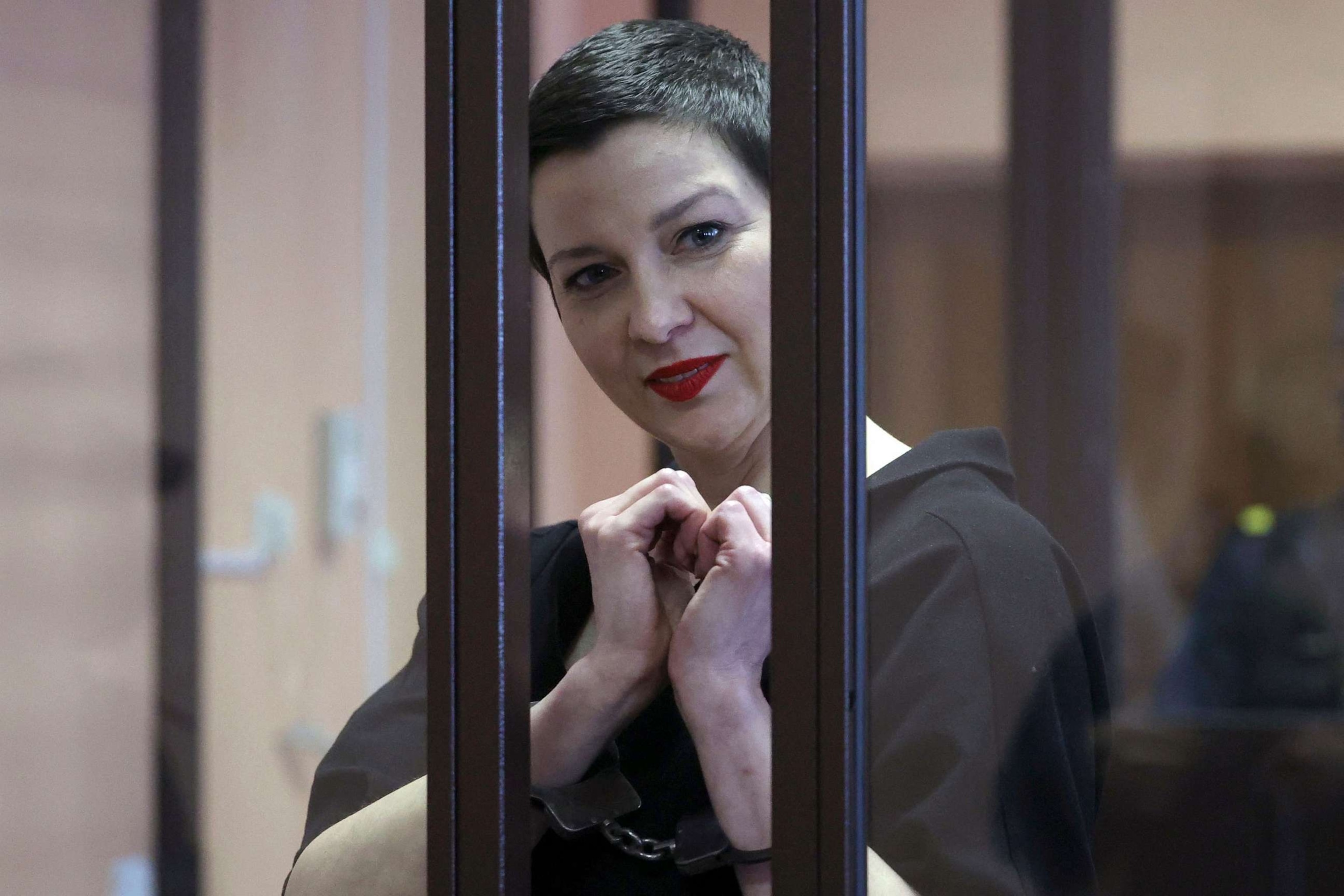 She was a key figure in the 2020 election against President Alexander Lukashenko and remained an active protest leader even after most prominent activists had fled the country. She is serving an 11 year sentence, charged with extremism and trying to seize power.
"There are no letters, no calls, which previously were allowed also and no visits as well," Khomich, who lives outside Belarus, says.
Their father sought answers from authorities but he was told that no restrictions on communication had been put in place. Kalesnikava simply did not want to communicate with them.
But Khomich says she knows that isn't true.
"It's definitely been done on purpose to isolate her, to cut off any communication with the outside world," she said.
Kalesnikava's is not a unique case. Sviatlana Tsikhanouskaya, Belarus' de facto opposition leader in exile, ran against President Alexander Lukashenko in the 2020 presidential elections after her husband, Siarhei -- who had intended to run -- was imprisoned on trumped up charges.
She has posted to her social media accounts that she hasn't heard from her husband in nearly three months.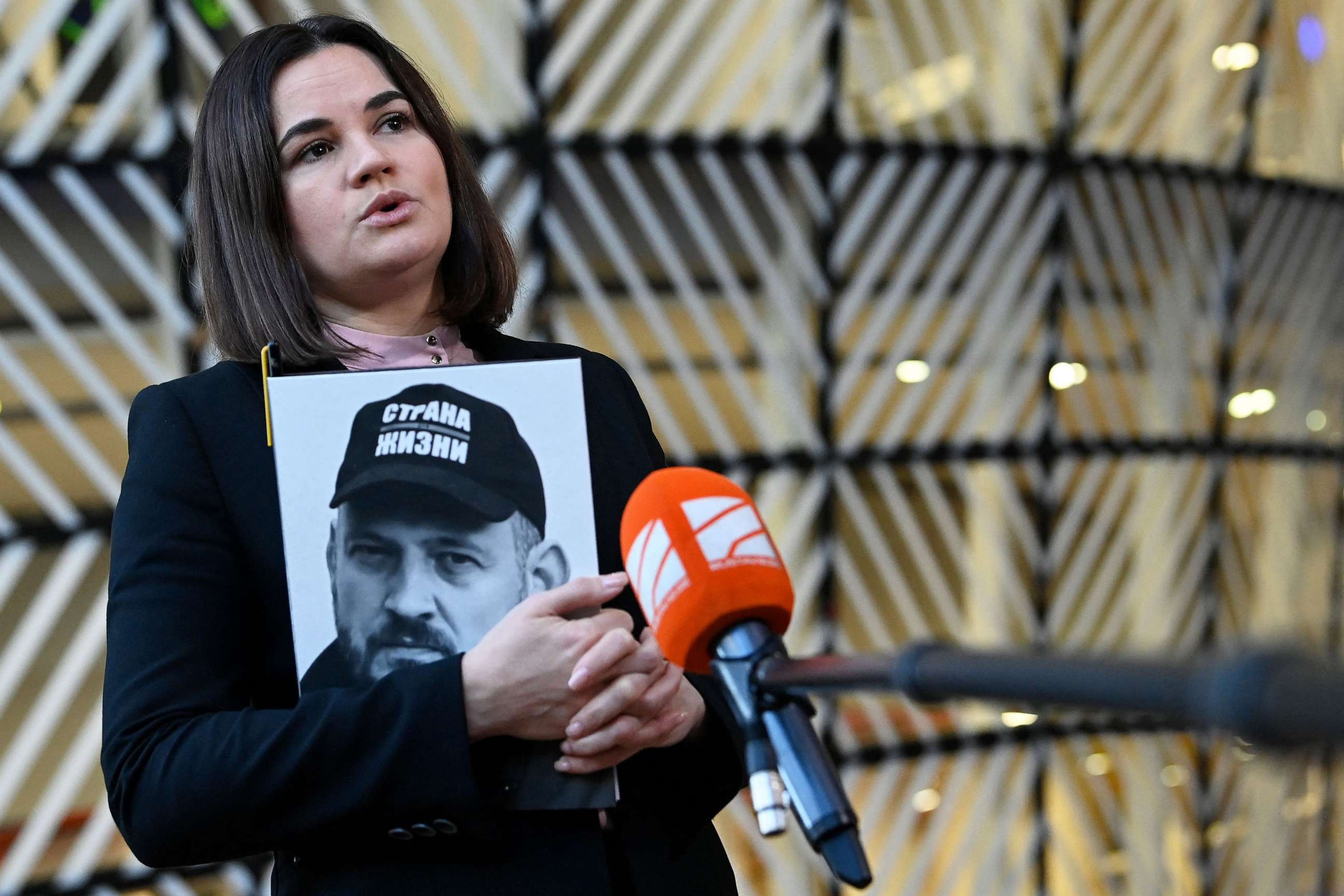 Belarusian human rights organization, Viasna, says there are 1,513 recorded political prisoners in Belarus. Among them is Viasna's founder, 2022 Nobel Peace Prize winner Ales Bialiatski, whose wife told The Associated Press that she hasn't heard from him in over a month.
Dziyana Pinchuk, a human rights activist who works for Viasna, says President Lukashenko has long hoped silence would stop people from asking questions about political prisoners.
"The regime supposedly erases these people from our lives, as if they are dead. But more than 1,500 political prisoners are alive and held in prisons only because they yearned for a democratic Belarus and opposed the war in Ukraine," she told ABC News.
She adds that while several high profile prisoners are bringing the issue to the mainstream, there are probably many more instances of contact being cut off between prisoners and family members "because Belarusian society is in a state of extreme fear, so relatives are afraid to tell human rights activists and journalists such facts under the threat of persecution."
Khomich echoes this, saying relatives inside Belarus walk a fine line and that "people in Belarus cannot have any public protests or publicly actually express their opinion. It's a very complicated situation because you need to find the balance so that these relatives who are in Belarus, they are not imprisoned."
Pinchuk added that Viasna continues to help families file complaints. They also work with the UN and other international organizations to both raise awareness for Belarusian political prisoners, and try to improve conditions amidst the increasing repressions.
But, despite their endeavors, answers about this latest crackdown on already limited freedoms continue to remain elusive.