MOSCOW -- Belarus' authoritarian leader Alexander Lukashenko was sworn in as president in a surprise, secretive ceremony held Wednesday amid tight security and with no announcement beforehand.
The ceremony was held without a live broadcast on state media and most Belarusians only learned of it after Lukashenko's press service announced he had already been sworn in. Troops and riot police sealed off the main avenues of the capital in Minsk and the Independence Palace, where the ceremony took place. Lukashenko's cortege was filmed speeding through the capital's empty streets, flanked by motorcycle outriders.
Video aired on state television afterward, showing Lukashenko in a marble hall speaking to an audience of several hundred officials.
He told the audience his inauguration was "a day of convincing and fateful victory."
"We not only elected a president of the country, we protected our values, our peaceful life, sovereignty and independence," he said.
A presidential election in August gave Lukashenko over 80% of the vote, amid allegations of massive ballot fraud, which has triggered weeks of historic protests demanding he step down and new elections be held. Hundreds of thousands of Belarusians have protested for seven weeks, in face of often brutal violence from Lukashenko's security services.
The secretive inauguration triggered new protests on Wednesday, with several thousand people taking to streets in Minsk and in other cities across Belarus. There were chaotic scenes not far from the palace where Lukashenko was inaugurated, as riot police moved violently to disperse the peaceful protesters, using water cannons on the crowds, the first time they had done so in the capital since the crackdown in the first weeks on the protests.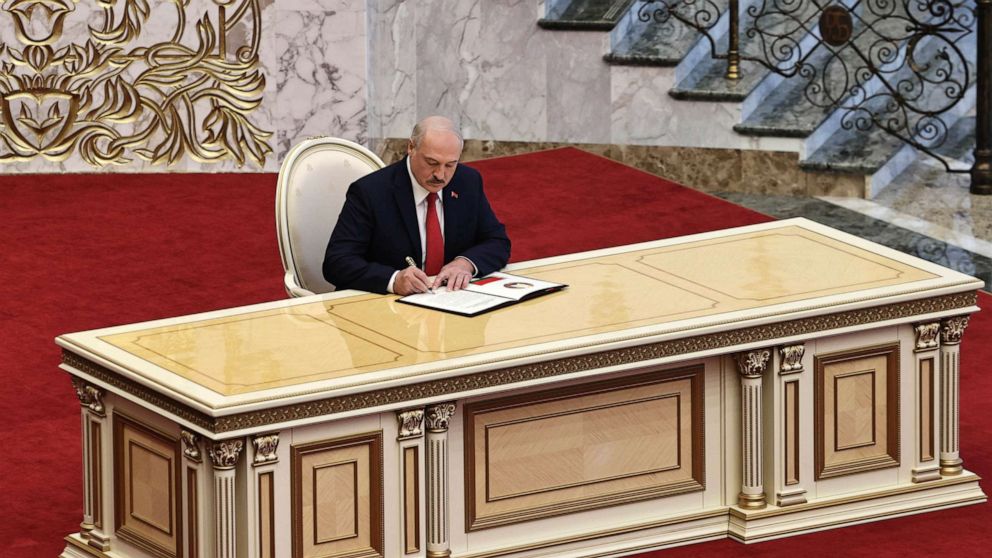 Lukashenko's main opponent in the election Svetlana Tikhanovskaya, who has declared herself "national leader" and pledged to hold new elections, on Wednesday dismissed his inauguration as illegitimate.
"Today, secretly from the people, Lukashenko tried to hold his own inauguration. We all understand what's going on. This so-called inauguration is, of course, a farce. In fact, today Lukashenko has simply retired," Tikhanovskaya said in a statement.
"This means that his orders to the power structures are no longer legitimate, which means they are not subject to execution. I, Svetlana Tikhanovskaya, am the only leader elected by the Belarusian people. And our task now is to build a new Belarus together," she said, adding that European countries are ready to support the protest movement.
Tikhanovskaya, who is in exile in neighboring Lithuania where she was forced to flee after the election, was given just 9% of the vote by the official count during it, widely viewed as vastly underestimating the real result.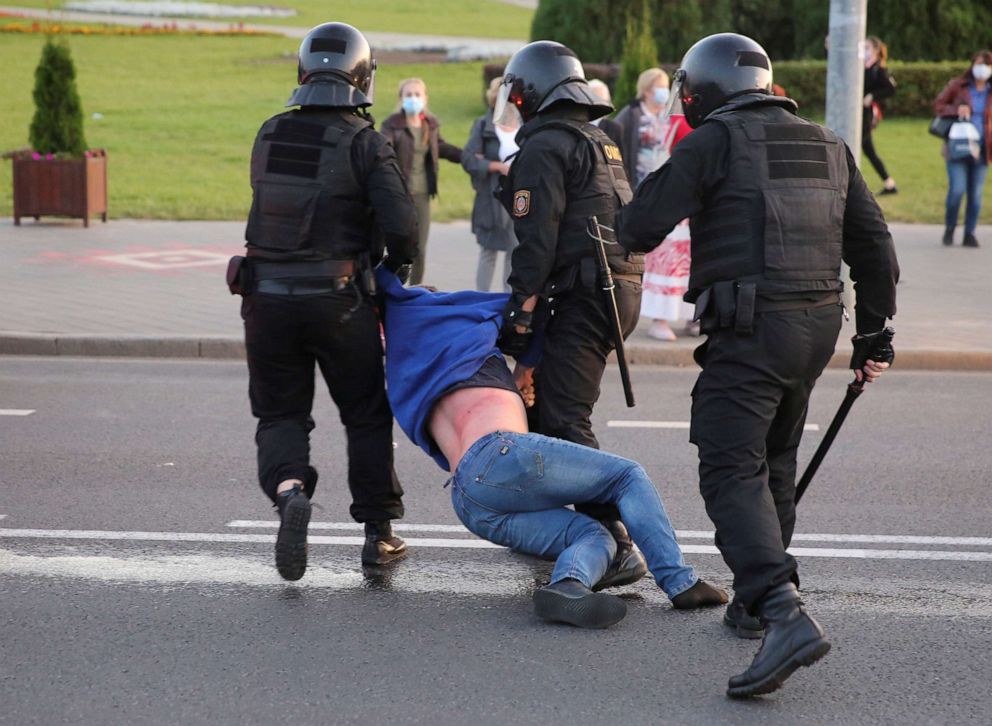 Several European countries refused to recognize Lukashenko's inauguration, including Germany, the Czech Republic, Slovakia, Lithuania, Latvia and Estonia.
"Presidential elections in #Belarus were neither free nor fair. Election result is illegal. No ceremony -- pompous or secret -- will change this indisputable fact or create illusion of legitimacy," Gitanas Nausėda, Lithuania's president, wrote on Twitter. He and others urged Lukashenko to open dialogue with the protesters and hold new free and fair elections.
The United States and the European Union have already refused refused to recognize Lukashenko's reelection and have said they are preparing sanctions against top officials in his regime.
Russia, which has thrown support behind Lukashenko, has recognized him as president, as has China and a number of authoritarian former Soviet countries.
The Kremlin's spokesman on Wednesday said he had been unaware the inauguration was taking place.
Inaugurations, as in other countries, are normally major events, held with pomp and announced weeks in advance. Lukashenko's decision to conduct it without any public involvement appeared on highlight the hollowness of his claims to have won the election with massive support, observers said.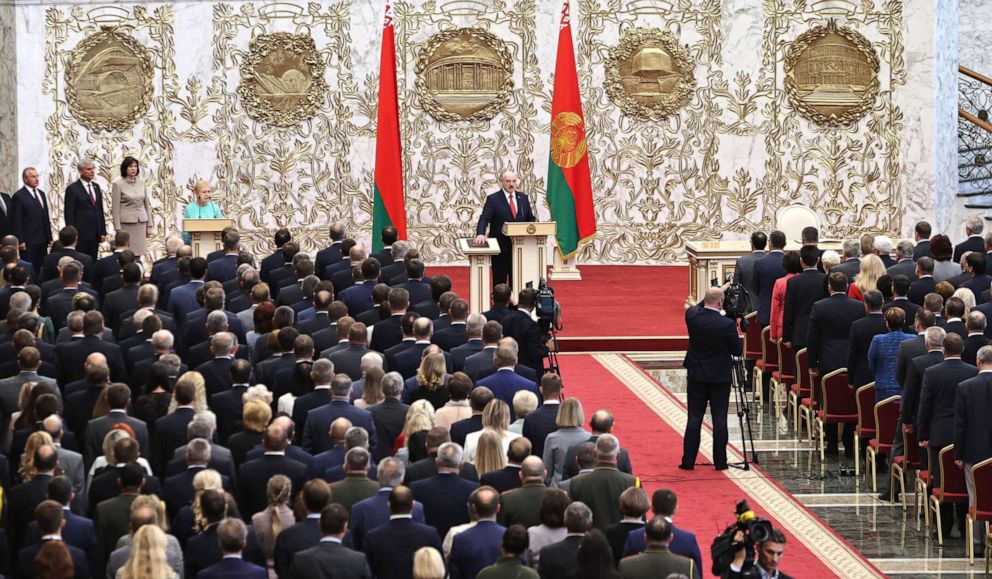 "Unannounced in advance, not broadcast to nation. This is not how a candidate with "80% support" does these things," Dr Nigel Gould-Davies, a former British ambassador to Belarus and now a senior fellow for Russia and Eurasia at the International Institute for Strategic Studies, wrote on Twitter.
Protests have continued against Lukashenko for weeks since the election and the crackdown that followed it, with smaller ones taking place most days and huge demonstrations happening each Sunday, involving often over 100,000 people. Despite the massive protests, Lukashenko's government in recent weeks has moved to shore up its grip, increasing the pressure on the demonstrations by detaining hundreds of protesters and targeting opposition leaders, most of whom are either detained or have been driven into exile.