— -- Local Manchester, England, residents and businesses are offering up places to stay to those affected by Monday's incident at an Ariana Grande concert at Manchester Arena.
#RoomForManchester began trending on Twitter following the incident that has killed at least 19 people and wounded around 50 others. The local train station has been closed in the wake of the incident, stranding many.
"I have a sofa, floor, blankets and tea, 5 minutes from Arena for anyone in need #RoomForManchester," wrote one user.
"If you need a place to crash I live around the corner from Manchester Arena on Jefferson Place. Feel free to contact me#roomformanchester," said another.
A local Holiday Inn was offering up rooms for those affected and reportedly helping reunite children with their parents.
At the moment, the incident is being treated as a "terrorist incident until police know otherwise," police said. U.S. law enforcement officials have been informed that the leading theory is that the Manchester Arena incident was the work of a suicide bomber, though they caution that this is preliminary information, according to a senior law enforcement official briefed on the investigation.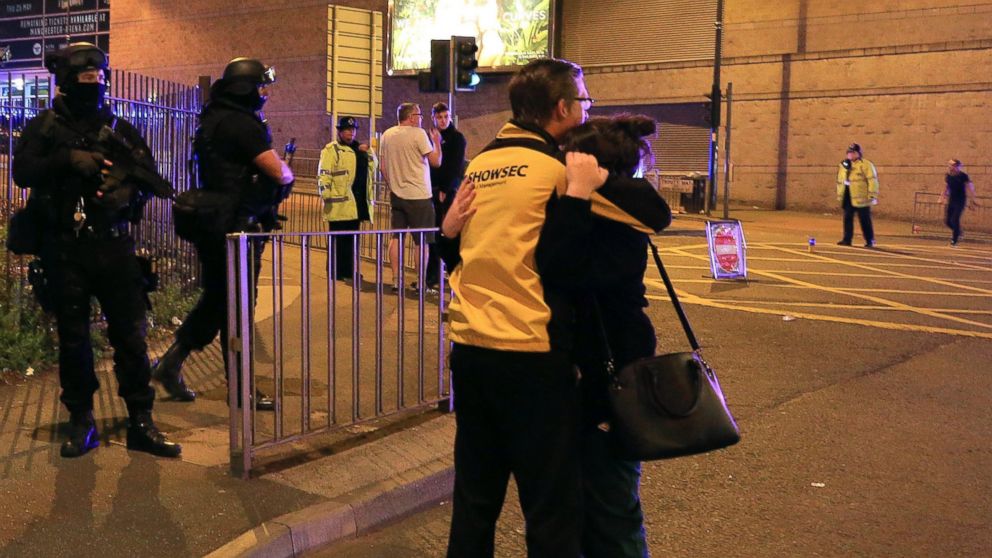 It's unclear what occurred at the venue, but concertgoers reported hearing a loud bang at the end of the concert and attendees rushed toward the exit.
Abby Barker, who attended the concert, told ABC News that Grande had just left the stage when there was a loud bang. "I looked across the arena and everyone over there started running in different directions, screaming in panic," she said. "We all started panicking too and ran out the doors and ran down the stairs out of the arena. We got outside and children were crying their eyes out, people talking about it being a bomb/gunshots, there were many parents running towards the arena but no one knew exactly what it was."
In a statement, Manchester Arena confirmed that there had been an incident but said it occurred outside the venue. "Our thoughts and prayers go out to the victims," it tweeted.
The wounded are being treated at six different hospitals, Greater Manchester Police Chief Constable Ian Hopkins said in a press conference. "We're doing all that we can ... as we gather information about what happened," he said, asking people to remain vigilant.
A rep for Grande confirmed that she was not harmed.
Others in Manchester offered help as well.