Oscar Pistorius has built a powerhouse legal defense team that features two of the most dogged defense attorneys in South Africa who have a history of taking on and winning high profile cases.
Interested in
?
Add as an interest to stay up to date on the latest news, video, and analysis from ABC News.
Kenny Oldwadge, who briefly took the reins today from lead defense advocate Barry Roux, was previously successful in defending Carl Pistorius, the Blade Runner's brother, against a culpable homicide charge.
In 2010, Oldwadge also helped acquit the man who was driving a car in the accident that killed Nelson Mandela's great-granddaughter. Oldwadge also currently represents the late leader's grandson in an assault case, according to local reports.
The attorney was both stern and meticulous in his biggest moment to date at the Pistorius trial, as he cross-examined the athlete's neighbor, Anette Stipp, and tried to discredit her testimony. Stipp told the court today that she heard shots, then a woman's terrified screams. Those screams were joined a man's screams followed by three more shots, Stipp testified.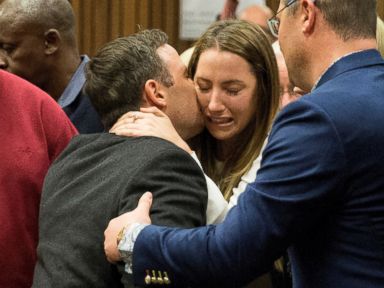 Oldwadge said the screaming Stipp heard was actually Pistorius crying, but Stipp remained adamant that it was a woman's voice she heard.
Oldwadge: "You're a woman of intellect & sophistication. Would you sign a statement that didn't convey truth?" Stipp: "No" O: "Yet you did."

— Rebecca Davis (@becsplanb) March 24, 2014
Roux, who has taken the lead in the Pistorius case, was even asked to sign his first autograph last week, according to South African broadcaster eNCA.
Roux, who has more than three decades of experience, has become an internet sensation with various memes playing on his signature phrase, "I put it to you," which he frequently uses to prove his point in court.
The veteran attorney won an early victory at Pistorius' bail hearing last year when he got detective Hilton Botha to admit police had botched the handling of some crucial forensic evidence.
Botha was later removed from the case and resigned from his law enforcement job.