Dad says seeing daughter after Manchester concert was 'like she was born again'
"It was the second-best day of my life," he said.
— -- A father drove his 16-year-old daughter and her friend to the Ariana Grande concert in Manchester, England, on Monday night, with a plan to meet them after the show at the bottom of the stairs just inside the arena.
When he heard an explosion, the father, Nick Heyward, feared the worst but tried to convince himself it wasn't a bomb.
"I didn't panic because I knew if I panicked, it would only make things harder," he told ABC News' Terry Moran.
World reactions to Manchester bombing
The french flag flies at half mast at the Elysee Palace in homage to the victims of terror attack in Manchester, on May 24, 2017, in Paris.
Witt/SIPA/REX/Shutterstock
When he saw crowds and injured people pouring out of the arena, Heyward said, "inside, I was going crazy," with a terrible fear that something happened to his daughter, Kaitlyn.
"Immediately when I saw her, it was like she was born again," he said. "It was the second-best day of my life, because the best day of my life was the day she was born."
Another witness, teenager Natalie Sully, said she felt a shake, saw people crying and then "went out the doors and ... saw smoke everywhere."
"I looked to my right, and there was just a decomposed body," she said on ABC News' "Good Morning America." "All you could see was just flesh."
"Then there was another bang, but we weren't sure what it was, 'cause it wasn't as loud as the other one," she said. "But then everyone was freaking out again, running."
"To be experiencing that at such a young age, seeing dead bodies, it was horrible," she said.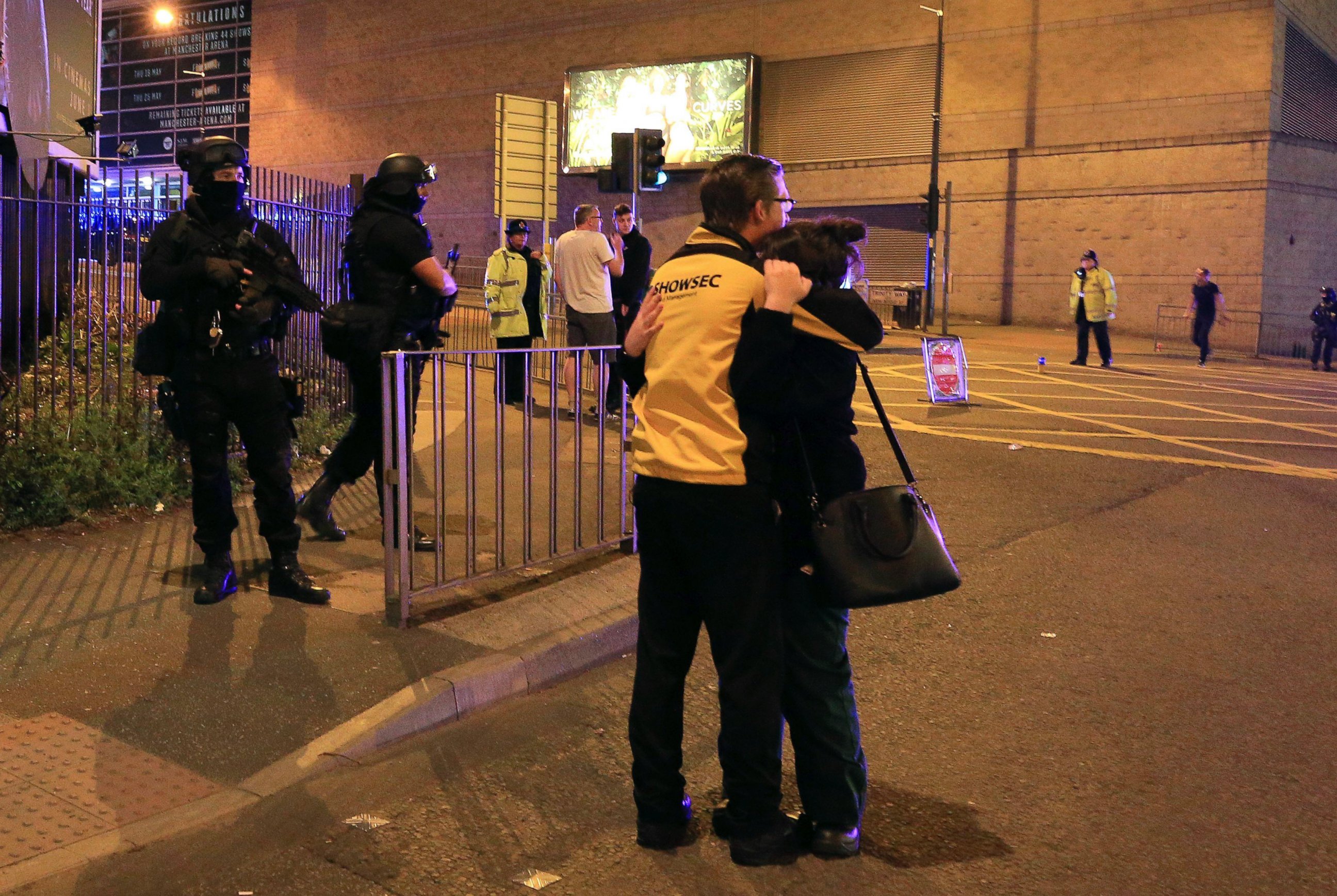 Lydia, a woman who was at the concert with her daughter, Madison, said she saw her life flash before her eyes.
Lydia told ABC News' Molly Hunter that they were heading toward the main entrance after the concert when she heard a bang but that she didn't think too much of it. She said that she thought the noise was a speaker and that she never would have thought it was an explosion.
It wasn't until she saw a sea of people running and shouting about an explosion that she knew it was serious, she said.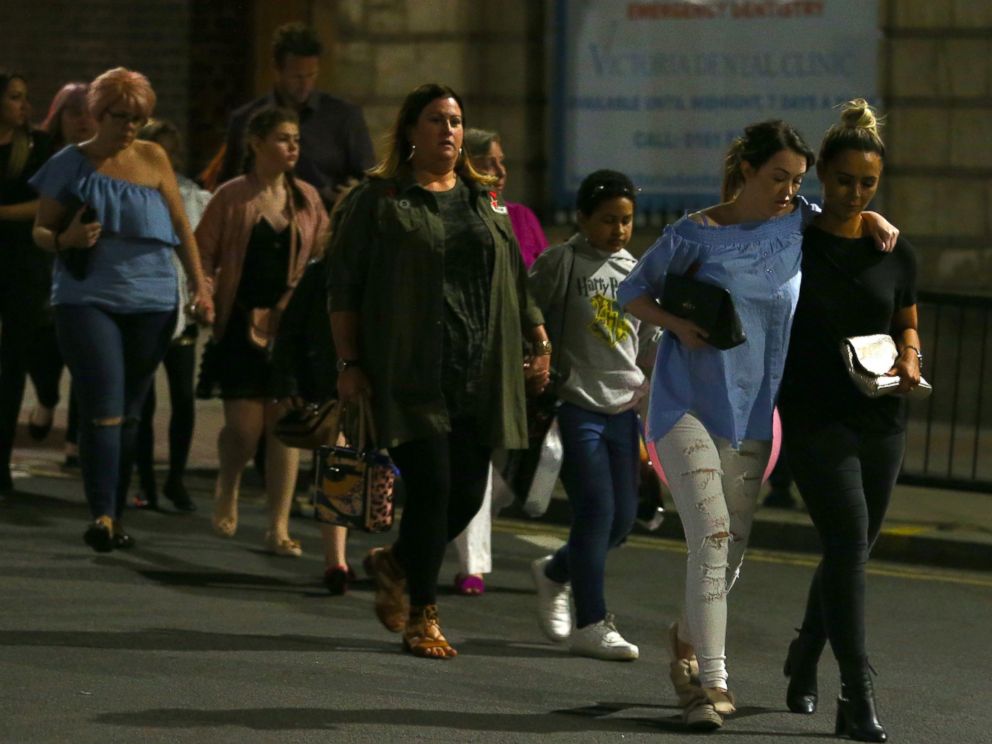 Madison said, "I remember going out and then hearing a loud bang and then everyone running."
Lydia said she and her daughter started running but that she worried they would be injured in a stampede on their way down the stairs.
Describing the scene as complete panic and chaos, Lydia said she grasped her daughter's hand tightly. She said many mothers and children were screaming.
"We didn't know whether it was a gunman," Lydia said, explaining that she was worried if a gunman would be waiting for them as they fled down the stairs.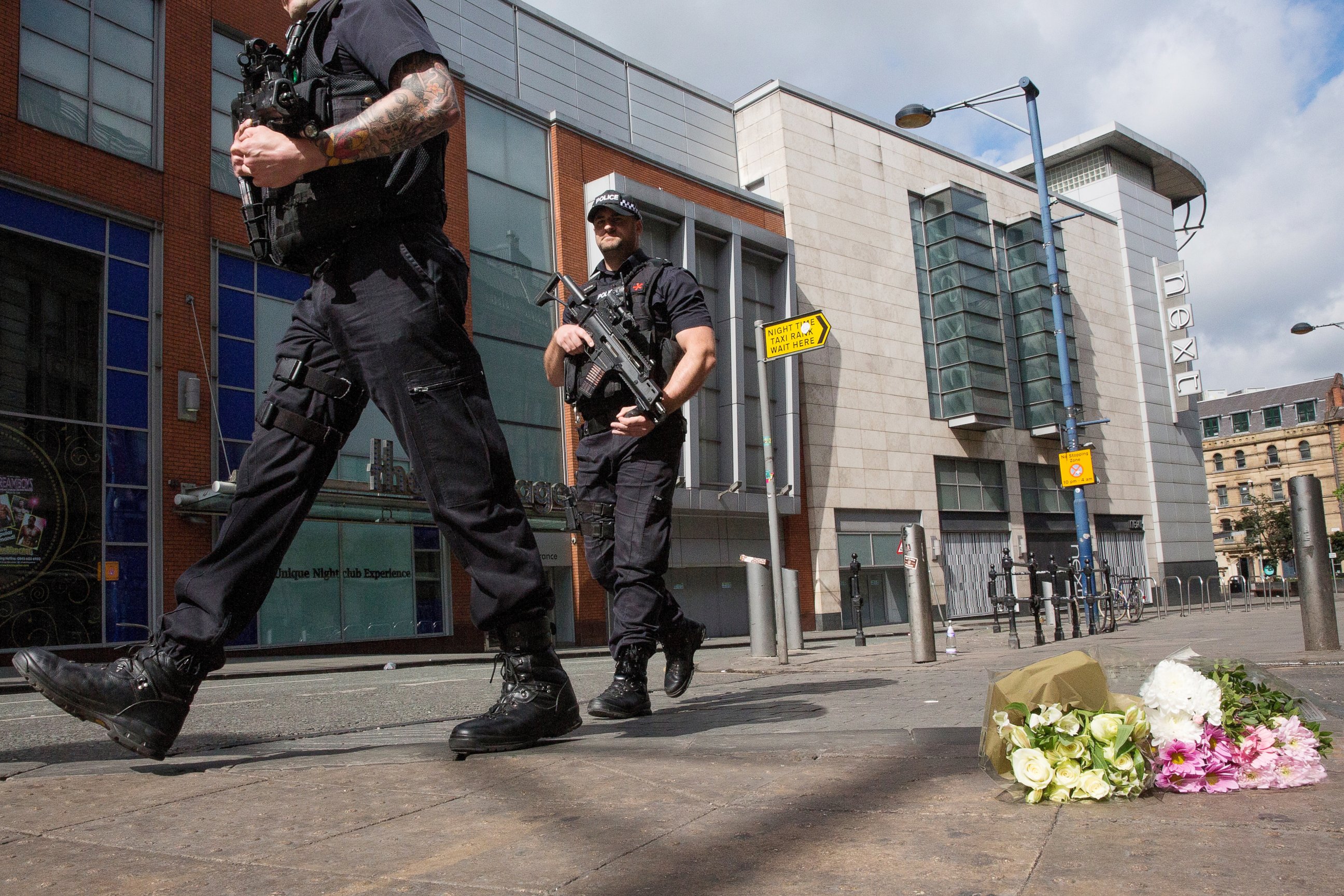 Witness Joseph Harries told ABC News' "Good Morning America" that "people were just trying to get out of the arena as fast as they possibly could after the blast. I was directly in front of the stage at the heart of the arena. I had exactly the same distance to get out of any of the doors."
"I had my best friend with me, and I grabbed hold of her wrist and told her never let go of me," he said. "We just ran. We jumped over chairs, railings to get out of the doors. We had to force open doors that wouldn't open because people were trying to get to — the entire capacity of the 20,000 person arena were trying to get out of one exit."
"It felt like an eternity," Harries said, but it "couldn't have been more than two, three minutes from in our seats to outside of the arena."
Harries said he did not see any injuries or fatalities but his friend told him "he'd seen a girl covered in blood and she had bandages ... He said it was traumatic and a horrendous experience."
The explosion, at the Manchester Arena, killed 22 people and injured 59 others. Greater Manchester Police said officers were called to the venue just before 10:35 p.m. local time on Monday. The explosion happened near the arena's foyer after the concert, according to witnesses. The venue holds about 21,000 people and is one of Europe's largest indoor arenas, according to its website.
The man believed to be the lone attacker died at the scene after using an improvised explosive device, officials said, but police are still trying to determine if he acted alone or as part of a group, said U.K. Prime Minister Theresa May.
The explosion is being treated as a terrorist attack, and she said the threat level remains at severe, meaning the government considers another attack highly likely. Severe is the second-highest level out of five, with critical the highest.
May said police believe they know the identity of the suspect but at this stage they cannot confirm his name.
"We struggle to comprehend the warped and twisted mind that sees a room packed with young children not as a scene to cherish but as an opportunity for carnage," she said Tuesday.
May said these "innocent, defenseless children and young people" "should have been enjoying one of the most memorable nights of their lives."
ABC News' Molly Hunter, Terry Moran and Kelly McCarthy contributed to this report.