Oscar Pistorius' neighbor testified at the opening of his murder trial in South Africa today that she heard "terrible screams" coming from the amputee track star's home the night of model Reeva Steenkamp's death.
Interested in
?
Add as an interest to stay up to date on the latest news, video, and analysis from ABC News.
Pistorius' trial began a little more than a year after he shot and killed Steenkamp on Valentine's night last year. He has claimed he mistook his girlfriend for an intruder and shot her through a bathroom door. Pistorius, 27, could face at least 25 years in prison if convicted.
The trial began with Pistorius' not guilty plea, but quickly moved into the details of the shooting.
"I woke up from a woman's terrible screams," Michelle Burger testified in a Pretoria courtroom today. "I sat upright in bed. My husband also woke up from the screams."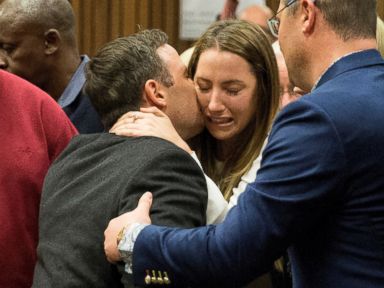 Burger, whose bedroom is 580 feet from Pistorius' home according to the prosecution, said she had no doubt the woman she heard screaming on Valentine's night last year feared for her life. She said she initially believed a house robbery was underway.
Read More: Key Questions in Oscar Pistorius' Murder Trial
"You could hear it was blood-curdling screams," Burger said, speaking in Afrikaans through an interpreter. "You can't translate it into words. The anxiousness in her voice and fear. It leaves you cold."
Burger told the court she heard one shot fired and then a pause, followed by three rapid shots thereafter.
Pistorius' attorney, Barry Roux, suggested that the four shots Burger said she heard could have instead been the sound of Pistorius trying to break down the door with a cricket bat.
The defense also suggested that Pistorius "sounds like a woman" when he is screaming and that perhaps he was the person Burger heard screaming.
Defence now saying that Pistorius "sounds like a woman" when he is screaming #OscarTrial

— Hamish Macdonald (@hamishNews) March 3, 2014
"I did not hear crying and I did not hear the cricket bat," Burger said on cross-examination. "I can only testify on what I've heard"
PHOTOS: Oscar Pistorius Charged With Murder
South Africa's "trial of the century" opened today with Pistorius insisting that he thought Steenkamp, 29, was a burglar and he was "fearful" the night he shot and killed her.
The athlete pleaded not guilty to all four charges against him: murder, two charges relating to discharge of firearm in a public place and one charge of illegal possession of ammunition.
Pistorius also walked past the victim's mother, June Steenkamp, who said she came to watch the trial so she could "really look him [Pistorius] in the eyes."
After court was adjourned for the first time, the Pistorius family sat in court until the Steenkamp family was able to exit the courtroom.
Read More: What the Past Year Has Been Like For Reeva Steenkamp's Family
Pistorius was escorted by police officers through the throngs of photographers and onlookers outside of court who came to catch a glimpse of the country's most famous defendant.
George Mazarakis, executive producer of "The Oscar Pistorius Trial: A Carte Blanche Channel," says the nation's "Trial of the Century" is difficult to comprehend.
"We're looking at a double tragedy really. Because no matter what happens, his life is never going to be the same again," Mazarakis said.
Read More: Betting Odds on Pistorius' Trial Angers Some
Pistorius' trial was scheduled to last three weeks -- but with more than 100 witnesses potentially taking the stand, it could last as much as six weeks.