Oscar Pistorius may have lied on the stand about a 2009 boat crash, according to a new report -– an inconsistency that could impact the outcome of his murder trial.
Interested in
?
Add as an interest to stay up to date on the latest news, video, and analysis from ABC News.
The report, published by the South African Daily Maverick, involves a 2009 boat crash that left Pistorius in a coma. Pistorius, who's accused of murdering his girlfriend Reeva Steenkamp on Valentine's Day 2013, said during testimony that he smashed into a submerged pier.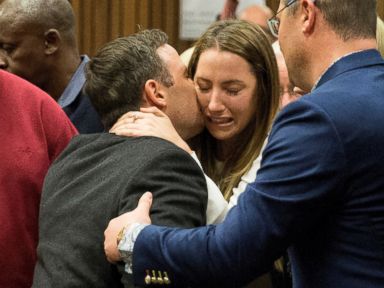 "The Vaal River runs east to west and we were heading back west so the sun was setting in front of us ... and I could only see the sun on the water," he said under questioning from his lawyer Barry Roux.
Oscar Pistorius May Have Stumbled With His Testimony, Experts Say
But eyewitnesses told the Daily Maverick that there was no sunlight at the time of the crash because it was already dark. Also, the pier wasn't submerged, they said.
"One [witness] said that the jetty was 'relatively new' at the time of the accident. Another said that the idea that the jetty was submerged by high water levels was 'impossible,' as this would have meant that a major flooding incident would have had to have taken place," the Daily Maverick reports.
Representatives for Pistorius –- an athlete known as "Blade Runner" due to his prosthetic legs –- declined to comment regarding the report.
ABC News Legal Affairs Anchor Dan Abrams said the details of the boat crash are irrelevant to the murder case but inconsistencies and challenges to his statements could undermine his trustworthiness for Judge Thokozile Masipa.
"If prosecutors could prove that he lied about it, it could certainly impact his credibility on other issues in front of the judge," Abrams said.
The challenge comes amid allegations that Pistorius had taken acting lessons before the trial, something family spokesperson Annelise Burgess denied.
"If the judge believes that he's faking or acting, he's in big trouble. That would go to the heart of his credibility," Abrams said.
Pistorius has pleaded not guilty to murdering Steenkamp. The trial is scheduled to resume May 5.