France on highest security alert after terror attack
French President Emmanuel Macron will travel to Nice later today.
LONDON -- Three people are dead after a series of stabbings in a "suspected terror attack" that occurred at the Basilica of Notre-Dame in Nice, France, shortly before 9 a.m. local time on Thursday, ABC News can confirm.
France's anti-terror prosecutor's office took on the case and opened an investigation on "counts of assassination in relation to a terrorist enterprise," attempted assassination in relation to a terrorist enterprise and "terrorist association of criminals."
The suspect, who has not been identified, was injured during the arrest and taken to a hospital with life-threatening injuries, Jean-Francois Ricard, France's anti-terrorism prosecutor, told reporters Thursday night. Authorities said he was believed to have been acting alone, though an ongoing investigation will seek to determine if there were any accomplices.
Two of the victims were found inside of the church, Ricard said -- a 60-year-old woman and a 55-year-old man, both with significant injuries to their throats.
A 44-year-old woman who managed to escape the church died from her injuries at a nearby restaurant, Ricard said.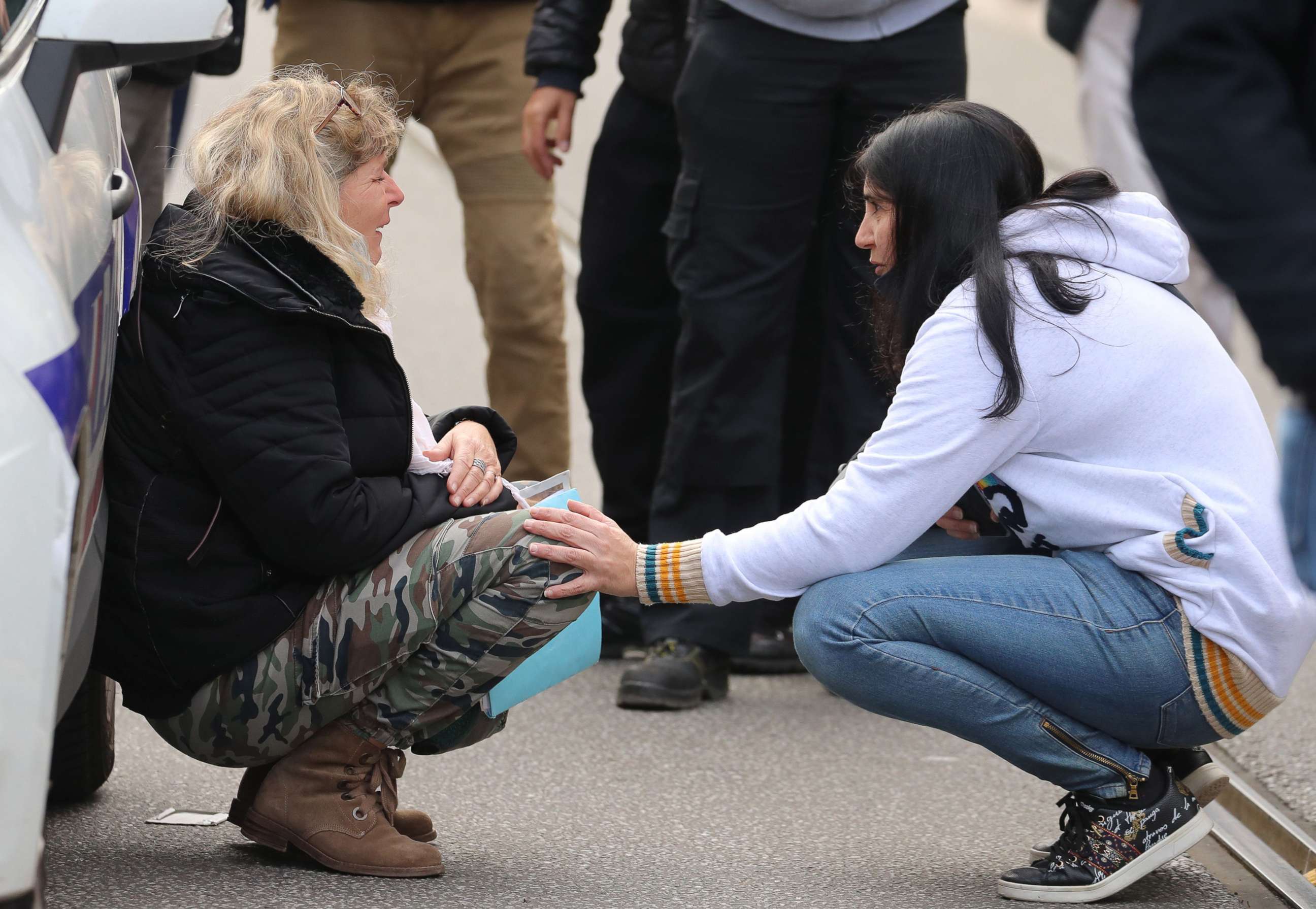 The murder weapon, as well as two knives that were not used, were found in the church, according to Ricard. A Quran and two phones were also nearby, he said.
Investigators determined that the suspect waited at the Nice train station for about 90 minutes before arriving at the Basilica of Notre-Dame at around 8:30 a.m., Ricard said. Four police officers intervened in the attack shortly before 9 a.m. According to Ricard, the suspect shouted "Allahu akbar" as he came toward police, who first used a stun gun and then fired on him several times. Fourteen casings were found on the floor of the church, authorities said.
The suspect was identified as a Tunisian national born in 1999. He had a document on him from the Italian Red Cross and had entered Italy via Lampedusa on Sept. 20 and went to Bari on Oct. 9, authorities said. It is not clear when he entered France.
French President Emmanuel Macron arrived in Nice in response to the attack as France's Interior Minister said he had opened a "crisis cell following the events."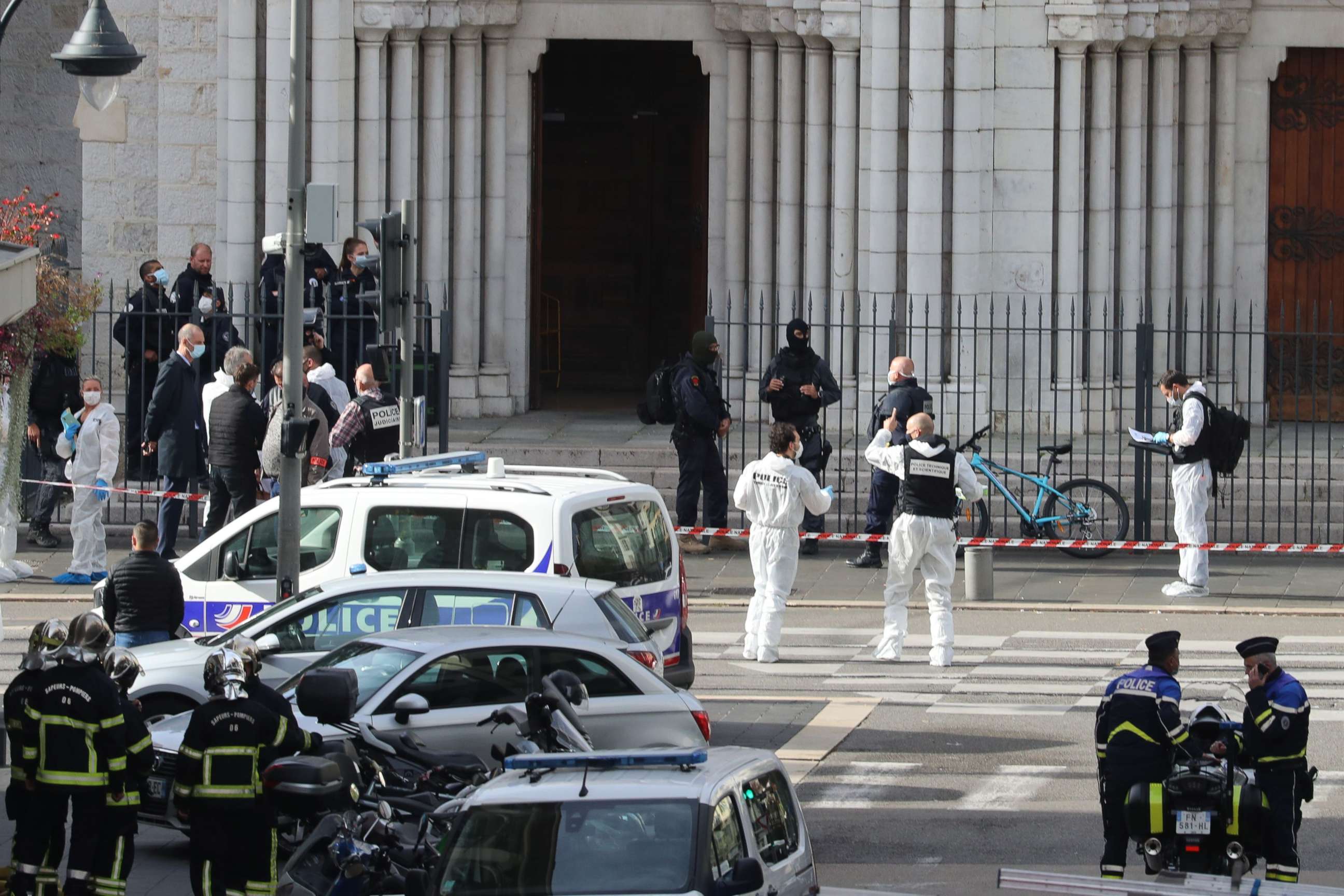 The country had been attacked "by Islamic terrorists," Macron said, speaking in Nice on Thursday. "If we are attacked, it is because of our values, our values of freedom and our desires not to yield to terrorism," he said.
The French president said the country is moving to its highest level security alert and that the deployment of soldiers would be stepped up across France as well as protection over places of worship including churches.
A bomb disposal unit was also responding to the crime scene, and heavily armed anti-terror police patrolled the streets of Nice and around the cathedral, which is the largest church in the city. Controlled explosions also took place in Nice following the morning attack.
Several people are also reported to have been injured in the terror, but it is unclear how many and the extent of their injuries.
"I ask the people of Nice to avoid the area to let the police and emergency services work," the mayor of Nice, Christian Estrosi, said in a tweet following the attack.
"Nice has paid too much of a price, like our country in recent years," he added. "I call on the unity of Nice inhabitants."
The bells tolled on Thursday at 3 p.m. in all the churches of France in homage to the three victims of the knife attack.
The attack comes while France is still reeling from the beheading earlier this month of French middle school teacher Samuel Paty.
The attacker who killed Paty had said he wanted to punish him for showing pupils cartoons of the Prophet Mohammad in a civics lesson.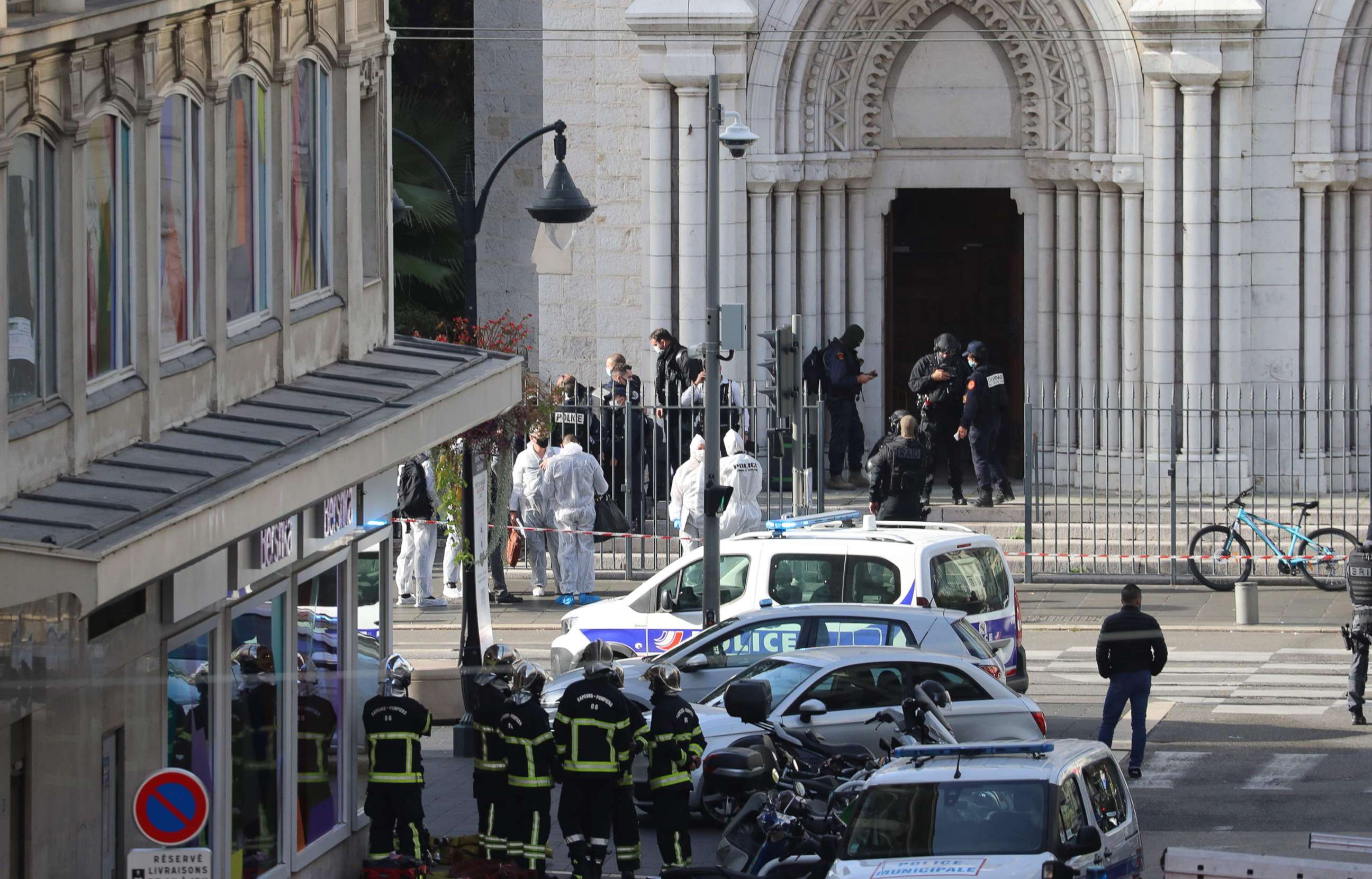 It also comes amid mass protests in many Islamic countries against Emmanuel Macron after the French President spoke up in defense of the cartoons.
"Our hearts are with the people of France. America stands with our oldest Ally in this fight. These Radical Islamic terrorist attacks must stop immediately. No country, France or otherwise can long put up with it," President Donald Trump tweeted on Thursday.
Democratic presidential candidate and former Vice President Joe Biden, vowed to "prevent extremist violence" in a tweet Wednesday afternoon.
"Jill and I are keeping the French people in our prayers following the horrific terror attack in Nice -- which targeted innocents in a house of worship. A Biden-Harris administration will work with our allies and partners to prevent extremist violence in all forms," the tweet read.
With regard to the attack carried out in the Cathedral of Nice, the Director of the Press Office of the Holy See in the Vatican, Matteo Bruni, stated the following:
"It is a moment of pain, in a time of confusion. Terrorism and violence can never be accepted. Today's attack has sown death in a place of love and consolation, like the house of the Lord. The Pope is informed of the situation and is close to the mourning Catholic community. He prays for the victims and their loved ones, so that the violence may cease, so that we may return to look upon ourselves as brothers and sisters and not as enemies, so that the beloved French people may react united to evil with good".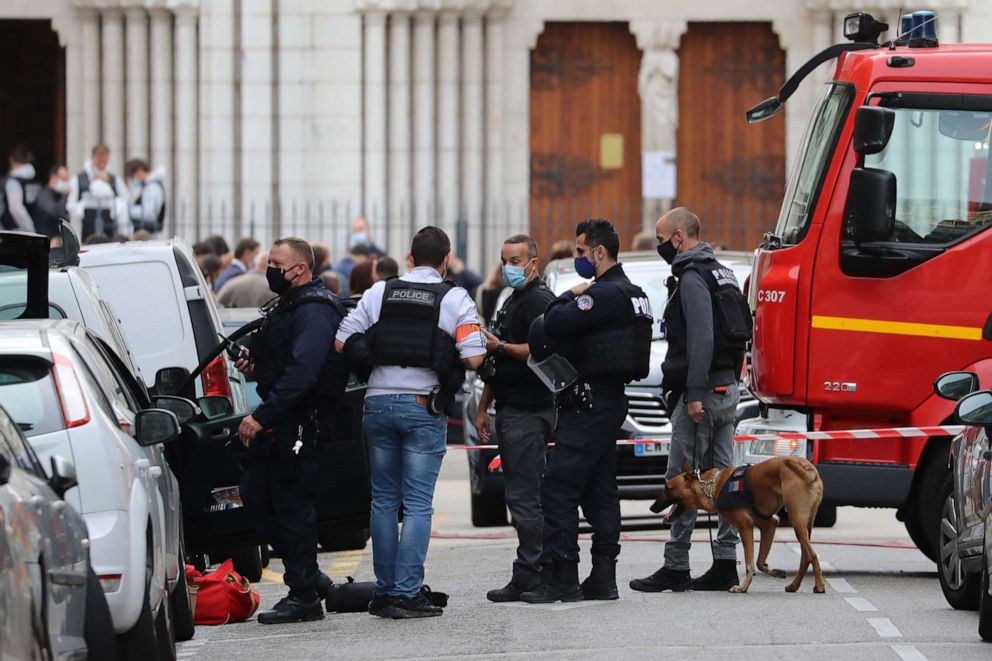 Elsewhere, a security guard at the French consulate in Jeddah, Saudi Arabia, was injured on Thursday when he was attacked. One person has been arrested following that attack and the extent of the guard's injuries are currently unknown.
Vladimir Putin sent a telegram to President Emmanuel Macron in which he expressed deep condolences over the tragic consequences of terrorist attacks in France.
"Special indignation is caused by the cynical and cruel crime committed within the walls of a church. Once again, we have seen that terrorists absolutely lack any human morals. It is obvious that fighting international terrorism requires the global community to join forces," the telegram read.
Putin confirmed the readiness of the Russian party to the closest cooperation with French and other international partners in all directions of counter-terrorist activities.
The president of the Russian Federation also said that Russian people share the anger and grief of French people and passed his sincerest sympathies to the families and close ones of those killed.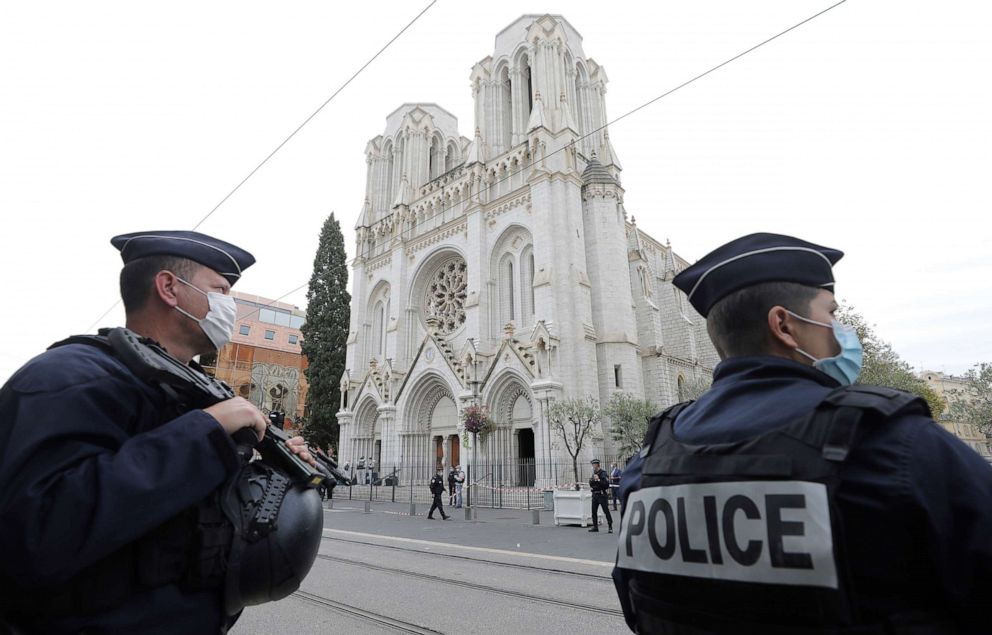 There have been other notable terror attacks in Nice over the past several years.
In 2016, a truck was deliberately driven into crowds of people celebrating Bastille Day on the Promenade des Anglais in Nice, France, resulting in the deaths of 86 people and the injury of 458 others. The driver was Mohamed Lahouaiej-Bouhlel, a Tunisian living in France. The attack ended following an exchange of gunfire, during which Lahouaiej-Bouhlel was shot and killed by police.
The Nice church where Thursday's knife attack occurred is located less than a mile from the site in 2016.
In 2015, there was another stabbing in Nice outside a Jewish Center when three soldiers patrolling were attacked.
ABC News' Joe Simonetti, Alina Lobzina, Tanya Stukalova, Ibtissem Guenfoud, Rashid Haddou and Kirit Radia contributed to this report.
This report was featured in the Friday, Oct. 30, 2020, episode of "Start Here," ABC News' daily news podcast.
"Start Here" offers a straightforward look at the day's top stories in 20 minutes. Listen for free every weekday on Apple Podcasts, Google Podcasts, Spotify, the ABC News app or wherever you get your podcasts.