More than a week after Hurricane Matthew roared through Haiti, leaving a trail of devastation in the already poverty-stricken nation, aid groups are working to curb a post-hurricane cholera outbreak.
Interested in
Haiti?
Add Haiti as an interest to stay up to date on the latest Haiti news, video, and analysis from ABC News.
"Before the hurricane, we had serious problems of access to health, water and sanitation, and cases of cholera. So, when the water supply is interrupted, cholera will increase," Dr. Jean Luc Poncelet, a representative in Haiti for the United Nations' Pan American Health Organization (PAHO) and World Health Organization (WHO), said in a statement Thursday.
"We are seriously concerned about an epidemic of cholera, and that's why the Ministry of Health with our assistance is taking all measures possible to avoid that happening," Poncelet added.
In a statement today, PAHO said that 75 percent of cholera treatment facilities in the Sud and Grand Anse regions have been destroyed, and that the water distribution systems in the cities of Jeremie and Les Cayes "have almost entirely collapsed."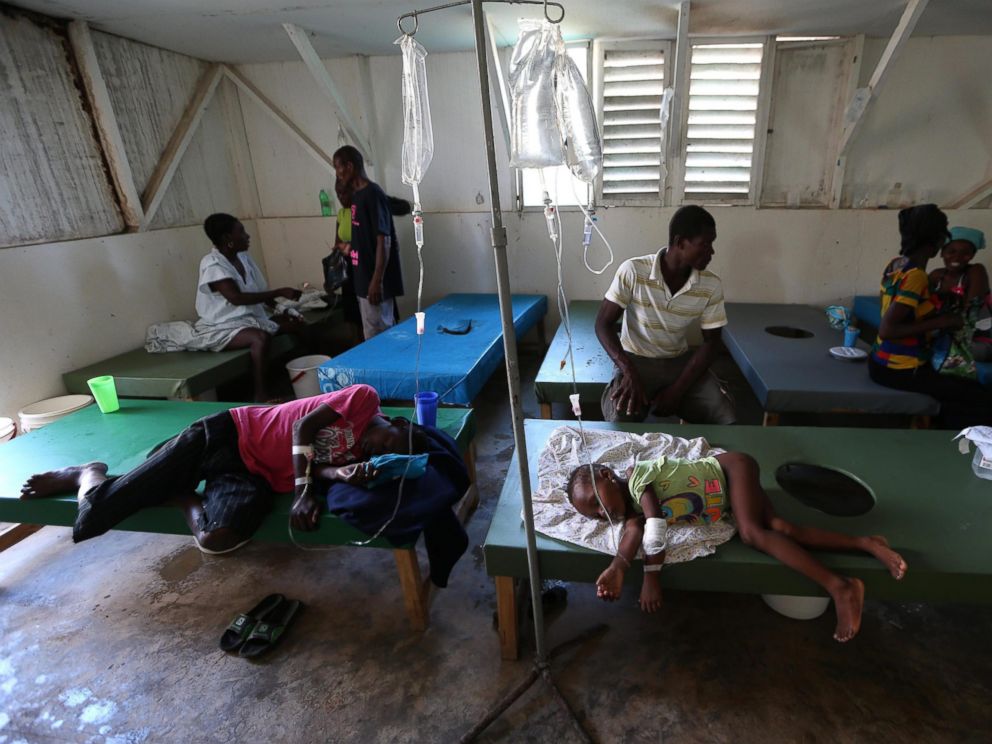 According to the U.N. Office for the Coordination of Humanitarian Affairs (OCHA) situation report on Wednesday, 510 suspected cholera cases have been reported in Haiti following Hurricane Matthew. Meanwhile, PAHO said in a statement today that "unofficial field sources indicate that some 477 suspected cholera cases were reported in the Southern Peninsula in the last 4 days."
Holly Frew, an aid worker with the nonprofit group CARE on the ground in Haiti, told ABC News that a government official in Grand Anse reported 279 new cholera cases in their region since the hurricane, and of those new cases, 10 people had died of the disease.
Frew told ABC News today that she spent the past week in Jeremie, one of the hardest-hit towns, and the "scene is eerily apocalyptic."
She said she visited a cholera treatment center in a small community called Moron that had been badly damaged by the storm and was struggling to deal with the influx of new patients. CARE has been working aggressively to distribute hygiene kits and and water purification tablets to help mitigate the spread of cholera, Frew added.
It hasn't helped that so many people have been forced to live in close quarters, Frew said, mostly make-shift evacuation shelters, since the hurricane.
In Moron, "there were like 200 people living in the pastor's house, which was a concrete building," Frew said. "This town was almost completely decimated. The only thing left standing was concrete buildings."
"I have even heard of people living in caves right now," Frew added.
"When I talked to people, they said they want materials to rebuild, they want a chance at life. But this one woman was like, 'Look around, I don't even know where to start,'" Frew said.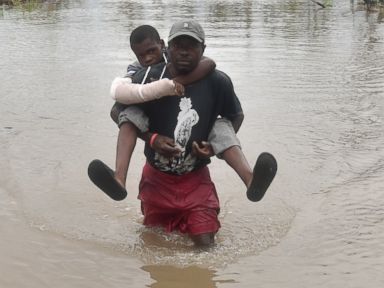 Kevin Novotny, the country director in Haiti for the aid group Save the Children, told ABC News today that cholera "kills within hours, particularly children."
"Cholera doesn't pick. Most vulnerable are always children, because their immune system is not fully developed, but cholera is indiscriminate," Novotny said. "It hits everyone."
PAHO and WHO launched a campaign today to raise $9 million for their ongoing relief efforts in Haiti's health sector following Hurricane Matthew. The two U.N. health groups said that "over half of the health facilities evaluated by the experts have sustained severe damage," and the $9 million in funding would be "needed to carry out essential activities in the first three months."
Dr. Paul Farmer, the co-founder of Partners In Health, the largest non-government health care provider in Haiti, told ABC News today that "the international community certainly has a responsibility around cholera," alluding to how the U.N. admitted this year that it was partially responsible for bringing cholera to Haiti after the catastrophic 2010 earthquake that devastated the country.
Farmer, who is currently working at hospitals in Haiti, said that it has been difficult for exact figures regarding how many people have been diagnosed with cholera to come out after the hurricane because "it is still so chaotic," and critical infrastructure and communication networks remain largely unreliable.
"It took days for people to really understand that Jeremie had been flattened," Farmer added.
Farmer said he saw communities that had lost their entire livelihoods, and he feared a critical food shortage in the near future.
"I am pretty pessimistic about avoiding a major hunger problem in the coming months, and I am an optimist," Farmer said, adding that a shortage of food coupled with a contaminated water supply, and a cholera outbreak could create a major humanitarian disaster.
"I feel like we weren't prepared for it to be as bad as it is. I saw a senior official in the health ministry and I've known him for 25 years," Farmer said, "and he said if you add all this up it could be worse than the earthquake."