Moscow -- In the United States and many other countries, International Women's Day is seen as a chance to demand equal rights and justice, but in Russia, it has taken on an entirely different meaning.
Russia is considered one of the birthplaces of Women's Day, where it was originally also conceived as a day of feminist action. But the public holiday long ago morphed into something more like Valentine's Day, blended with Mother's Day.
It has become a romantic occasion on which men buy women flowers and heart-shaped chocolates, and shops are stocked with champagne and schmaltzy greetings-cards. Instead of political statements demanding equality, men make romantic declarations.
The rise of the #MeToo movement has seen Women's Day embraced by a new generation of young feminists, and Friday saw planned strikes and marches in countries from Italy to Pakistan. But in Russia, celebrations around the day tend to promote determinedly old-fashioned visions of what women's roles should be.
President Vladimir Putin on Thursday set the tone this year by mounting a horse at a police riding school. Afterwards, he chatted with female officers.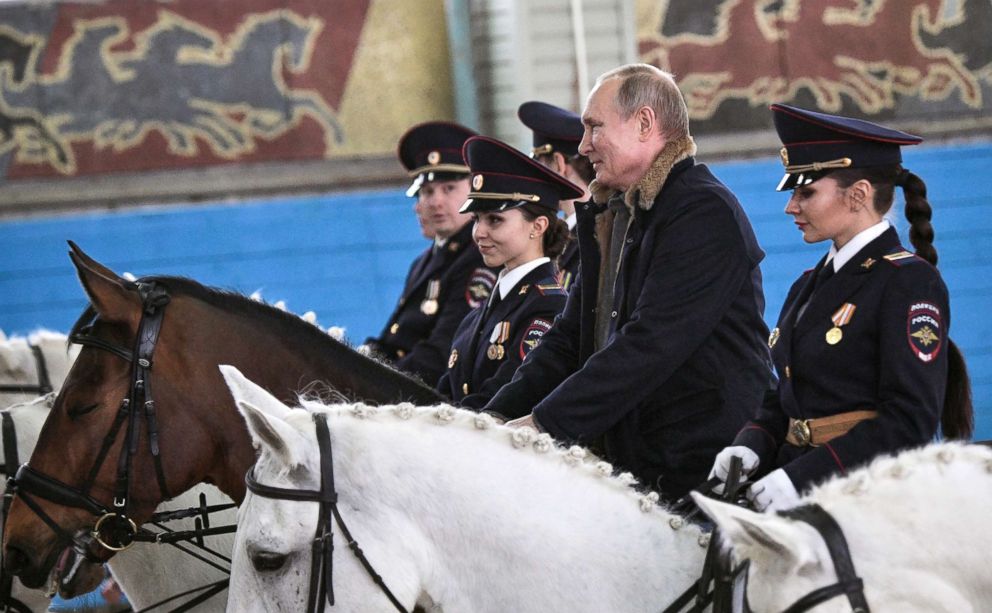 "As we like to joke: what does a girl need to maintain her figure?" Putin asked the women in a clip posted by the Kremlin's Instagram account. "Three things: a trainer, a masseuse and a suitor."
In the Siberian city of Ekaterinburg, an army recruitment office held a photoshoot in which heavily-armed, masked special forces soldiers posed with ballerinas in an empty metro station. The photo, posted on the office's social media page, was accompanied with the caption: "The strength of a man is in his tenderness and his love of a woman."
Russia's Emergency Services ministry released its own testosterone-pumping video, in which a bomb disposal robot uses its mechanical arm to gift a tulip to a little girl. While in Crimea, masked men in camouflage handed out flowers, in a homage to the disguised Russian soldiers that helped seize the peninsula from Ukraine in 2014.
The celebration of "femininity" has a dark side. In Saint-Petersburg, a group of young men pushed their way into a recently-opened female-only cafe with buckets of flowers, aggressively shouting "congratulations" over the protests of the women there. The cafe's owners got their own back with a photo of the flowers on the street and a sign: "You're flowers will grow on the grave of the patriarchy."
In recent years, Russian official attitudes towards gender has become increasingly politicized, as the Kremlin has promoted conservative values and the idea that Russia has its own path at odds with a supposedly more liberal West.
Among ordinary Russians, the word "feminist" usually has negative connotations and state media and officials have pushed the idea that broadening conceptions of gender and sexuality are socially corrosive ideas, forced on Russia from Europe and the U.S.
While other countries are gripped by intense social debate around sexual harassment, the #MeToo movement has yet to make major in-roads in Russia, where it has been mocked by officials as Western liberal hysteria. Harvey Weinstein, the disgraced Hollywood producer facing multiple rape accusations, has found surprising defenders in Moscow. In a leaked video of him speaking to students in 2018, Putin's spokesman, Dmitry Peskov called Weinstein's accusers "prostitutes".
Russia's only major public sexual harassment scandal saw a prominent MP accused in 2018 by several female journalists of forcing himself on them. Despite an outcry, a parliamentary ethics committee rejected the women's complaints against the MP, Leonid Slutsky, instead accusing them of acting on behalf of Western governments.
Russia ranks poorly on many measures for gender equality. A study by the Inter-Parliamentary Union listed Russia as 131 out of 193 countries for the proportion of women in parliament (the U.S. was tied at 78). Olga Golodets, one of Russia's two female vice-prime ministers, recently told a conference that women's average pay in Russia is equivalent to 70 percent compared to men's wages.
Experts have also linked the official embrace of conservatism to a decision by Russia's parliament in 2017 to partially decriminalise first-time assaults in domestic violence cases, which human rights groups have denounced as giving a green light to offenders.
Russia though is far from lacking a women's movement. Large-scale grassroots campaigns against sexual harassment and domestic violence have appeared in Russia. The biggest emerged in 2016 around the hashtag #IAmNotAfraidToSay when a Ukrainian activist, Anastasia Melnichenko, encouraged women to share on social media their experiences of violence and abuse.
On Friday, one of Russia's leading newspapers, Kommersant, prominently ran a story on inequalities facing women under the headline, "Thank you for the flowers, but I demand respect." A series of events was also being run on Friday in 20 cities under the name "Not Her Fault" to raise money for a domestic violence charity and raise awareness on the issue.
"I think there is a sort of growing gap between what legislators think, put forward and what Russian people actually stand for," Yulia Gorbunova, a researcher at Human Rights Watch said. "And I think the wider this gap becomes the quicker the change will happen. And I think it will definitely happen."