In a solo press conference after a "frank and productive" meeting with Afghan President Hamid Karzai, U.S. Defense Secretary Robert Gates said he offered Afghan officials "personal regret" for civilians killed in coalition airstrikes.
Gates said the United States takes great effort to avoid civilian casualties, but "it is clear we need to do more."
"I offer all Afghans my sincere condolences and personal regrets for the recent loss of innocent life as a result of coalition air strikes," Gates said. "While no military has ever done more to prevent civilian casualties, it is clear that we have to work even harder."
Gates said he asked for detailed briefings today on the use of coalition air power and intelligence, surveillance and reconnaissance.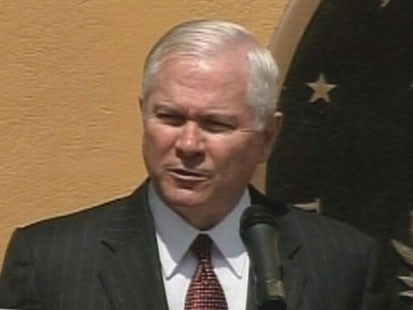 And Gates said it is the Taliban that is intentionally targets civilians.
"All they seek is death and destruction and the power to impose their will. And they will fail," he said.
Gates also met with Air Force pilots at Bagram Air Field and heard about the steps the Air Force takes to avoid civilian casualties from Brigadier Gen. Mike Holmes.
Speaking in front of an Air Force A-10 with sharp teeth painted on its nose cone, Gates told reporters that he is changing the way the military deals with incidents involving civilian casualties here. Now, when there are reports of civilian casualties, the military will first apologize, second compensate victims and then conduct an investigation. In the past, they often waited for the investigation before taking those first two steps.
"I think the key for us on those rare occasions when we do make a mistake, when there is an error, is to apologize quickly, to compensate the victims and then to carry out an investigation," he said.
He said he hopes this change in approach will help persuade the Afghan people that the U.S. is serous about avoiding civilian casualties.