— -- Images have emerged of an insurgent rebel group, Jaysh al Islam, parading what appear to be Alawite civilians in cages around the suburbs of Damascus, Syria. The YouTube video, posted by Shaam News Network Nov. 1, shows the caged soldiers and civilians, including women, being towed by trucks through the crumbling streets of Eastern Ghouta.
Jaysh al Islam is one of the major armed factions in Eastern Ghouta fighting Syrian President Bashar al-Assad's regime. They say they are using the captured civilians as human shields to deter government shelling. Alawites a practice a division of Shia Islam, a minority religion in Syria also practiced by Assad and his dictatorial regime.
The text under the YouTube video states that the group intends to build 1,000 cages to be placed across Eastern Ghouta in public places that have been targeted by the Assad regime.
"Nothing can justify caging people and intentionally putting them in harm's way, even if the purpose is to stop indiscriminate government attacks," said Nadim Houry, deputy Middle East director at Human Rights Watch. "Ending Syria's downward spiral requires international backers of armed groups as well as the government to make protecting civilians a top priority."
"Human shielding" is prohibited by international law.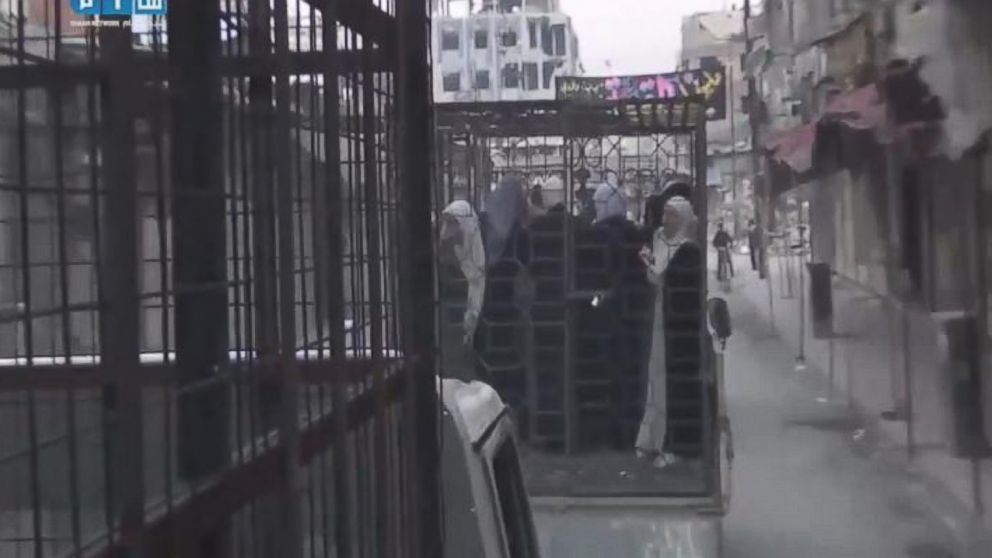 Eastern Ghouta is bombed almost daily by the Assad government and has been besieged since 2013, according to Amnesty International. Human Rights Watch says it is estimated that 150,000 civilians remain trapped in the area.
The suburb is the site of the 2013 chemical attack that almost led the United States to intervene militarily. The U.N. secretary general called it the "most significant confirmed use of chemical weapons against civilians since [1998 in Iraq]." Video of the aftermath of the attack showed disoriented and visibly sick adults and children struggling to breath. The attack killed more than 1,400 people, including 400 children.
Jaysh al Islam is the largest armed group in that region fighting the government and is aligned with the Salafist movement, a fundamentalist division of Sunni Islam. They are led by Salafist Zahran Alloush, who was released from prison by the government in 2011, although other more moderate political prisoners remain imprisoned. Saudi Arabia is reported to provide considerable support to Alloush and his faction.
A senior State Department official told ABC News that the United States has "never worked with nor provided any assistance" to Jaysh al Islam.
"We want parties to the conflict to comply with international law," the official said.
Jaysh al Islam defended the cages by saying that a pro-regime group did the same practice in several other towns a few weeks ago, according to the Syrian Observatory for Human Rights. Those cages were placed on the roofs of houses to prevent rebels and Islamist groups from targeting those areas.
Earlier this year, the group drew attention to itself with another video, this one showing Jaysh al Islam fighters executing over a dozen ISIS militants with shotguns. That horrific video was produced similarly to ISIS propaganda videos.