— -- "Terrorists will not defeat us," Home Secretary Amber Rudd told the crowd as candles were lit at a vigil in London's Trafalgar Square this evening in honor of the people killed and injured in yesterday's deadly terrorist attack.
At first three people were killed in the attack -- a police officer, a prep school administrator and an American tourist from Utah -- and they were honored at the vigil with three candles. Several hours after today's vigil, police announced that a fourth person, a 75-year-old man, died in the hospital from his wounds.
At least 28 others were injured in the Wednesday attack that began on the Westminster Bridge, just steps away from the Houses of Parliament.
The suspect, who authorities believe acted alone, was shot and killed by police after he attacked an officer standing guard outside the parliament grounds.
Attack near Parliament in London
People attend a vigil in Trafalgar Square the day after an attack, in London, March 23, 2017.
At this evening's vigil, Rudd paid tribute to the slain officer, 48-year-old Keith Palmer, a husband and father who had served for 15 years with the Metropolitan Police Service.
"He was courageous, he was brave. And he was also doing his duty," Rudd told the crowd. "And he is not alone in doing that -- I know that all officers of the [Metropolitan Police] are like that."
Rudd offered her thanks to all officers and emergency responders for their "great sacrifice" and "risks" to keep people safe.
Rudd continued, "We are all connected, and today we showed that by coming together, by going to work, by getting about our normal business, because the terrorists will not defeat us. We will defeat them. We are strong in our values and proud of our country."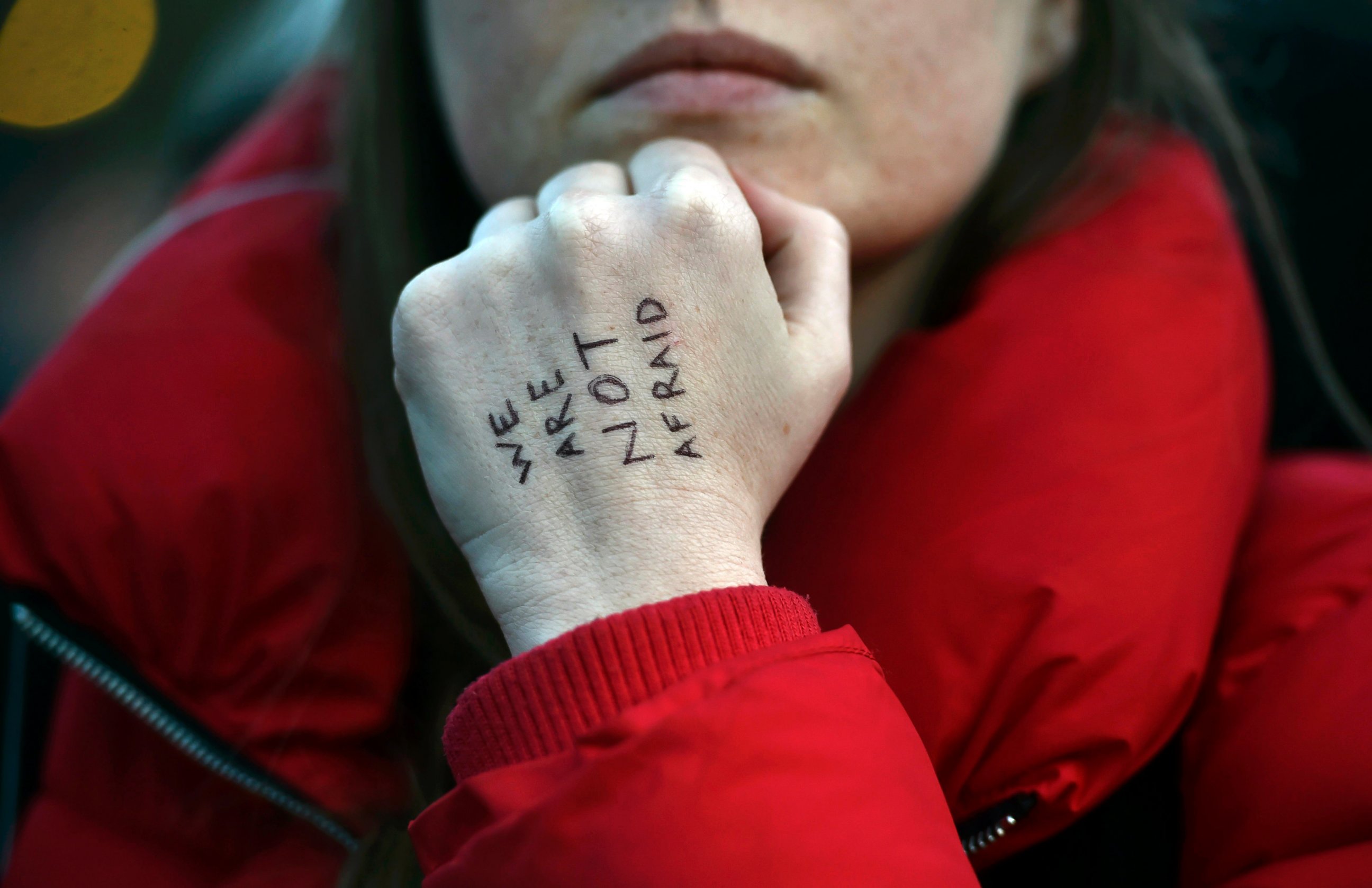 "Those evil and twisted individuals who try to destroy our shared way of life will never succeed and we condemn them," London mayor Sadiq Khan said during a speech at the vigil.
"When Londoners face adversity we always pull together ... Our response to this attack on our city, to this attack on our way of life, to this attack on our shared values, shows the world what it means to be a Londoner," Khan added.
A moment of silence was held and three candles were lit for the victims.
As the brief vigil concluded, those gathered were told they were welcomed to stay at the square to contemplate and commemorate. Some people added their own candles and left flowers at the victims' memorials.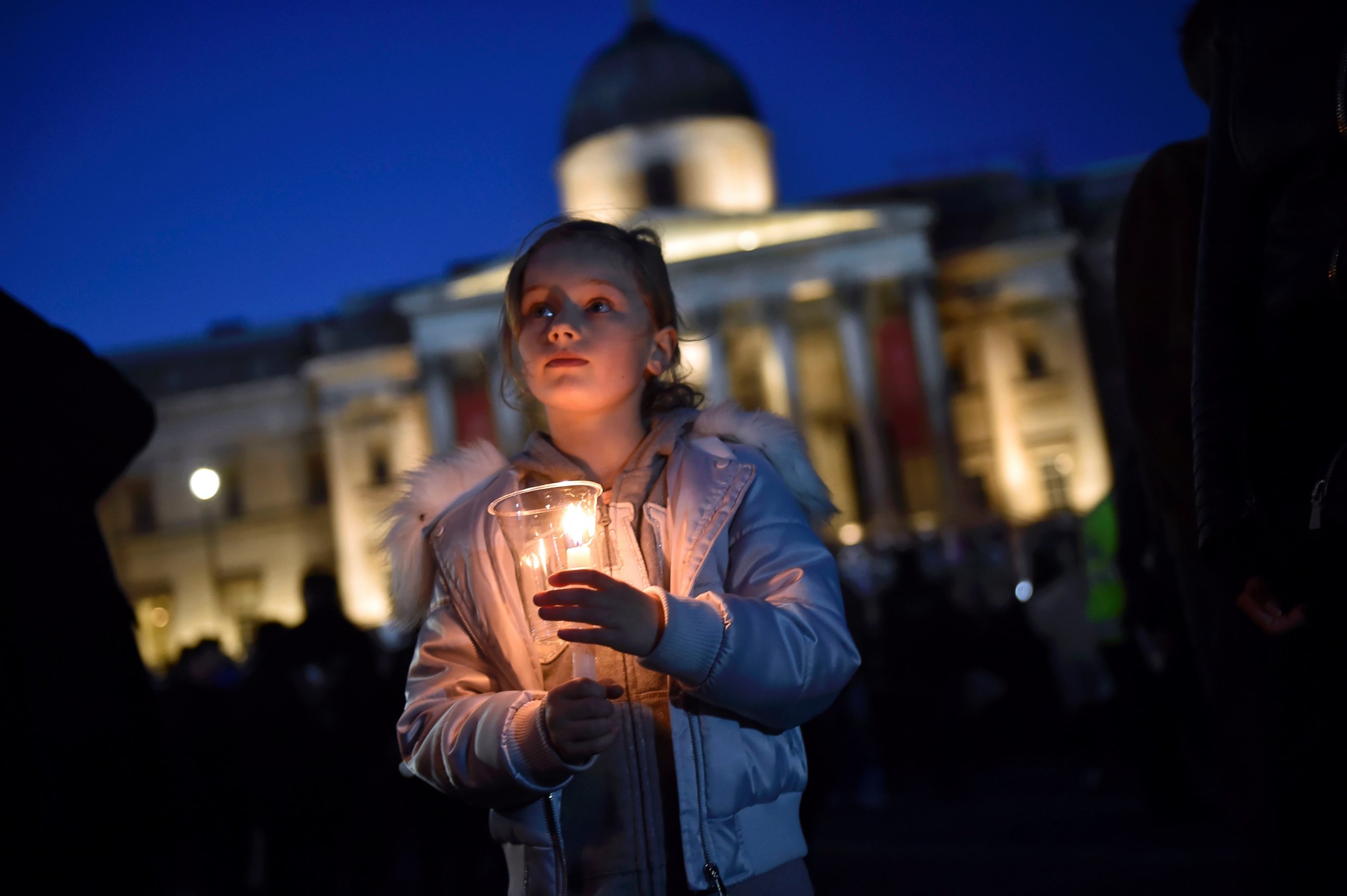 Two people held a sign that read: "love for all hatred for none."
The crowd gathered in Trafalgar Square today less than 1 mile from the where the bloody scene unfolded yesterday at around 2:40 p.m., when a car struck pedestrians and three police officers on Westminster Bridge.
The car then crashed into the fence around the Houses of Parliament and a man armed with a knife attacked an officer who was standing guard.
The suspect, who authorities believe acted alone, was then shot and killed by police, according to the Metropolitan Police Service. The suspect was identified as Khalid Masood, a U.K. native with a number of criminal convictions.
Wednesday's attack, which occurred on the one-year anniversary of attacks in Brussels that killed 32 people and wounded hundreds, recalled the vehicle attacks last year in Berlin and Nice, France.