— -- Having grown up in a tiny room in his family's home in Pesaro, Italy, 27-year-old architect Leonardo Di Chiara is used to living a minimalist lifestyle.
His latest project, the aVOID tiny house, currently on display -- and inhabited -- by the architect in Berlin, takes the concept of reductionist living to the next level.
Measuring just 96 square feet and equipped with all one needs to live, the home seeks to challenge the concept of traditional housing.
"It's a tiny house and it's on wheels, so you can move it wherever you want -- you can live wherever you want," the architect told ABC News.
aVOID is part of the tiny house social and architectural movement started in the U.S. in the 1980s and has seen a resurgence in the past several years. The concept centers around downsizing one's home to live a more sustainable and minimalistic lifestyle, using few resources.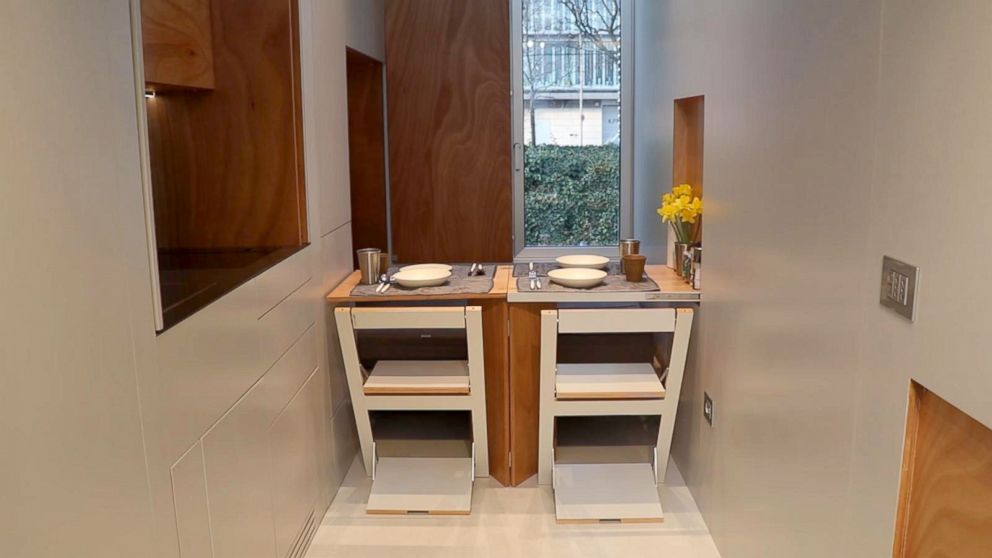 Since 1973, the typical size of a U.S. home has doubled -- peaking at just over 2,600 square feet, according to U.S. census data. Tiny houses, meanwhile, are typically 100 to 150 square feet, on wheels, and come in a variety of shapes and sizes.
With furniture such as tables, chairs, a bed and a sofa folding out of the walls of the structure, Di Chiara's home has been likened to a Swiss Army knife. Yet the project is no novelty -- Di Chiara hopes it will be a model for those who want to live with less, without the burden of paying high rents increasingly plaguing many large cities, including Berlin.
Di Chiara intends for its user to live in unoccupied spaces in the city.
"I wanted to create a model that the people can use to get closer to the city center … to what the city can offer," he said, adding that he hopes aVOID will be part of what he calls migratory neighborhoods -- clusters of tiny homes on wheels integrated within city centers.
For now, it's a work in progress. "Living in the tiny home is a challenge," Di Chiara admitted, largely because it is still a work in process. He is constantly discovering problems and finding ways to resolve them, often with the help of products provided by sponsors who believe in his vision, he said.
"I realized that the air inside gets too stuffy, especially during the night," Di Chiara said. To resolve the problem, he partnered with a company that provided a prototype ventilation system.
Despite the challenges, Di Chiara said he plans to live in the house for an entire year, but aims to call it home for life once it is perfected. He said he also allows others to try out living in the house for a night or two, provided they give him feedback.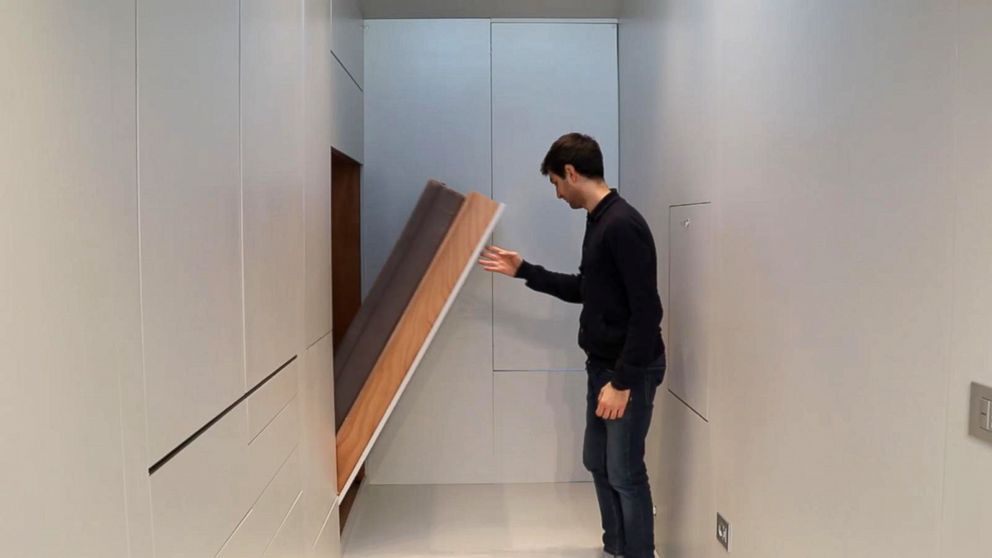 Di Chiara's aVOID house is one of over a dozen small structures on the Bauhaus Museum campus in Berlin. It is part of the "Tinyhouse University", a nonprofit founded in 2016 by German architect Van Bo Le-Mentzel that brought together architects, designers and refugees to explore different housing typologies.
"We want to create solutions for living in an innovative way that allow people to be very active in the process of living, including designing, building and living in the house," said Di Chiara. Some of the tiny buildings are cafes, while others are living and workspaces.
aVOID is a prototype for a single working professional and takes inspiration from the Bauhaus design movement, which combined art with the industrialization process.
Di Chiara is working on lowering the production costs to make aVOID available to anyone who would like to own it, regardless of their income level. The materials for the home cost €45,000 (about $56,000), and it was built and customized by the architect himself. Di Chiara said he hopes to eventually be able to lower total production costs to €30,000 (roughly $37,000) through mass production.
First, though, he'll need to get others onboard. It's currently illegal in Berlin to have a migratory neighborhood along the lines of Di Chiara's vision, so his goal is to first raise awareness of tiny house living before holding serious discussions with city officials. He said he plans to set his sights on Milan, where rents are higher and there is less empty urban space than in Berlin.
In March, Di Chiara, will take the home on a seven-city tour, ending in Rome.