HELSINKI -- When President Trump meets Monday with Russian President Vladimir Putin, some countries that border Russia will watch with concern.
Finland, the host for the summit, and Russia's neighbors in the Baltics, will pay particular attention to any language by Trump on Ukraine, current and former senior European officials tell ABC News.
If Trump indicates that the U.S. may now recognize or accept Russia's annexation of Crimea -- perhaps in exchange for Russia's withdrawing its troops from Syria -- that could be seen as giving a green light to Russian aggression, some officials worry.
Another concern is that Trump could agree to stop U.S. military exercises in the Baltics as he did with drills in South Korea during his summit last month in Singapore with North Korean leader Kim Jong Un. The Baltic states include Finland, Estonia, Latvia, Lithuania and Poland.
When Trump was asked at the NATO meeting this week if he would consider reducing the U.S. military presence in the Baltics, he told reporters, "Perhaps we'll talk about that."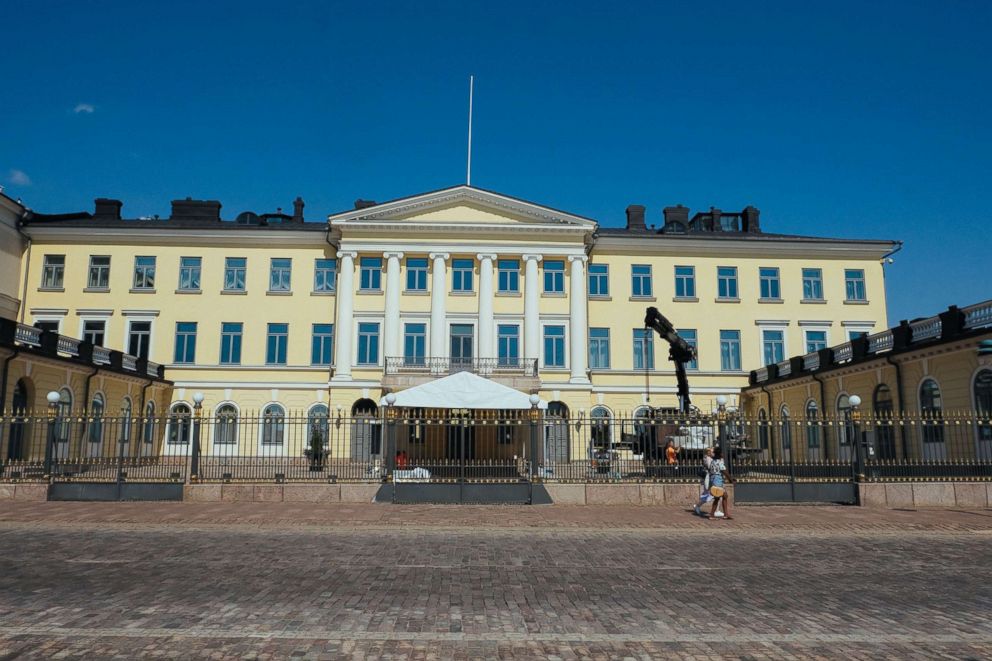 "There is legitimate concern that he's dividing the world into areas of interest and disregarding the small countries," said a European ambassador from a Baltic state.
U.S. administration officials have privately tried to calm any fears among European officials by saying they don't expect the summit to produce "major surprises," according to the ambassador.
For the U.S., the meeting with Putin is an opportunity to revitalize disarmament talks, an American official said.
"The most important thing is that the summit is taking place," the U.S. official said, according to the ambassador.
But some are still skeptical that Trump would stick to any such vague script.
Others hope that Congress would be a buffer to any major changes in U.S. policy with Russia.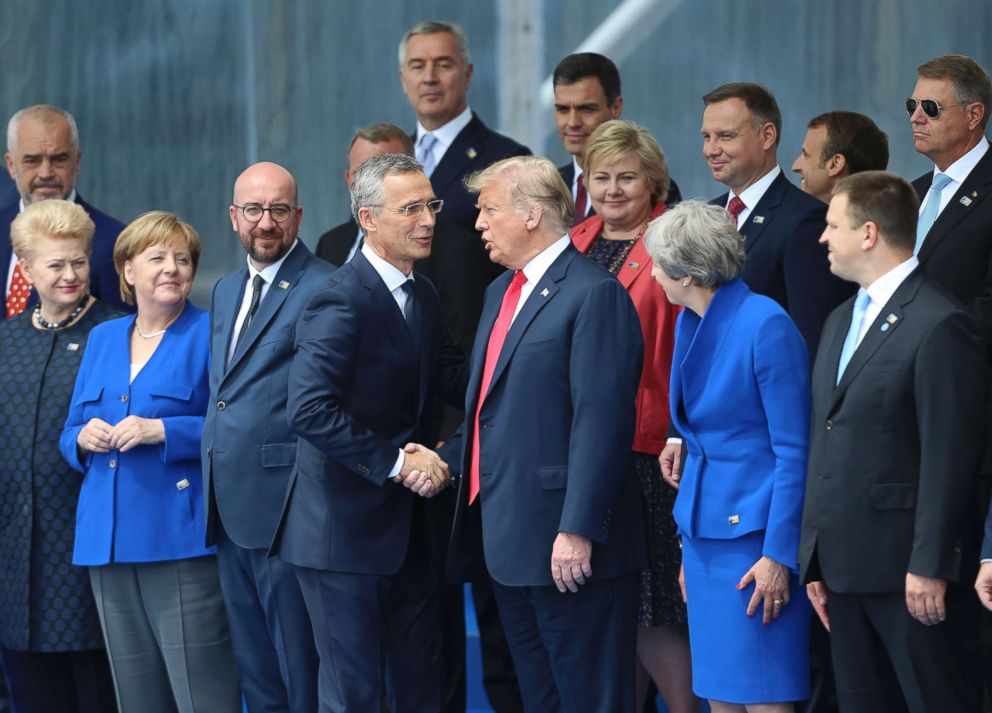 "[Trump] can't do too much damage because Congress is leading the Russia policy," said Fabrice Pothier, former NATO director of policy planning and senior fellow at the Atlantic Council.
"But the optics can hurt. Putin may say 'Ukraine is like your Mexico, I'm not getting involved in your Mexico, so don't get involved in Ukraine.'"
Many European officials who spoke to ABC News about the NATO summit in Brussels last week, said that despite Trump's veiled threat to "go it alone" without that alliance unless its members increased their defense spending, there was ultimately a "sigh of relief."
"There was a concern that he would leave -- especially among Poland, the Czech Republic and the Baltic States," said senior Czech official, Rudolf Jindrák, who attended the NATO talks.
A Swedish-speaking Finnish paper HBL was more skeptical, as suggested by a sarcastic question in a blaring headline, "A fantastic defense meeting?"
Finland and Sweden are not NATO members but have a partnership with the alliance. The fact that Macedonia was admitted as a new member is seen as a positive development for the two countries, who want the option open in case their territory is invaded. Both Finland and Sweden have at times in the past been controlled by Russia.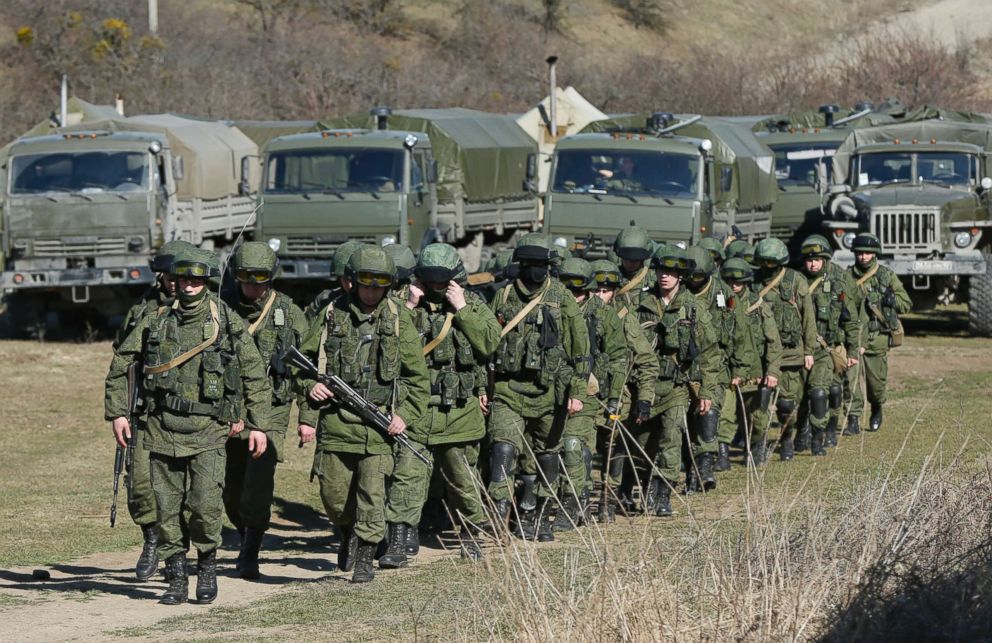 Finland was during the Cold War because even though it was not a part of the Soviet Union, it maintained ties with Moscow.
Today, just outside of the Presidential Palace in Finland where Trump and Putin will meet, there is a reminder of the country's history -- the national symbol of Russia, a double-headed eagle, on an obelisk.
Before Trump's summit with Putin on Monday, he will meet with Finnish President Sauli Ninisto where one topic will be the Finnish Defense Forces' consideration of a contract for up to $10 billion with American arms dealer Lockheed Martin for 64 fighter jets, according to European officials.
On the eve of the summit, there are expected to be protests by human rights groups outside the Presidential Palace starting at noon. In the evening, the Human Rights Campaign will stage a "guerrilla visibility" to highlight the persecution and murder of LGBTQ people in Chechnya.
Human Rights Campaign spokesperson Stephen Peters said in an email that over the past 15 months, more than 100 LGBTQ people have been "rounded up, tortured, and abused," and that as many as 20 have been killed.
Security around Finland's Presidential Palce has been tightening, with the country's Navy having taken steps to repel any possible threats from the air during the summit, according to a report in Finland's Seura magazine on Friday.
The Navy has put on alert three ships tasked with observation of airspace and repulsion of aerial threats. They have been fitted out with missiles and their crews have received confidential instructions on hypothetical emergency situations.
The commanding staff of Finland's Defense Forces, the press service of the naval forces and the Helsinki police have declined to comment. Officials at the Defense Forces said the operational tasks of the troops were confidential
From 1,000 to 2,000 police officers will also be on guard in the capital on the day of the summit. They will come to Helsinki from all the regional police departments of the country, up north to Lapland.
ABC News' Tanya Stukalova contributed to this report.