Secretary of State Hillary Clinton tried to ease tensions with Israel today that erupted last week, but told Israel it had to demonstrate a commitment to peace negotiations with Palestinians.
Her remarks came on the day that President Obama's special envoy scratched plans to head to the region this week in an effort to get those talks started.
And on the streets of East Jerusalem, Israeli police and soldiers fought running battles with rock throwing Palestinians angry over Israel's announced plans to build 1,600 more housing units for Jews in that part of the city.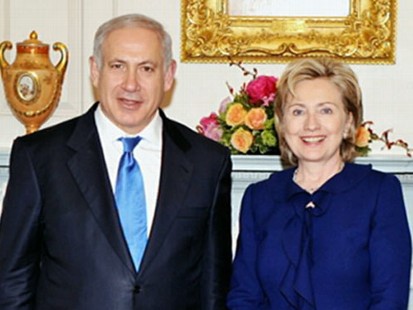 Israel's announcement of the construction plans last week came after both Israelis and Palestinians agreed to resume talks, and as Vice President Joe Biden was in Israel. The statement angered Palestinians and was described by U.S. administration officials as an "insult."
Clinton called Netanyahu Friday and during a testy 43 minute exchange said she wanted him to rescind the announcement and make other overtures to the Palestinians. Instead, Netanyahu said on Monday that the construction would proceed as schedule.
Clinton today tried to tamp down tensions, telling reporters, "We have a close unshakable bond between the United States and Israel and between the American and Israeli people. We share common values and a commitment to a democratic future for the world and we are both committed to a two state solution but that doesn't mean that we're going to agree."
She indicated that the administration was seeking a demonstration of Israel's sincerity in going ahead with peace talks.
"We are engaged in a very active consultation with the Israelis over steps that we think would demonstrate the requisite commitment to this process," Clinton said.
"We know how hard this is," she said.
"When we have something to say we will of course share it with you, but our goal now is to make sure that we have the full commitment from both our Israeli and our Palestinian partners to this effort," Clinton said.
Special Envoy Scratches Mideast Meeting
Obama's special Middle East envoy George Mitchell initially put off his visit to the region on Monday while the U.S. waited for a formal response to Clinton's list of demands, which included the cancellation of a plan to build 1,600 new settler homes in East Jerusalem. At the time, State Department officials said that Mitchell would still make the trip "this week."
Instead of canceling those housing plans, Netanyahu on Monday defiantly told Israeli lawmakers in the Knesset, "For the past 40 years no Israeli government ever limited construction in the neighborhoods of Jerusalem."
One of his main political allies the outspoken foreign minister Avigdor Lieberman reinforced that defiance in an interview today with Israel radio in which he described U.S. demands as "unreasonable."
When no official response came from Israel today, Mitchell postponed the trip again and is no longer expected to travel to the Mideast this week.
A State Department official claimed that Mitchell's decision not to travel to the region this week is more logisitics than politics, saying it was too hard for him to get there, hold meetings with both sides and still make it to Moscow to attend Mideast peace meetings with Clinton and international mediators on Friday
The official suggested Mitchell could reschedule his travels for after the Moscow meetings, perhaps as soon as next week.
Netanyahu is due to travel to Washington next week where on Monday he will address an annual meeting of AIPAC, the influential conservative Jewish lobby group. He will appear the day after Clinton appears before AIPAC. There are no plans for the two to meet.