A U.S. Navy destroyer seized more than 1,000 AK-47 rifles from a "stateless" skiff in international waters off the coast of Yemen, and it's believed that they were part of an illicit weapons shipment to the war-torn country.
An SH-60 helicopter from the Navy's destroyer USS Jason Dunham observed men aboard a dhow — a sailboat often used for trade in the region — in the international waters of the Gulf of Aden on Monday lobbing covered packages into a smaller skiff.
The following day, "the skiff was determined to be stateless following a flag verification boarding, conducted in accordance with international law," said a statement from the Navy's Fifth Fleet, which oversees U.S. Naval operations in the Middle East.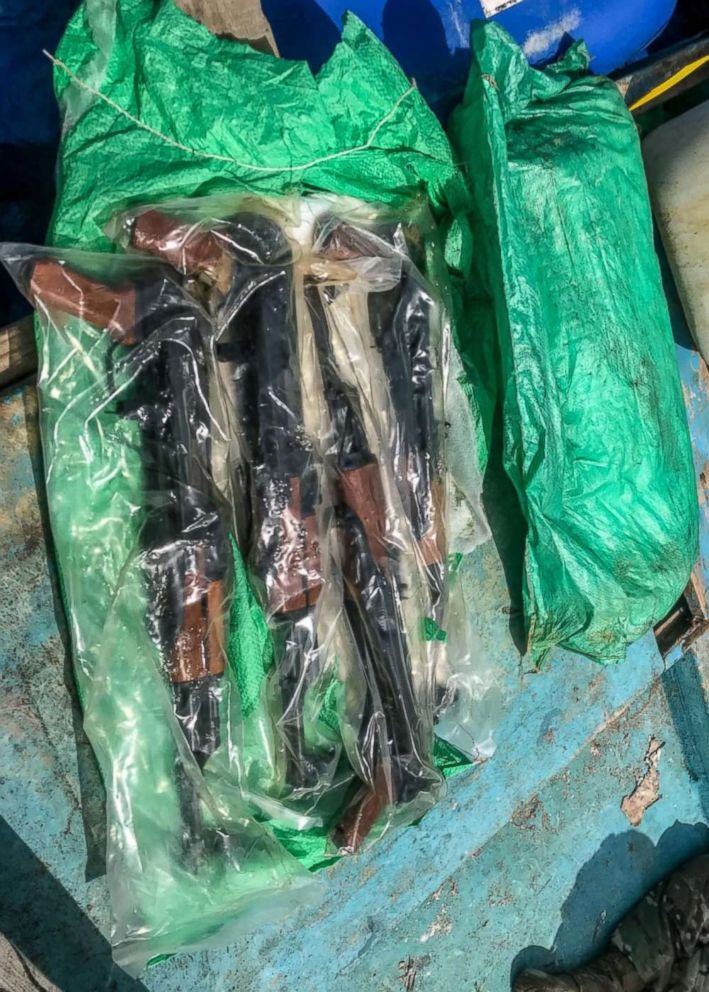 "Illicit cargo discovered by the Dunham's visit, board, search and seizure (VBSS) team included over 1,000 weapons," said the statement. Those weapons were determined to be AK-47 automatic rifles.
U.S. officials are often critical of Iran's "malign" activities in the region, particularly illicit transfers of small-arms weapons, as well as ballistic missiles.
But it is unclear if the weapons originated in Iran, and the Fifth Fleet statement said "the original source of the weapons has not yet been identified."
Efforts are underway to determine the shipment's point of origin and recipients, said Lt. Colonel Kone Faulkner, a Pentagon spokesman.
For now, the weapons are in U.S custody "awaiting final disposition."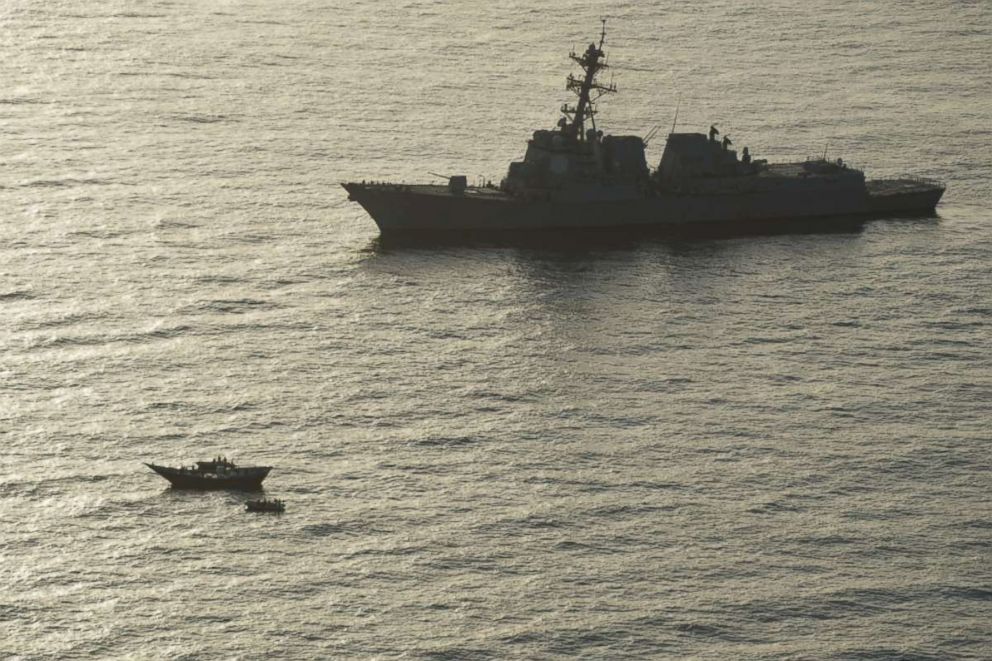 Because the skiff's engines were inoperable, its crew was taken aboard the destroyer before being transferred to the Yemeni Coast Guard.
"Our ship routinely conducts maritime security operations with our highly trained VBSS team incorporating both on- and off-ship intelligence assets to help locate vessels," said Cmdr. John Hamilton, Dunham's commanding officer.
"Ensuring the free flow of commerce for legitimate traffic and securing the sea lanes of communication continue to be paramount to the U.S. Navy and its regional partners and allies, and I am proud of Jason Dunham's sailors for accomplishing the mission."
The last time a U.S. Navy vessel interdicted a similar illicit arms shipment was on March 28, 2016, when the patrol ship USS Sirocco intercepted a dhow in the Arabian Sea that was carrying 1,500 AK-47's, 200 RPG launchers and 21 .50 caliber machine guns.
Three earlier seizures of similar illicit arms shipments in late 2015 and early 2016 were carried out by Australian and French Navy ships.